Due to last year's COVID-19 pandemic, professional golf tours were put in a state of flux and tournaments had to be adjusted weeks and months from their allotted dates. With that, some golfers kept their skills sharp by competing on local links.
So in 2020 while the Champions and LPGA tours were paused, notable pros such as Paducah's Russ Cochran, Metropolis' John Riegger and Princeton's Emma Talley joined the lineup for the 84th Irvin Cobb Golf Championships at Paxton Park.
This year, Cochran, Riegger and Talley won't be among those playing the venerable course as the world (including the golfing one) settles more into a state of near normalcy. But in that, this weekend's Irvin Cobb will settle in too, which according to Paxton Park Director of Golf and Operations Danny Mullen involves a wide open field with plenty of homegrown talent playing in a homegrown tournament.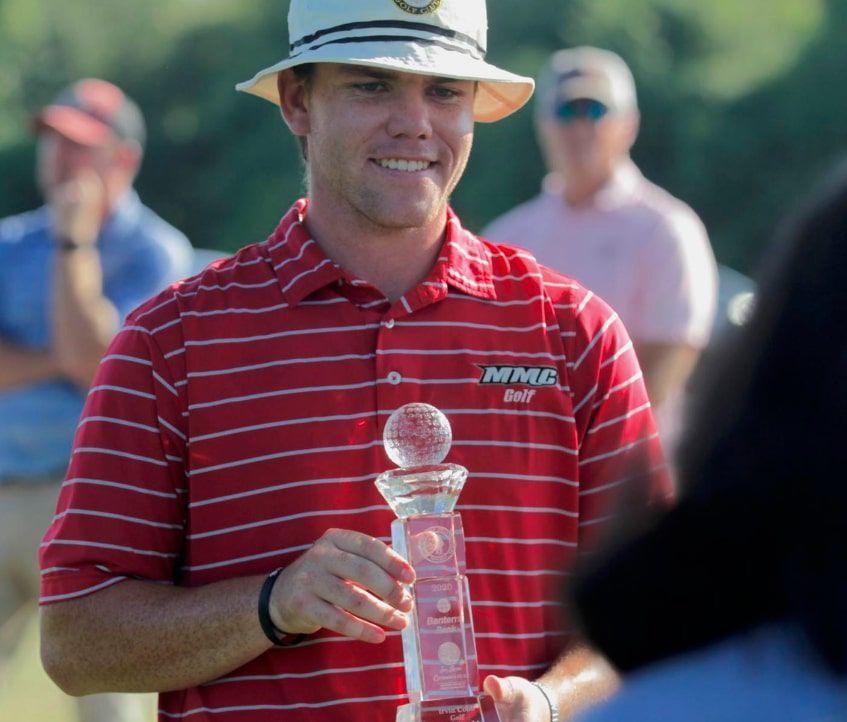 "We've got the traditional field with all the good, young local amateurs and older competitive amateurs and a lot of good up-and-coming mini tour professionals, as well as a lot of good PGA professionals from clubs around this tri-state area that still play well and like to compete," Mullen said. "There's still a lot of names in there that haven't won it who are certainly capable of winning it.
"It's chocked full of amateurs that are competitive every year that could win this for the first time. It's got past champions in it that can light a fire under it this weekend and win it again," he added. "We've got a lot of good past champions and a lot of good young guys who would like to get their name on that board for past Irvin Cobb champions."
The 108-player field includes notables such as last year's professional winner Fred Meyer of Wilmore, 2019 winner JB Williams of Danville, 2018 champ Nick Newcomb of Mayfield, and back-to-back 2015-16 title holder Patrick Newcomb, also of Mayfield.
Also scheduled is 2021 Rolling Hills Invitational winner Drake Stepter. Sadly, Stepter's father, Mike, suddenly died this week. Mullen said Thursday he had not heard an official decision but anticipated Drake was still planning to compete this weekend.
To those names are the past five years' amateur champions of South Fulton, Tennessee's Justin Johns (2020), Aaron Ingalls of Jackson, Tennessee (2018-19), Chris Erwin of Clarksville, Tennessee (2017), and Chase Landrum of Glasgow (2016).
Meyer, a former University of Kentucky golfer, claimed his 2020 title with a 6-under 65 for his opening round and came back Sunday with a 5-under 66 for a 131 total and three strokes ahead of runner-up Tim O'Neal, who is also in this year's field.
Johns, meanwhile, had to endure a two-hole playoff after he, Christian Tooley of Bowling Green, and Paducah's Avery Edwards were knotted at 139 after their two rounds last year, but emerged victorious on the par 3 No. 17.
While the golfers may provide a more traditional field for the Irvin Cobb, Mother Nature is providing something different for the course with recent bouts of wet weather. Mullen said the typical hotter and dryer conditions correlate to firmer, faster greens.
"Mother Nature is not cooperating and doing her part," Mullen said. "However on other hand, (the course) is beautiful and lush and green and probably playing a little softer than it usually does because of the consistent rains we keep getting. That's OK. It's just a little different than what it normally is.
"What concerns us more is if we're going to get any on the weekend and interrupt play. We're hoping we can get through the weekend like Rolling Hills did last weekend and not have any significant weather interruptions so we can have a good event."
The National Weather Service forecast has listed a 70% chance of precipitation for today (Friday) and Saturday, and then a 60% chance on Sunday.
Nevertheless, Paxton Park and its par-71 course covering 6,582 yards from the tips tests golfers even on the best days with tough par 3s, tight greens and some 2,000 trees, by Mullen's count, which golfers have to navigate, as well.
As for challenging holes, he offered up drivable par 4s in the 285-yard No. 3 and 315-yard No. 12 that are slender with trouble on either side of the fairway. Coming down the stretch, Mullen added holes 15 and 18 — 494 yards and 544 yards, respectively — that he said are again not too long as par 5s but are ones golfers again can't afford to venture too far wide on either side.
"One of the keys to Paxton is knowing how to approach the pins. The greens are not very big and if get underneath the cup you can be a little more aggressive with it," Mullen said. "Even though they may not be as fast as we'd like them to be, over the weekend — and that kind of remains to be seen depending on the weather — you can't be too aggressive from above the hole. So you're better off trying to approach that pin from a more aggressive position and generally that's below the hole.
"A little local knowledge here kind of goes a long way on the greens."
The annual best ball pro-am is slated to tee off at 8:37 this morning with three amateurs paired with a professional. Mullen said it provides a bit of fun outside the regular tournament and also allows golfers a chance to play the course and be with buddies who may or may not be in the tournament.
"It's a more fun event," he said. "There's a competitive aspect to it, but it's also a lot of fun."
The 85th Annual Irvin Cobb Championships is presented by Banterra Bank and Jim Smith Contracting. Mullen said they and all the event's sponsors and volunteers make this tournament what it is — another place for the Paducah and McCracken County communities to hang their hat.
"This is truly a community event with a lot of help from a lot of people: Volunteers who pitch in to get the golf course ready, volunteers who pitch in during the weekend," he said. "It's our biggest event of the year and it's a big team effort from a lot of people in our area and we are very thankful for that."
2021 Irvin Cobb Championships
8:50 a.m.: Patrick Newcomb, Bo Brien, Joe Scholl, Hunter York
9:29 a.m.: John Mullendore, Mark Knecht, Rick Loyd, Eric Straub
9:42 a.m.: David Plumb, Daryl Dixon, Trent Johnson, Cody Martin
9:55 a.m.: Seth Arthur, Josh Rhodes, Drake Septer, Bennett Tielfenbrunn
10:08 a.m.: Kevin Wassmer, Troy Shriber, Tony Toopes, Caleb Wassmer
10:21 a.m.: Michael Wassmer, Tim Crowe, John Kleine, Steve Wassmer
10:34 a.m.: Kevin Rhinehart, Greg Beal, Mark Moore, Garrett Rikel
11 a.m.: Chandler Morgan, Tyler Abernathy, Tyler Sharpe, Nick Thompson
11:13 a.m.: Gabe Wheeler, Conner Combs, Quinn Eaton, Tyler Powell
11:26 a.m.: Fred Meyer, Abe Dumas, David Salyers
11:39 a.m.: Patrick Martin, Ward Jarvis, Jason Straub, Elliot Treece
11:52 a.m.: Britt Pavelonis, Tim Green, Ken Jenkins
12:05 p.m.: Bradley Farmer, Roger Farmer, Tadd Glenn, Todd Neal
12:18 p.m.: Adam Gary, Jamie Frazier, Adam Houchens, Chase Landrum
12:31 p.m.: JB Williams, Michael Crabtree, Matt Epperson, Darrell Vanover
12:44 p.m.: Kent Bulle, Dawson McDaniel, Kelly Taylor, Duane Withrow
12:57 p.m.: Michael Brice, Connor Kirkham, James Nichols
6:34 a.m.: Kyle Aiton, John Kirby, Chan Metts
6:46 a.m.: James Nichols, Chad Odle, Tyler Sharpe
6:58 a.m.: Alec Silchuck, Ryan Stokes, Rhett Sutton
7:10 a.m.: Bennett Tiefenbrunn, Trey Wall, Caleb Wassmer
7:22 a.m.: Patrick Carroll Jr., David Sykes, Jiles Wyatt
7:34 a.m.: Camryn Beatty, Abraham Dumes, Davis Salyers
7:46 a.m.: Joe Johnson, David Rambo, Caleb Stonecipher
7:58 a.m.: Michael Crabtree, Cole Manion, Scotty Parker
8:10 a.m.: Dam Finke, Zac Rambo, Jeff Stinson
8:22 a.m.: James Folz, Garrett Rikel, Shane Taylor
8:34 a.m.: Adam Friga, Connor Kirkham, Matthew Scott
8:46 a.m.: Matt Redd, Ben Rush, Harry Rush
8:58 a.m.: Kamaren Cunningham, Quinn Eaton, Mike Shelbourne
9:10 a.m.: Patrick Hibbs, Derek Riley, Darrell Vanover
9:22 a.m.: Tyler Abernathy, Chris Griffin, Chris Wilson
9:34 a.m.: Eric Clark, Adam Houchens, Clinton Keown
9:46 a.m.: Jabir Bilal, Jeff Lyons, Patrick Martin
9:58 a.m.: Tyler Neff, Earl Singleton, Justin Warman
10:10 a.m.: Michael Rickard, Jamyl Sydboten, Kyle Wilshire
10:22 a.m.: Duncan McCormick, David Plumb, Michael Wassmer
10:34 a.m.: Michael Brice, Adam Gary, Jacob Seabaugh
10:46 a.m.: Mark Faulkner, Joanthan McCain, Britt Pavelonis
10:58 a.m.: Nicholas Jones, Tyler Powell, Daniel Taylor
11:10 a.m.: Jamie Frazier, Cody Martin, Larry Seay
11:22 a.m.: Bo Brien, Scott Carpenter, Eric Straub
11:34 a.m.: Aaron Ingalls, Mark Knecht, Hunter York
11:47 a.m.: Bradley Farmer, Shawn Tipton, Gabe Wheeler
Noon: Chris Erwin, John Mullendore, Tommy Schaff
12:13 p.m.: Nick Newcomb, Michael Vance, Kevin Wassmer
12:26 p.m.: Matt Epperson, Trent Johnson, Dawson McDaniel
12:39 p.m.: Chase Korte, Chase Landrum, Drake Stepter
12:52 p.m.: Justin Johns, Josh Rhodes, Nick Thompson
1:05 p.m.: Seth Arthur, David Erdy, Jacob Sherlin
1:18 p.m.: Kent Bulle, Joey Mayo, Michael Pisciotta
1:31 p.m.: Chandler Morgan, Patrick Newcomb, Carr Vernon
1:44 p.m.: Fred Meyer, Tim O'Neal, JB Williams