The COVID-19 pandemic has drastically changed sporting events over the past year. Social distancing, temperature checks, sanitization, mask mandates, reduced crowd sizes and quarantine pauses were ubiquitous features of the 2021 high school basketball season. Yet the teams persevered, and so too did their biggest supporters — the cheerleaders.
This past season was much different for the cheerleaders as well. Trying to pump up the energy in a gym filled to 50% capacity or less is no easy task, and it was all the more difficult trying to do so while wearing a mask. But it certainly beat the alternative, Paducah Tilghman cheerleader Grace Bakehouse told The Sun.
"This is my last year of high school, so it's nice to be able to cheer even with all the restrictions," she said.
Bakehouse, the Tilghman cheer team's lone senior, was "very happy" to see sports return after they were shut down last spring due to the pandemic, as she would've hated to miss out on her final year of cheering in high school. All the COVID regulations were simply the price of having a season in what she knew was going to be a very different year.
"At tryouts, usually you have a full group, but this year, we had to go one by one. Through practices, you're used to getting super close to everybody, but this year, with the masks and the amount of regulations, we had to be so far away from everybody," she said. "It's just been very, very weird."
Toward the end of the 2021 basketball season, Bakehouse joined junior teammates Ja'Byreonna Caldwell and Jai'Onna Crumble and head coach Cerita Crouch in speaking with The Sun to reflect on just how different the past year has been for them. Despite the many adjustments, they still had fun.
"There's been a lot of separation with us and the crowd — we can't really be involved with each other a lot — and we (the cheerleaders) can't be close either, which has been kind of weird," Caldwell said. "But cheering is fun regardless."
Crumble agreed, saying sports are an essential part of her life.
"Having sports back is exciting because it would be very boring without them, and cheering is something I look forward to," she said. "I don't know what I'd do if there wasn't sports."
Back in the spring of 2020, there were no sports, as leagues and associations at all levels throughout the country continued to put competitions on indefinite pause amidst the coronavirus pandemic.
Crouch, who had just been hired to coach the Tilghman cheer team, wasn't sure what lay ahead.
"There was a lot of uncertainty of whether I was actually going to get to have a squad at some point," she said. "When COVID shut everything down, it made our season very uncertain. So I couldn't plan or get started with the girls like we would normally do."
She would normally hold tryouts in March, but since that was a no go, she postponed them until June. She was able to squeeze tryouts into a KHSAA-approved window of time, but afterwards, things shut down again. That meant the cancelation of summer camp.
"Normally we would've gone to summer camp together, which gives the girls the opportunity to get to know one another," Crouch said. "I have coached a lot of these girls before because I coached at the middle school. But this is a different group, and the summer is our team-building time, and it really sets the stage for our whole season."
No summer camp meant less time for team bonding.
"As a team, we couldn't do as much as we used to with team-building activities and banquets," Crumble said. "So while we know who is on our team, we don't know each other as much as we should."
COVID protocols also impacted how and when the team could get its photo taken for game programs.
"We didn't get a group picture made until right before programs were going out," Crouch said. "We literally had our masks on our wrists in case someone questioned us, and we took several pictures in our masks."
Sports were given the approval to resume last fall but with several regulations in place to help limit the spread of the coronavirus. Crouch said the 6 feet of social distancing was a huge focus in cheer practices.
"It's a lot of me saying, 'Six feet apart!' and 'Work with each other but apart!' " she said of practices. "When you're trying to help each other, you want to do things in small groups. Well those small groups had to spread out so much that it was really a difficult task to get them to the point of being spread out but still talk with one another enough to help individuals."
Before each practice, Crouch had to go through a list of health-related questions with each cheerleader prior to taking their temperature. And post-practice responsibilities included wiping down and sanitizing equipment.
"That was very different," Crouch said.
Once cheer teams were approved to travel for road games, the loading and unloading of the bus became very regimented.
"On the bus, we have to have seating charts (for contact tracing). It had to be very planned out before the first game," Crouch said. "You had to spread out on the bus and couldn't have two girls in a seat, and we had to load from the back to the front. So it might take us 30 minutes to get out of the parking lot. And the girls had to ride in masks the entire way."
Most of the cheerleaders agreed that the mask-wearing was the most bothersome aspect of the COVID regulations. Not only did it make it hard to breathe on hot bus rides, but it also made it difficult to convey excitement to the crowds at games.
"Cheering with a mask is probably the hardest thing there is to do at the moment," Caldwell said. "It's hard to be able to project through them and hard to breathe and smile with them. The masks make you work way harder."
Bakehouse agreed, describing cheering with a mask as "terrible."
"They never fit, and they always fall down under my nose while I'm cheering," she said. "I try to leave it be because you're not supposed to touch anything while you're cheering. But the mask falls under your nose, and eventually the edge of it falls into your mouth, and then you're choking on a mask."
Crumble added: "You try to yell the loudest you can, but the masks make a big impact on how loud you can be."
The KHSAA had also barred cheerleaders from stunting.
"I really, really enjoy stunting. It's one of my favorite parts of cheering," Bakehouse said. "Not being able to do it this year hasn't been the worst thing in the world, but it's definitely something I miss being able to do."
Small crowdsAt the start of basketball season, crowd sizes were heavily limited, making typically raucous game environments eerily quiet.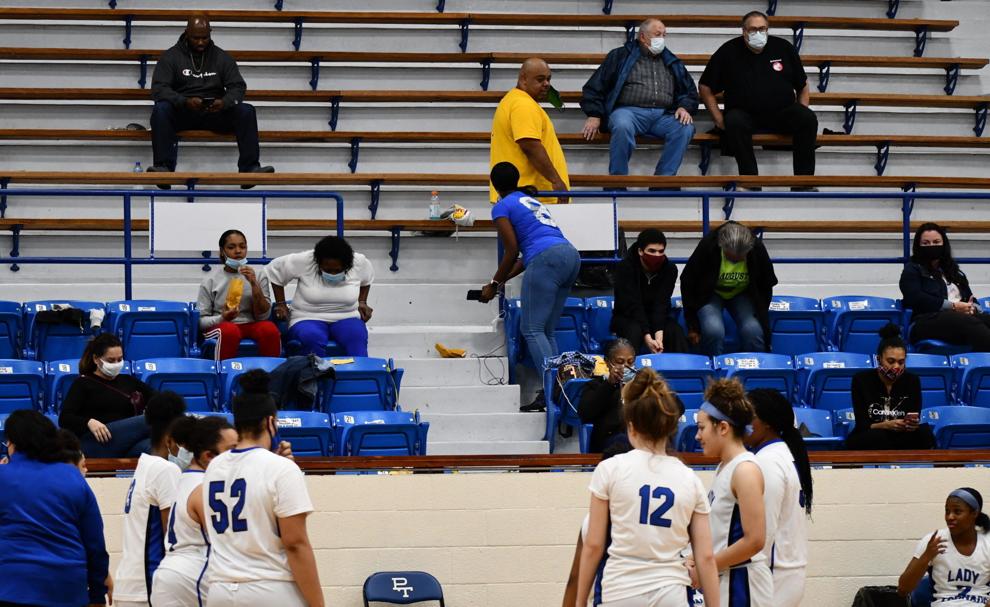 "At the first few games of the season, if we weren't cheering, you could literally hear a pin drop because it was so quiet. It was absolutely crazy," Bakehouse said.
One of the main functions of cheerleading is pumping up the home crowd, but that energy is hard to create when only a handful of people are in attendance. But they did their best.
"It's all about our body language and our eyes and our voices," Caldwell said. "If we sound like we're ready to be there, and as long as we're looking at the crowd and making them want to join in, they'll get into it."
The cheerleaders support the players by way of a pumped-up crowd. But the small crowd sizes this season had them providing encouragement more directly to the players.
"If the crowd is involved, it's going to automatically get the players more involved and feel better. But if the crowd is dead, the best way to keep the basketball players pumped up is to keep cheering and support them through the whole game," Bakehouse said. "I have friends who are basketball players, and they really appreciate it when we're there at every game we can be at, and we're happy to be there and cheer them on."
Their efforts were certainly appreciated.
"At one point, the high school football coach texted me after a game and said, 'I just wanted to tell you how much I appreciate being able to hear the girls on the sidelines during a football game and how well they're carrying themselves and being respectful,' " Crouch said. "That was a big deal to get that, and I passed that along to the girls. I try to be encouraging to the girls and tell them to stay loud and proud and to smile with their eyes. And they did it."
Returning to normalToward the end of basketball season, the KHSAA increased seating capacities for high school games. The Second District championship game — when Tilghman hosted rival McCracken County — featured fuller stands and a more raucous environment. A sense of normalcy was returning. Later, 10 of Tilghman's cheerleaders were allowed to cheer at the First Region Tournament at Murray State.
Now with spring sports well underway and mask requirements lifted for outdoor events, signs continue to point toward a much more normal time for cheerleaders once football and basketball resume. Crouch already has plans to hold a summer cheer camp and is excited for what next season holds for her group. With just one senior this year, the team will return mostly intact for what Crouch hopes is a more normal year.
"As much as I hate it for Grace, I'm thankful I don't have a squad full of seniors that I have to be really remorseful that they didn't get to have the kind of year that I would've loved to have given them," Crouch said. "My junior class is really big, and I'm really hoping to give them that senior experience more like they would be used to in a normal cheer year, where we go to camp and stunt and do performances and where we can smile and interact with the crowd and have them interact with us."
That junior group includes Caldwell and Crumble in addition to Jaliyah Allen, Trinity Henderson, Sidney Long and Maddie VanderBoegh. Rounding out the team are sophomores Alivia Goodwin, Olivia Ladd, Kendall McDonald, Xzalyah O'Neal and Madyson Wilson and freshmen DeNaija Casey, Alec Coffie, Xan Copper, Taylor Crabtree, Weslyn Durfee and Alexa White.
"I have to compliment every one of these girls. They have been fantastic. They have overcome every obstacle that's been thrown in their path and have not complained. They have worn their masks and done the hand-sanitizing and the staying 6 feet apart," Crouch said. "We were thankful to have a season. We talked all season, 'Whatever our season looks like, we're going to take it and run with it.' And every game, my girls cheered with an urgency because it could've been our last game."
Looking back, Caldwell said adhering to all the COVID protocols was definitely worth it.
"I'm very, very happy with being able to cheer," she said. "Regardless of all the different regulations we have, I'm just glad to be able to support the teams and make them feel like somebody is there for them."