EDDYVILLE — The Murray boys basketball team got off to a good start in the revitalized All "A" Classic State Tournament on Monday. A strong defensive effort limited freshman sensation Travis Perry and the normally potent Lyon County offense, and some clutch free throws from senior Gabe Taylor ended up sealing a 54-50 victory.
"We knew we had to be the tougher team, and tonight we were," Taylor said after the game. "This was a huge tournament game, and we didn't make it as far as we wanted to in this tournament last year, so today was a comeback game to show people what we're about."
It was Taylor and junior Charqwan McCallister who were charged with guarding Perry all night, and they ended up holding him relatively in check with 16 points. Perry was 6-of-20 from the field and fell two points shy of reaching the 2,000-point mark for his career.
"We wanted to make him take tough shots tonight. He's a really good player and scorer, and we wanted him to take tough outside shots tonight and not let him get into a rhythm," Murray head coach Dior Curtis said. "Gabe Taylor and Charqwan McCallister both guarded him. They did a good job on him tonight."
Taylor was also tasked with some pressure-filled free throws in one-and-one situations with the game on the line, and he came through in the clutch. He sank two foul shots with 14 seconds remaining to put the Tigers up 53-50 and split a pair with two seconds left to seal the victory.
"It's something that you dream about," Taylor said of providing the game-sealing points. "You try to build up the pressure in practice as much as possible for game-like free throws. Fortunately, I was able to knock them down tonight."
Curtis was proud of his senior.
"Gabe played a lot for us last year on our Final Four All A team, and he was ready for the moment," he said.
Monday's game was tight throughout. Taylor hit a 3-pointer in the waning seconds of the first quarter to send Murray (10-5) into the second leading 15-11. But the Lyons (16-3) fought back to tie the score at 23 after Perry drained a buzzer-beating 3-pointer going into halftime.
Perry finished the first half with 11 points but was unable to come up with the seven more he needed over the final 16 minutes to reach the 2,000 mark for his career.
He was held to just two points in the third quarter, but the Lyons took a 38-35 edge into the fourth.
Lyon County continued to lead until the Tigers put together a 12-0 run midway through the fourth quarter.
That run was started by a 3-pointer from Taylor and also included a triple from junior Trey Boggess.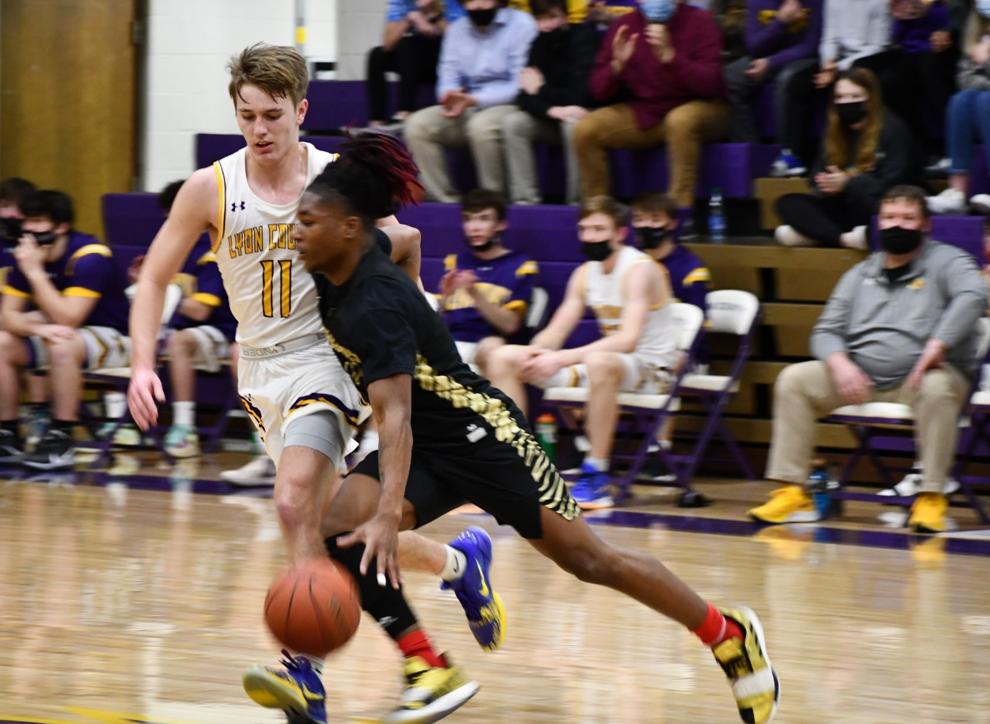 That run ended up giving the Tigers the lead for good, as the Lyons clawed back to within one on two occasions over the final four minutes but were unable to get any closer. Sophomore Grant Whitaker led Murray in scoring with 19 points while Boggess (14) and Taylor (14) joined him in double figures.
Perry's 16 led the way for the Lyons. Junior Nick Whalin and freshman Jack Reddick added nine points each.
Murray leading scorers: Whitaker 19, Boggess 14, Taylor 14, Miles 4, May 2.
Lyon leading scorers: Perry 16, Whalin 9, Reddick 9, J. Shoulders 7, Bingham 5.