For nearly a decade, McCracken County's Sophia Shiben, Danni Poat and Isabella McKinney had been waiting their turn.
As youngsters, they'd trooped together in small local tournaments and turned summers into extra swings, building for when they were older, taller, faster, stronger.
As high-schoolers, they'd spent the last three years as major players for the Lady Mustangs at the KHSAA State Tennis Tournament — each their own kinetic force, within arm's reach of title hardware in each successive postseason.
So in preparation for 2020, hopes were understandably high.
The "Three Amigos," as longtime coach Larry Heflin has quaintly dubbed them over the years, would've all but certainly buoyed a sincere effort at a team championship, if not forged a path as top seeds in Kentucky. Shiben likely would've gotten another shot at Sacred Heart's Carrie Beckman — the state's top singles player bound for Notre Dame — while Poat (Shelby Puryear) and McKinney (Emily Dew) were likely on deck for doubles after each had built a strong skillset with past partners.
But the coronavirus quashed those comps before Heflin's notes had time to dry, and three seniors are left wondering: "What if?"
"The three of them together have always been a unit," Heflin said. "The Three Amigos. And they really wanted to finish out as 'The Three Amigos,' and so I just want them to be happy in what they've accomplished."
According to her tennisrecruiting.net profile, Shiben was being pursued by several schools for tennis acumen: Belmont, Butler, Carnegie Mellon, Cornell, Emory, Indiana, Miami (Ohio), Washington University in St. Louis.
And though she's going to be a Hoosier this fall, tennis has had its time. She's going to school for business, which makes this missed senior season all-the-more bittersweet.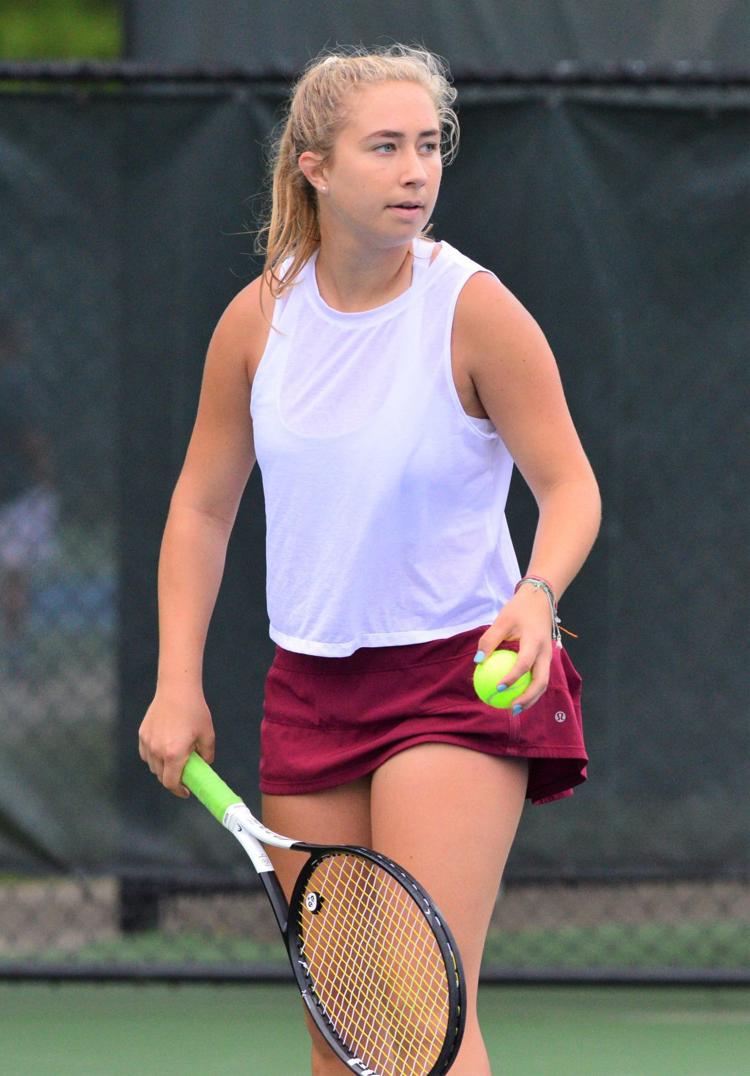 "Ever since I can remember, when I was probably in the sixth or seventh grade, I remember sitting on those benches at the Lone Oak tennis courts, and talking with Isabella and Danni and with their parents, talking about how when we were juniors and seniors, we would be this incredible team," Shiben said. "That our team would be really, really good.
"Because ever since I was little, I've always known Isabella. I've always known Danni. I've always been playing with them on the court. Even outside the court, I've had classes with them. We're definitely friends outside of tennis. We definitely have been hanging out and building relationships. It's not like, 'Hey, I'm out here with my teammates, on the court for two hours a day.' I'm not playing with teammates. I'm playing with true friends."
While talk of Shiben playing singles this year seemed like a foregone conclusion (and it likely would've been the case), she notes there was a mercurial chance at her playing doubles with Puryear — giving the Lady Mustangs not one, but two chances at doubles title.
Or, better yet, an all-McCracken final waltz.
Either way, Shiben takes some solace in the fact her last competitive match for McCracken came in 2019 against Beckman in the KHSAA State semifinals, and that she isn't "filled with regret, or this 'revenge' " that she didn't get.
Instead, she's more pained at the missed in-between memories. The smaller nuances of high school sports.
"Larry Heflin sets up his program in such a spectacular way, where — during the season — we go every weekend," she said. "Sometimes it's not even big tournaments. We'll just go and play some random teams in Kentucky or around our area. We go on these trips, and it's not even (about) the tennis. It's more of the 'late-night being-with-the-teammates' and having conversations. Or we have to go to Fazoli's really quick. Or get food between matches.
"It's kind of moments like that. Funny things. I definitely appreciate those moments instead of the big tournaments. It's more of the small moments for me."
She'll be the first to say it: "Danni Poat doesn't like to lose."
So losing the 2020 season was a very different pain altogether, because — like everyone else — she didn't have any control in the matter.
"We've all grown up playing tennis together," Poat said. "Me and Sophia used to be doubles partners way back when, when we were in elementary school. And we used to play in The Paducah Sun (tournament) together, and all these little tournaments around here.
"It's just funny to me, because not every team gets to grow up with their teammates like we did. And I think we're really lucky for that."
Like Shiben, this was also to be Poat's last season on the court.
She noted that a couple of schools came calling for her to play tennis, but pursuit of an education at Murray State (she wants to be a special needs educator) is more important, and she wants to rush for a sorority.
Still, sunset came earlier than expected, and it makes the McCracken memories all the more cherished.
"When tennis gets into full swing, we are traveling every single weekend for a couple of months," she said. "And I guess just being away with them, getting to have little summer parties every weekend with them ... I always loved our Chattanooga trips. Those were always fun. You always got to walk the campus and look at the mountains and everything.
"There's been some really hard times, for sure, and it's going to be really sad when it's over ... because I think we're going to try and do a little banquet this summer with all the team, coaches and parents over the summer.
"I don't know. It's a hard topic to talk about at times."
Of the trio, McKinney is the only one bound for collegiate tennis, and she'll pursue it — and a career in pharmacy — when she heads to Midway University in the fall.
"Bella going away and playing is so awesome," Poat said.
And McKinney agrees, as it's those thoughts helping keep her motivated through this lockdown. Enough to maintain garage workouts. To pound out some miles around the neighborhood. To work on her serve alone at the Heflin Tennis Courts.
"It started that I went (to Midway) as like a preview day, and played with the team there," McKinney said. "And it was just a great time. We had a great time together, and we all got along. Honestly, it was one of the best times I've had playing, other than with my teammates at (McCracken). So that just sold me. And I just knew from that point that I wanted to go there.
"(Coach Joe Reyes) told me from the beginning that I would be a strong player coming on to the team, so I knew I would have to withhold the shape that I am in right now, and keep pushing myself to be the best player I can for the team.
"I just have to make sure I'm still ready to play whenever this all ends."