Chris Shumate is a lot of things, to a lot of people.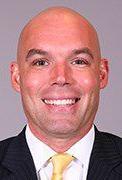 As a husband to Princeton native Meredith Dawn Gates, he's an honorary Princetonian — proud to be the son-in-law of legendary former Caldwell and Crittenden County football coach Pat Gates and his skipper-savvy wife, Sheila.
As a basketball player, he's the youngest entrant to the Louisville Male High School Hall of Fame, a highly-regarded scorer during his time in a Murray State men's basketball uniform with coaches Tevester Anderson and Mick Cronin from 1999-2004, and was a two-year professional for what was then the NBA D-League New Mexico and Arkansas organizations.
And as an assistant coach, he's played part of some strong recruiting and some consistent winning: from 2007-13 for Cronin at Cincinnati, to 2013-14 at Southern Miss and 2014-15 at Tennessee with Donnie Tyndall, to 2015-16 at Western Kentucky with Ray Harper, to 2016-19 at Northern Kentucky with John Brannen.
Now, he and his family — along with three children in Addison, Chloe and Gates (better known as "Little Gator") — are headed into a new challenge at Georgia Southern in Statesboro, Georgia, as former Texas Tech assistant Brian Burg has announced Shumate as part of his staff for the upcoming 2020-21 season in the Sun Belt Conference.
Wherever he goes, "The Shu" seems to fit. So after one year away from the game (and closer to family), an opportunity arrived that was too good to pass.
"It's a program I've seen for many years, being in some southern programs," Shumate said. "But honestly, it was my relationship with Brian Burg. We've known each other for a long time. Had a lot of mutual friends. Competed against each other at a lot of different stops along the way. And just kind of came up in the basketball circles together."
For the last month, Shumate has been in Statesboro without the rest of his family — helping the new Eagles' brass come away with seven signees in preparation for the upcoming year and beyond.
The duties and hustle-bustle of the new job, especially during a pandemic, have left him out of the mix in trying to get moved. And the situation has him thinking about Princeton — where time usually, and thankfully, moves a little slower than the big city.
"My wife and kids are in Princeton right now," he said. "They're there, hanging out. It's a great place to go back to and visit. We have so many college friends and family friends, and obviously my father-in-law — Pat Gates — coached Caldwell County football for a long time.
"(But) one of the really cool things that my wife and I always talk about with western Kentucky, and particularly Princeton, is that a lot of things don't change. It's a really nice reprieve of the fast-paced life that we live outside of the area. So when we go back, it's just like it's exactly like it was, for me, when we started dating back in 2003."
Perhaps one of the biggest comforts to Shumate right now is his support system, particularly of the Gates family.
After all, they know exactly what a coach's household can be like on any given day.
"How advantageous it has been for me and my career to marry a coach's daughter, who has a great example in Sheila Gates...in what it's like to be a coach's wife," Shumate added. "It's far from a regular lifestyle. (Meredith) has had great parental examples that have made it easier on my career, that I'm able to be the best version of myself coaching basketball because I know my wife has the house in order."
The Gates family, however, isn't Shumate's only anchor to Caldwell County.
A local pizza joint almost — nearly — has his entire heart.
"Probably the first thing I do every time we get to town is I go to Pagliai's," he laughed. "In a weekend, we'll eat there twice."
In the mid-2010s when he was recruiting Graves County's big man, prolific shot-blocker and low-post scorer Chris Vogt, he'd take the West Kentucky Parkway from Northern Kentucky University to Mayfield, and he'd always stay in Princeton and purloin some Pagliai's.
"It's one of my favorite places on Earth to go eat," he added. "Good food. Great people."
For the past year, Shumate has gotten most of his "good food, great people" experience at home with his family.
When Brannen took the Cincinnati head coaching position (because Cronin went to UCLA), the 6-6 former shooting guard opted to work for iHeart Media as an account executive in the Cincinnati area — in what served as his own mini-reprieve from the grind of the game he loves.
"It was absolutely amazing as both a father and a husband to just take some time away from the game," he noted. "Not 'the game.' The business. People don't realize what a time commitment coaching really is. So it was a lot of fun to be able to coach my kids' teams, which I've never been able to do. I ate dinner with my wife and kids probably 355 out of 365 days; so that was fun for me. I don't know if it was for them, but it was great for me.
"But more importantly from a professional standpoint, so much of what goes into coaching is that you're always thinking about the next recruit, the next practice, the next game. You're always looking forward, and rarely do you get to look backwards. I was able to really reflect and really self evaluate areas that I could be better professionally."
This led Shumate and his family to a more selective approach into his next job. Admittedly, he had some offers for this past season, but he wasn't just going to go "anywhere, or with anyone."
Two months ago, he was prepared to stay away from the college sidelines for a second-straight season.
Burg, however, dialed his number.
"The really good stuff," Shumate said, "comes along when you least expect it."