A week ago, Derik Overstreet wasn't sure what was next.
Because — like most people across the country — the Paducah native, former Tilghman and Western Kentucky football star (and recently curated MMA fighter) was furious, angry, confused, distressed and overwhelmed with the news of not one, not two, but three consecutive unlawful deaths of African-Americans in the US: Ahmaud Arbery in Glynn County, Georgia, Breonna Taylor in Louisville, and George Floyd in Minneapolis, Minnesota.
Flash forward to Friday morning in his adopted home of Bowling Green. For the past six days, his phone has blared with text messages, social media notifications and phone calls. He hasn't slept much, if at all...his mind racing with the thoughts of old stereotypes, new ideas and the constant, unerring belief that social change can and will happen if enough voices are heard.
He's gone from "interested in local, peaceful protesting" to being one of the full-fledged organizers for the "BGForPeace" movement that's taken shape in Warren County over the last 96 hours.
And it was all because of some interest, and initiative.
"When I first started this, I had people say: 'You should focus on sports, and your (MMA) manager is going to cut you if you do this,' " he said. "And I thought on it for a few seconds, and I was like, 'I don't care.' This stuff is way more important than sports, and this stuff can change the immediate future.
"I've said it over and over again all week: if I have kids, and they ask me what I was doing when all this social change is probably going to happen and is getting started, I wasn't ever going to be the one to say, 'Oh, I sat at home because I was scared. I didn't want to say anything to offend anybody. I didn't care.'
"This stuff is more important than that."
Overstreet and some friends had already been out to a few small demonstrations in support of other people in the area, but the very first protest he attended (May 29) wound up being a bit unmitigated when a female attendee was struck by a Silverado 4x4 driven by 24-year old James Hunton of Bowling Green.
It was the kind of chaos Overstreet wanted to avoid.
So when news popped up about a potential protest scheduled for Sunday, May 31, near the Bowling Green Justice Center — where trouble seemed less likely — he inquired about it.
And then, several people he knew started asking him about it.
Come to find out, he knew the unnamed organizer of the gathering, who wished to keep it that way to avoid public attention. And, according to Overstreet, there wasn't really any set "plan," so to speak.
"In my head, I'm thinking that's not the best idea," he said. "Because if it flops, that makes people not want to come out anymore."
So who could plan? Was it Overstreet? Could he be the one to organize and rally?
Oh yeah. He'd already been a team captain of Hilltoppers football in 2017. The leadership gene was there.
"I don't know why I said it, but I said 'yeah,' " he said. "So, overnight, at like 10...maybe 11 o'clock at night (on Saturday)...I was handed control of a protest. It was the next day at 11 a.m. on Sunday. Sunday was crazy. A lot of stuff happened for me on Sunday. More than I'm even saying."
By the end of Sunday, Overstreet hadn't slept for more than 24 hours. The peaceful protest became a march of 200 people or more from the Justice Center, up to the Bowling Green Police Department, down to Hilligans Sports Bar & Grill, and back over to the greater Bowling Green downtown square.
"And it went so well, that people immediately asked me...came up to us and asked, 'When's the next one?' " he said. "So we had to keep the momentum going, and we said were going to do another one on Wednesday."
Again, they marched the same route. Megaphones in one hand, posters in another.
No bricks. No violence. Just a message that "Black Lives Matter." "All Lives Matter." Chants of "no justice, no peace, no more racist police" also came from the group, which had more than 400 out in force on Wednesday afternoon.
"We've marched that route twice, and we've gotten crazy reactions," he added. "People jumping out of their cars, screaming 'Yeah!' and just waiving their shirts around and stuff. We've had people come running out of their houses, crying and going to the protests. We've had people stop their cars and join the protests.
Overstreet has been involved in either football, or his more recent pursuit of an MMA career, since grade school in Paducah.
So, in essence, it's been his job — his goal — to be a force of violence as both a defensive disruption and, now, a kickboxer. Bringing pain and duress is both lauded and...in most cases...appreciated in both sports, and he's been more than effective at it.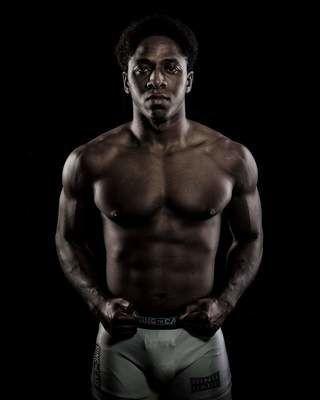 But there's more to Overstreet than this physical edge, and he has little desire to bring that part of his life into the fold of these protests. Sure, he could beat his chest mightily, scream at crowds and smash out windows. The raw emotions, honestly, are likely heightened enough, given the state of affairs.
"I'm a human, a person and a thinker before I'm ever a fighter," he said. "They're both parts of my personality, but I would say the human side is bigger than the fighter side. It's obviously natural for me to want violence and physical contact, or I wouldn't be doing what I was doing.
"But at the same time, we've got to be able to think. And just because I enjoy the sport and that grind of physical contact and competition, doesn't mean (I) have to let that take over (my) entire personality and make (me) one-dimensional as a person. You should always keep growing as a person, and it just wouldn't be functional for me to go out there swinging. I mean, what is that going to accomplish? What does me going out there throwing bricks through someone's window going to accomplish in the situation? That's only going to get me, and a lot of other people, hurt."
He doesn't know how long things will continue on this pattern. Maybe through the summer. Maybe through the 2020 election cycle.
On Friday morning, around 3 a.m., he had set up a Venmo account (@BGForPeace) to serve as a non-profit for mutual aid and bail, and it's already passed $500. Because protesting requires physical energy, he's got stacks of breakfast bars, disposable face masks, donuts and bottled water — all of which has been donated to the cause.
He expects the group to next protest no earlier than Sunday, until something — anything — changes.
"If people can get together and stay active in community planning and everything like this, and keep picking each other up...if that is the new big wave of our generation...there's a lot of promise that can happen," he said. "A lot of good stuff that can happen. It's weird that I'm directly in the middle of it in Bowling Green, because I had no plans on that happening. It just kind of got thrown at me.
"But it's working. And I like that. I like that a lot."