DRAFFENVILLE — Marshall County High School senior Zion Harmon has spent much of this season sidelined with a heel injury. But that hasn't stopped him from being noticed as one of the top basketball talents in the nation.
It was announced Thursday that Harmon was nominated as one of more than 700 top boys and girls high school seniors from across the country for the 44th annual McDonald's All American Games teams.
Marshall County boys basketball head coach Terry Birdsong submitted the nomination paperwork a couple months ago, as he felt the recognition was "well deserved."
"Zion has proven himself on the national stage for many years now," Birdsong told The Sun on Thursday. "Even though he's been injured this season, it would be a nice ending to his high school career if he were to make it."
Harmon, a Western Kentucky University signee, scored 788 points in 31 games for the Marshals as a junior last season for an average of 25.4 per game. He got out to a hot start this year in averaging 30.2 points per game but has played in only four contests due to the heel injury. However, despite not playing since Jan. 18, he has scored the second-most points on the team (121), not far behind sophomore Cole Mills' 134.
"He's been scoring a lot of points his whole career," Birdsong said. "He can knock down shots. He's really good in transition and is creative around the basket. We can post him. He can go full speed with either hand and can finish with either hand. All the things you look for in a guy that can score points, he has all those abilities."
The final All American team roster of 48 players will be named later this month. But commemorating these players will look different this year due to COVID-19, as McDonald's made the decision to forego in-person games after consulting with health and safety experts and will honor the 2021 class through a virtual celebration in the interest of protecting the health and safety of student-athletes, their families and event staff.
Harmon hopes to return to play next week
According to Birdsong, Harmon could potentially return to game action next week pending the results of a doctor's exam today. If he's cleared to return, he'll first need to partake in team practices, Birdsong said.
"We're going to try and get him ready for next week," he said. "He has to get some practices in, because he hasn't done anything in a month."
Upon his return, the Marshals will be adding a high-impact player on both ends of the floor back into their lineup.
"He's the best player in the state of Kentucky, we feel like. He can score, and we typically have fewer turnovers with him in the game. He handles the ball so well and passes it well, which takes pressure off of the other guys," Birdsong said. "And when he wants to be, he's our best defender. That's something he has to be willing to do when he comes back, because all of our kids are going to be counting on him to do his part on the defensive end."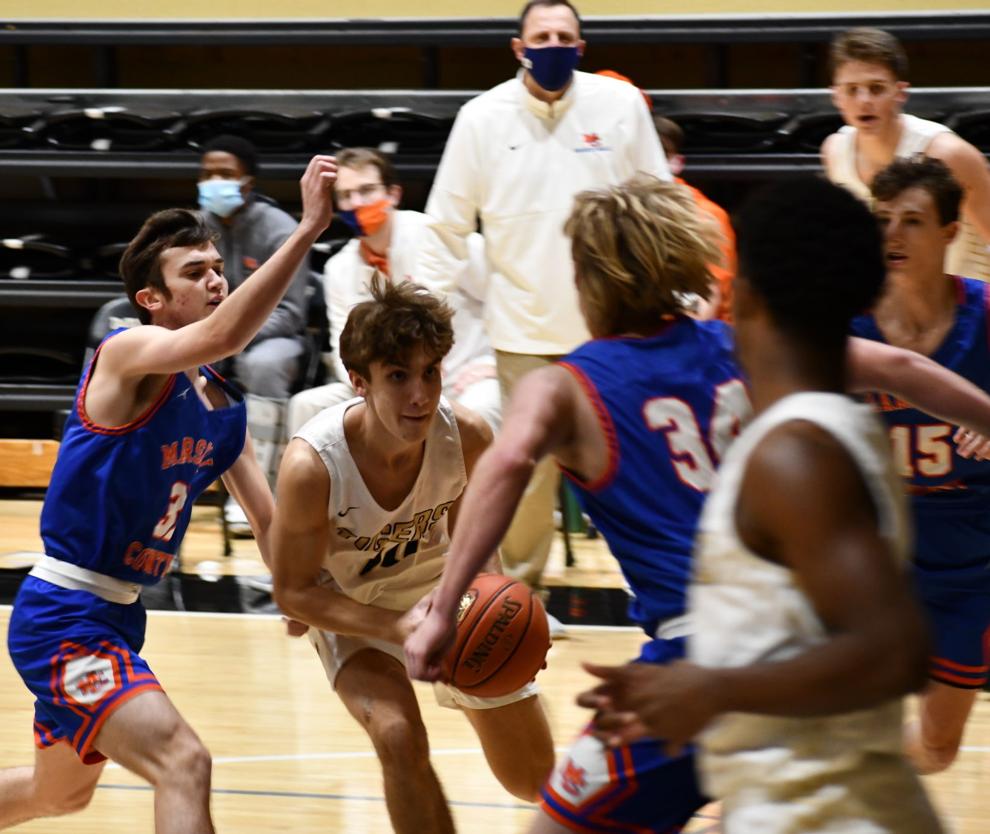 The Marshals are obviously looking forward to Harmon's return. His absence is just one of many factors that have hampered the team this season, as the Marshals have also fought through quarantine pauses and games canceled due to inclement weather.
And the games they have played have been against some tough opponents.
"It's been a very challenging season. Our kids haven't caught many breaks this year," Birdsong said. "But I'm really proud of our kids. They've continued to work hard. They've gotten better even though our record doesn't show it. I'd say we're about as good a 3-7 team as you'll see when you factor in all the things our kids have had to go through."
With Harmon out, the Marshals were left with no returning starters from last year's team, meaning everyone else had to step up their performance that much more.
And Birdsong believes they'll be all the better for it once Harmon returns for the final stretch of the season.
"I think we've become a much better team over the last month than we were when Zion went out. Our guys have all gotten better and have expanded their roles and what they can do. They're all more confident," he said. "Without Zion out there, we had no starters returning, and to play the schedule we've played, it's been tough on our kids. But I think we're going to be better for it. I see us being able to beat some teams that we haven't been able to beat without him."