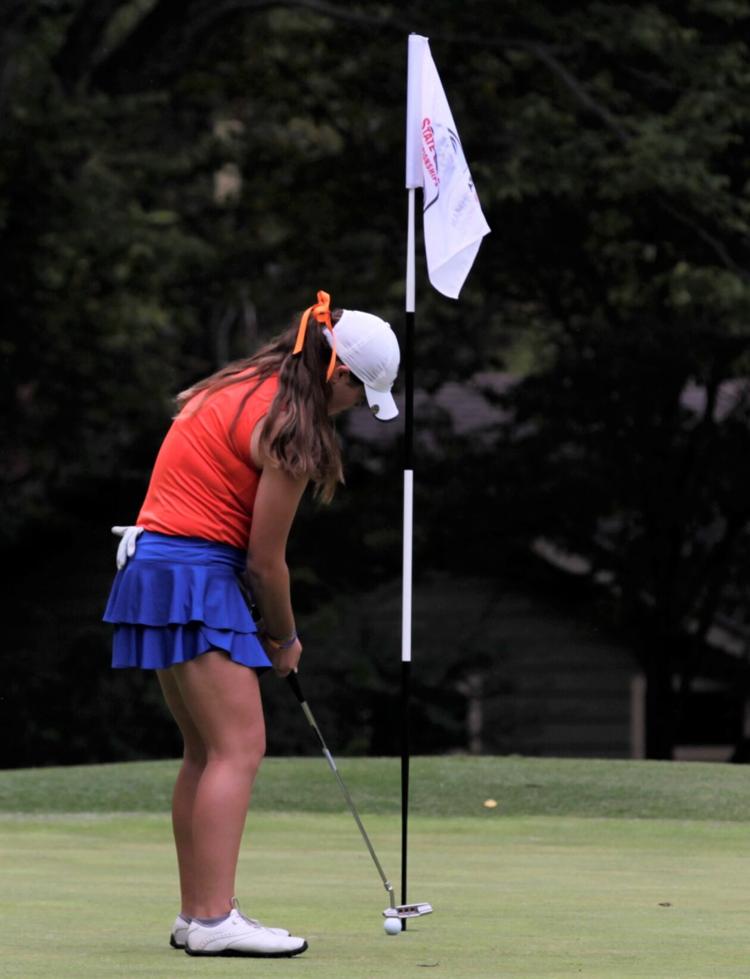 BOWLING GREEN -- In 1977, Caldwell County -- under direction of the legendary Al Giordano -- defended its home Princeton Golf Course and came away winners of a state title, shooting a 699 behind the swings of Linda Miller, Beth Franklin, Lisa Adams and Grace Pelley.
No First Region team, prior or since, has come away as queens of the Commonwealth.
But after Friday's efforts at Bowling Green Country Club from Marshall County's Trinity Beth, Savannah Howell, Megan Hertter and Katie Roberts, history might have a new chapter by Saturday night -- as the Lady Marshals own a six-shot lead over two-time defending champion Lexington Christian with 18 holes remaining.
Firing a hardfought 314 (26-over) behind Trinity's 75, Howell and Hertter's 77's and Roberts' 85, father-turned-coach Aaron Beth noted his team did everything asked in this pressure-packed scenario.
It wasn't as perfect of a day as anticipated for the blue-and-orange, but any edge is an edge with a state trophy on the line...especially with some murky meteorology possible due to the remnants of Hurricane Delta whipping through central Kentucky on Saturday and Sunday.
"The goal going into today, not knowing what the weather is going to do, was be in the lead going into Saturday," Aaron Beth said. "And we accomplished that. We didn't have our best day, and we still have a six-shot lead, so I'm excited about it."
Winners in nine of 10 fall tournaments in 2020, including dominant performances in the 2020 First Region Championship at Calvert City Country Club and the 2020 Kentucky Golf Coaches Association All-State Tournament in Lexington two weeks ago, Friday's fireworks brought about a tighter, tougher test than these Lady Marshals have faced at any point over the last three months.
For starters, much like the 2020 KHSAA Boys Golf Championships earlier this week, Bowling Green Country Club is, quite plainly, playing difficult. The greens are as fast as ever, the pins are in borderline-professional positions, and the torrid winds are forcing misjudgments in club selection. Putting is perilous, and by the end of Friday, only Madison Central's Elizabeth Eberle (70, first) and Apollo's Macey Brown (71, second) had finished with below-par rounds.
Furthermore, the Lady Marshals, LCA, third-place South Warren and fourth-place Sacred Heart are all within 15 strokes after one round, with no more than six strokes between each position.
Tight might be an understatement.
Trinity, the state's No. 1 golfer coming into this weekend based on All-State points, was at 2-under after five holes thanks to an eagle on No. 5, before a bogey-double-double swoon from No. 7-9 unraveled her sterling start. She'd stabilize and finish even on the back nine, but that's nearly five strokes more than her season average.
Hertter and Howell both started extremely well, too, before they combined to go 8-over in the final five holes.
"That's just part of it," Aaron Beth added. "Today's over with, and that's what I told them. 'You did exactly what you needed to do. You put yourself in the position to win the golf tournament, if we don't play (Saturday).' That's what we wanted. You can't let anything that happened today, whether it be an eagle or a double-bogey, bother you. You can't celebrate the eagle, and you can't worry about the double-bogey. It's a brand new day tomorrow. We're six shots better off than we were starting the day today, and starting the day tomorrow, and we just have to go out and play one shot at a time like we've done all year.
"And honestly, I'm glad we felt it today. We really haven't felt this pressure that we've had in the last hour all year, because most of the one-day tournaments don't have live scoring, so we didn't know where we were. And the two-day tournament at Big Blue, we won by 32 strokes. Our kids haven't really felt the pressure that you feel in a state tournament experience until today. And to go through that, build on that, and go ahead and have that experience today...I'd much rather it happen today than tomorrow. I feel like tomorrow we'll calm down, settle down, and play one shot at a time. And things will work themselves."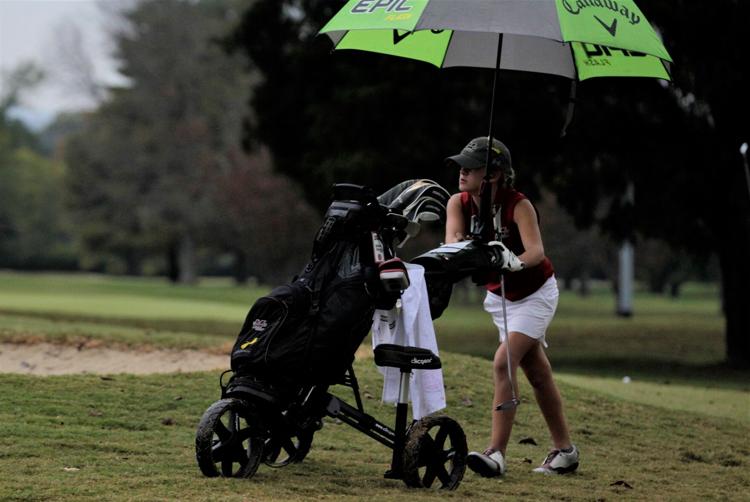 Glisson glides
Much like Marshall County's Trinity Beth, McCracken County's Madison Glisson was playing in her first state tournament atmosphere on Friday.
And while she may be frustrated with the way she finished -- five bogeys and a double-bogey in the last seven holes -- it's how she started that matters most.
Through 11 holes, Glisson (who finished with a 77, and in a tie for 14th) held the lead on the field, sitting at 2-under after 11 holes behind four birdies (No. 2, No. 3, No. 6, No. 11), five pars and just two bogeys.
Now, it's all about finding a way to maintain the composure, and the strength, to work BGCC in her favor.
"I think I just wasn't focused," Glisson said. "I think I just got frustrated after I made that bogey (on No. 12). I feel like I'm getting tired, and I'm not focused. And I'm hitting it all over the place. On No. 15, I pulled it, and then I hit in the bunker, and then I missed the putt. On No. 16, I bladed over the green, went way past the pin, and then I missed the putt. On No. 17, I hit it right, hit it over the pin, and then I missed the putt. I hit a tree on No. 18."
Already, she was breaking her round down moments after the tough close. And alongside Beth, Hertter, Howell and Lyon County's Cathryn Brown (75, T6th), she remains in serious conversation to place in the top 10 after Saturday's final round.
"It feels different that I'm one of the youngest, and I'm helping lead my region," Glisson said. "It feels weird, and I'm only in seventh grade."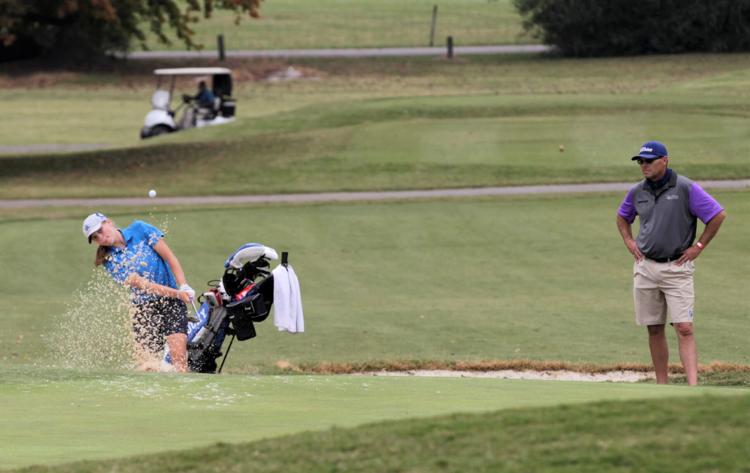 Brown rolls
In her second state tournament appearance, Lyon County's Cathryn Brown is understandably playing with a bit more emotion this weekend than most.
Her brother, Cullan, won a title at BGCC in 2016, and came close to others in his high school career. His untimely death following a bout with osteosarcoma has understandably rattled west Kentucky, the golf world, and his family.
Brown, however, looked anything but rattled on Friday morning. Teeing off on No. 10, she made the turn at 2-over before punching out eight-straight pars on holes No. 1-8.
She nearly had a ninth on No. 9, before her second putt fell millimeters from dropping in the cup.
"Today was really good," Brown said. "I was struggling emotionally because I know this is where Cullan won. So I wasn't really in the right headset (early). But I'll take 3-over every day of the week."
Two specific moments in that string of pars:
-- A touching message from Apollo's Macey Brown, on the par-4 No. 5:
"We met probably three months ago, and we've just become best friends. She's like my sister. We've been there for each other. I've been struggling these past few months, losing my brother. But she's definitely gotten me past those hard days. It's just good to have her out there, knowing I might be emotional. I wasn't really today, and it was really good, but she kind of kept pushing me.
"I hit a shot (on No. 5), I was left, hit a tree, bounced in the fairway. She came up to me and said: 'That was Cullan giving you a shot there.' And I said: 'Yes, it was.'"
-- A save in the sand, on the par-3 No. 7:
"I definitely thought: 'I'm in this bunker; I just want out, two putt and move on.' I thought I carried it way too far, but it checked up, so it worked out really good. I've been struggling out of the bunker before this tournament, but my coach and I got in the bunker for two hours one day, and we sat down and we worked in this bunker. And we worked out of it."