A year removed from an ulnar collateral ligament (UCL) sprain, an ensuing platelet-rich plasma (PRP) injection — and, finally, a medical redshirt — Butler University sophomore right-hander John MacCauley couldn't wait for the spring of 2020.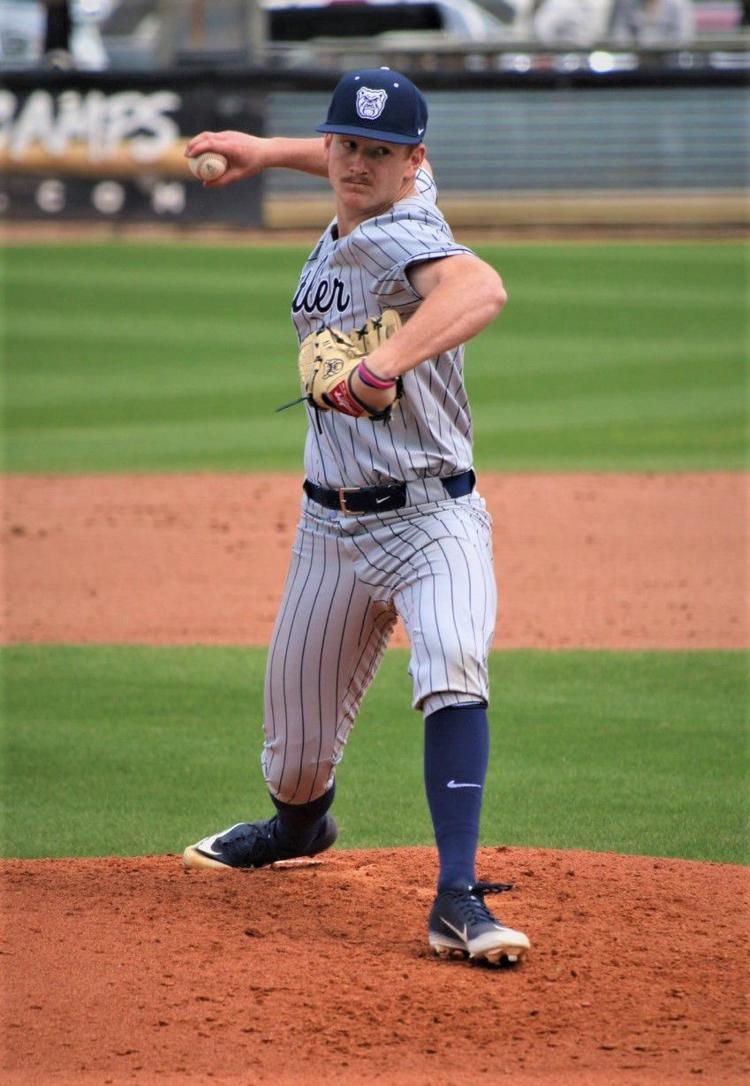 The former three-sport star for the St. Mary Vikings — basketball, soccer and baseball — was healthy and ready to return to his role of long reliever for the Big East Bulldogs.
His fastball was back in the high-80s, and he'd added a curveball to go with his slider and changeup.
"Going into the spring, I had four pitches that I felt comfortable throwing in any situation," MacCauley said. "I felt like that was something that was a real positive for me, and something that was helping me this year."
The numbers were there. In his first competitive baseball in more than a year, MacCauley earned a win on Feb. 15 against George Mason — throwing 2 1/3 innings while giving up three hits and two earned runs.
From then, things were going even smoother for the 6-foot-2, 200-pounder: two shutout innings with three strikeouts and three walks against Evansville on Feb. 29, and then an impressive 22/3 shutout innings on March 8 against 15th-ranked Central Florida.
"I was starting off throwing pretty well," MacCauley said. "And then everything kind of happened."
By "everything," he means the coronavirus. Butler baseball had just finished its three-game series against the Golden Knights and worked through a mid-week split-bill in Port Charlotte, Florida, against Baldwin Wallace and St. Joseph's when the newswire started pinging: NBA season suspended, College World Series canceled, Big East season shutdown.
"It just feels like I haven't even played in awhile, just because of how everything has gone down," he added. "But I'm sure a lot of people feel that way."
When it comes to how he got to Butler, MacCauley calls himself a "late-bloomer," because he really didn't make it onto the radars of most college scouts until he played for the Nashville Knights in the summer of 2016.
He didn't hit a real growth spurt until then, either, and his velocity wasn't yet approaching the mid-80s.
"I just kind of tore it up that summer, and had a really good experience," MacCauley remembered. "I got on a lot of college's radars, and my velocity jumped pretty high that summer, where I was up to 87 miles an hour. From there, I had a lot of options after that, and I even had a pretty good senior year as well."
His senior year: 20.2 ppg for then-basketball coach Greg Overstreet (which led to All-Purchase honors), 11 goals and four assists for then-soccer coach Doug Shelton, and 70 strikeouts over 41 innings (with a .385 batting average, and an All-Purchase nod) for then-baseball coach Joey Wilson.
"From there on, everything just kind of took off," he added. "That junior summer, though, is where I gained most of my offers and most of my recognition from playing in those tournaments."
Freshman year at Butler wasn't perfect — 15 appearances, a 2-0 record and a 6.48 ERA in 162/3 innings — but it was a start.
His 2018-19 sophomore season was where he wanted to make a concerted push for more time on the mound, when some late-fall shoulder trouble eventually spilled into his throwing elbow.
Following medical clearance for another year of eligibility, MacCauley opted to spend the 2019 summer rehabbing with Cressey Sports Performance near Boston.
He could've pitched again in the Great Lakes Summer League, like he did for the Licking County Settlers in 2018 (1-2, 4.29 ERA, 44 IP, 39 Ks, 27 BB), but instead chose to undergo instruction from the legendary Eric Cressey — now with the New York Yankees after working kinesiology and biomechanics with the likes of Max Scherzer (Washington Nationals), Corey Kluber (Texas Rangers) and Noah Syndergaard (New York Mets).
"Being in that facility, you get to meet and talk with a lot of people you normally wouldn't get to talk to," MacCauley said, having met the legendary Curt Schilling and the up-and-coming San Francisco Giants star Tyler Beede while there. "I spent the summer up there rehabbing, working out and ramping up my throwing to where I was 100%. That just kind of changed my health, and I think it will change my career here in the next few years ... just with how I treat my body and everything that goes into that."
Missing the rest of his 2020 spring baseball season has, however, come with a positive.
He's gotten more family time in Paducah, and particularly with his five-years-younger brother, Parker, and the two have been practicing until MacCauley leaves for Indianapolis in two weeks.
"It's kind of been nice to come back home, and I've been throwing with him and training with him every day," he said. "It's kind of been cool for me, because I've been gone. Right when he entered high school was when I was leaving high school, so I haven't really been able to see him play baseball at all. I've gotten to catch some of his basketball games over the winter breaks, but now I've gotten to work with him and throw every day.
"So it's been really nice from that aspect, to just work with a brother that I'm pretty close with and get to spend some time with him, work on him and try to develop him. And he's kind of taking a similar path like I did, where he's kind of a late developer. So it'll be interesting to see how his career pans out."
As for MacCauley's own career? He's still got two more years of eligibility, as well as his true redshirt, remaining — even though he'll graduate in the spring of 2021. The plan is to continue at Butler baseball for as long as possible, in pursuit of a master's degree in business management.
And then, hopefully, get picked up one day.
"I've still got a lot of work to do," he said. "But we'll see what happens."