Over the last four Sundays, more than 40 million viewers have tuned in for ESPN's "The Last Dance," in what's been an impassioned look at the multiple storylines surrounding the 1997-98 Chicago Bulls.
Hundreds of people are playing a role in the dynastic story, and Clarence Gaines Jr. — son of Paducah native and basketball legend Clarence "Big House" Gaines — is one of the stage managers in the six-act comedy/tragedy.
From 1988-2000, he served as a top scout for Bulls general manager Jerry Krause and head coach in Phil Jackson, and had a front-row seat to Chicago's rise and coronation as the NBA's best.
Tonight, he'll be tuned in to the final two chapters, with thoughts of the Bulls' legends, his father's own greatness, and a "second home" of Paducah all woven together.
"It shows you that when you're brought up in something, and you have a passion and drive for it, it sometimes will find you," Gaines Jr. said. "And happenstance, or a blessing, came my way."
'The Pearl'
That happenstance began in 1967, when a scout for the NBA's Baltimore Bullets, Krause, eyed Big House's top talent at Winston-Salem State University — one Earl "The Pearl" Monroe, who was averaging more than 41 points per game on the way to an NCAA College Division Championship.
Shrewd and inscrutable to some, Krause and Big House instead became fast friends, and Baltimore brass wound up pouncing on the future NBA Hall-of-Famer with the No. 2 overall pick that summer.
"Jerry had seen Earl since his sophomore season," Gaines Jr. added. "And a relationship was built."
Jackson, who had starred at the University of North Dakota, was also in the pool, and Krause wanted him for the Bullets at No. 13. He'd fall to the Knicks at No. 17, but Krause would continue to watch his career, too, as the gritty player would later turn coach.
Kenan-Flagler
Like his father, Gaines Jr. chose football first, and bounced to William & Mary for the gridiron. Upon graduation in 1980, he enrolled to the Kenan-Flagler School of Business at the University of North Carolina at Chapel Hill.
When he needed housing at grad school, a phone call from dad to the UNC men's basketball staff landed him a room in the Granville Towers, where he met Tar Heels point guard Jimmy Black and started talking shop.
"He was telling me about this recruit they had just hosted," Gaines remembered. "And how cocky he was."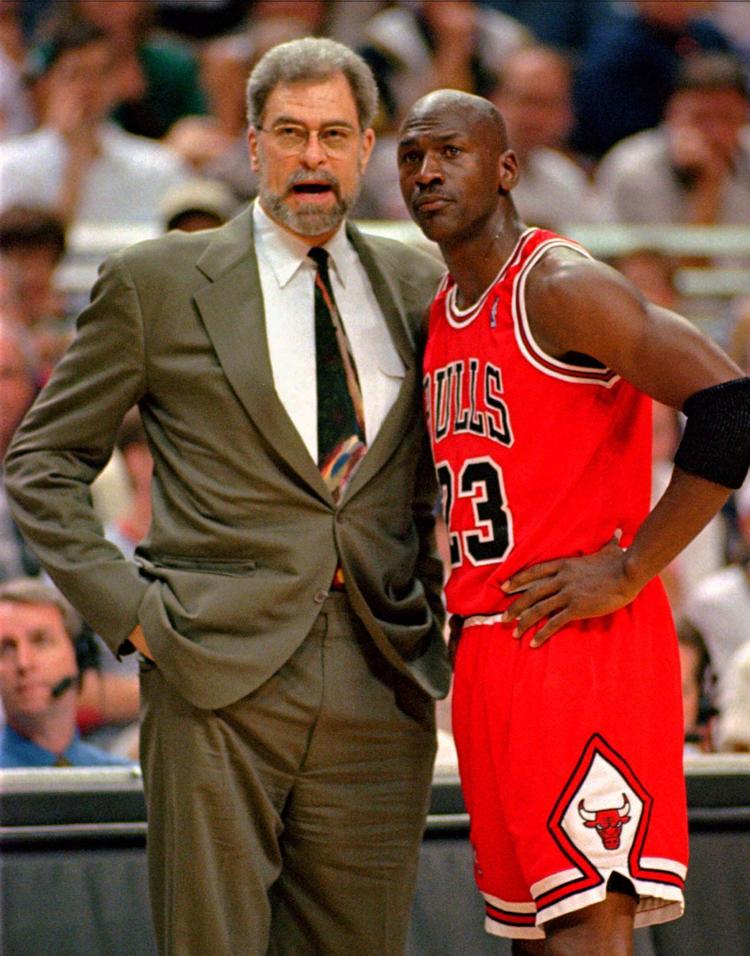 That recruit: Michael Jordan.
Gaines was on hand to watch Jordan's first home appearance at Carmichael Arena, a Dec. 3, 1981, matchup against defending National Invitation Tournament champion and ninth-ranked Tulsa.
Jordan had 22 points. The Tar Heels won 78-70.
"You knew how talented he was then," Gaines Jr. said. "And later, our lives would intersect."
Before the "intersection," however, came Jordan's inception.
March 29, 1982. In an up-and-back, one-day trip with friends from UNC to New Orleans for the NCAA Championship game, the Tar Heels were up against sixth-ranked Georgetown and its own star freshman in center Patrick Ewing.
Big House had landed Gaines Jr. and his friends some tickets, while his sister — Lisa Gaines McDonald (a UNC graduate herself) — was plopped right next to dad.
She didn't love sports as much as her father and her brother (and she's waiting for "The Last Dance" to appear on Netflix).
But on this particular day, she had the better view of history. Of Jordan's game-winning jumper.
"I've been around by luck," she said with a laugh. "Not by any kind of planning. My brother was probably in there too."
He was, but much farther away from the action.
"She had a better seat than I did at that game!" he said, laughing. "... I was sitting in a different location with three of my buddies. Up in the boonies, back then."
His seat was about to get much closer, though. And hers ended up being about as close — as she'd eventually settle near Chicago in Wilmette, Illinois, and later get her own family involved with the Chicago Bulls phenomenon.
Especially after little brother was in the mix.
"It was fun, because to me with the Bulls, it was like a big party," she said. "We'd go down and eat dinner with some of the team's family members. Dad would come down, and we'd watch the Christmas game.
"And my father always enjoyed watching a great basketball game."
March 1, 1986
In 1985, Krause was hired by Jerry Reinsdorf to become the Bulls' general manager.
By then, he'd started peeling the ear of Gaines for two specific reasons. He needed some scouting details on Virginia Union University's Charles Oakley, and he wanted tickets to Monroe's jersey retirement with the Knicks on March 1, 1986.
"Jerry wanted to be incognito (and not on press row)," Gaines Jr. remembered. "So dad gave me the tickets to get to him, and we ended up talking for an extended period of time, and developed a relationship."
Gaines Jr. was serving as a sales manager for Eastman-Kodak and had since moved out to southern California when Krause started inviting him to co-scout summer league games in the area.
Already, Krause was sizing up a potential employee for the 1988-89 season, and offered him an unpaid part-time spot.
"What he was doing, he was seeing if I could be a part of the organization," Gaines Jr. said. "Did I have the acumen for it? Of course I could. I had been around it all my life."
By the summer of '89, Doug Collins was out as Bulls coach, Jackson was in, and as Gaines Jr. puts it, "Krause made me an offer that I couldn't refuse."
"That's how I got into professional basketball."
Kukoc-ed
In Episode 5 of "The Last Dance" (air date: May 3), much was made of "The Croatian Sensation" in hybrid forward Toni Kukoc, who drew the competitive ire of Jordan, Pippen and other Bulls teammates due to Krause's overtures of the European star.
But behind those early soliloquies from Krause was Gaines, as the pair attended the 1990 FIBA European Champions Cup Final Four in Zaragoza, Spain.
Kukoc and Jugoplastika were favored to come away as titlists, and in the championship against Barcelona Catalana, Kukoc skied for 20 points, seven rebounds and one assist as the tournament's top scorer and MVP.
"I was enamored with Kukoc," Gaines Jr. laughed. "More than Jerry at first."
So on June 27, 1990, "Euro-Magic" became a Bull with the 29th overall pick, in what Gaines Jr. still considers an absolute coup by the organization.
He does, however, remember sweating in those final moments of the draft, because Krause was considering taking Iowa's Les Jepsen instead of Kukoc.
"Jepsen wound up being taken by Don Nelson at Golden State a pick before," Gaines Jr. said. "Thank God, because Krause would've taken him over Kukoc."
Gaines said he and Bulls brass knew Kukoc wasn't coming to America right away for multiple reasons. The money in the European game, at the time, was generally better than rookie NBA cash, and Kukoc's home Croatia was embroiled in the civil unrest of a splintered Yugoslavia.
Kukoc, though, was worth the wait.
"Could Krause have gone about it in a different way?" Gaines Jr. said, rhetorically. "This is where people get on Jerry, in terms of his tact in doing things. But it was such a time where all the eyes and ears — because of the way our team was — were focused on us. Media ... you're trying to ferret out things, but you can print it, especially in a big media market. It was bound to happen. So I think it's somewhat unfair criticism.
"All (Krause) was trying to do was make the team better."
Gaines Jr. appears only for a few fleeting seconds in "The Last Dance," near the end of Episode 7 (air date: May 10) standing alongside Krause at an October 1993 practice.
It's a fitting snapshot of what he'd write an episode about, had he been asked to pen one hour of this epoch.
"I would write an episode from my perspective of Jerry Krause," he said. "It's easy for Jerry to be made a villain and a foil, because in some ways, he was always that during our time in Chicago together.
"I thought it was ... interesting to see them highlight Jerry getting his ring in our second championship and being booed by the crowd. I don't know if there's ever been a general manager in the history of the game who was so disrespected by his own fan base."
He says this, despite a somewhat bitter ending in 2000: the failure to select Wisconsin star and Chicago's native son Michael Finley in the 1995 NBA Draft, and the failure to select high school phenom Rashard Lewis in the 1998 NBA Draft.
Gaines Jr. loved both and voiced as much. Krause didn't, and furthermore didn't approve of his scout's growing frustrations.
"Those were two that I really fought hard for, but didn't get implemented," Gaines Jr. added. "In some ways, it would've eased the transition when Michael left (in 1998)."
Still, Krause's business-like mentality, uncanny eye for under-the-radar talent and overall ability to mitigate the unmitigated brought the pair together for more than a decade, and Gaines believes there should've been a more fair assessment.
"That would be my episode," he said. "Both the positives and the negatives."
"And people would boo that episode!"
'Competitive greatness'
Following his dismissal in 2000, Gaines Jr. started dissecting John Wooden's "The Pyramid of Success," a 15-block foundation about the philosophies and techniques of winning, and then implementing them with his own teams.
At the zenith of Wooden's golden triangle: "competitive greatness."
He'd seen this theme repeatedly in life, but didn't know it had a name until he'd read it.
And now it's his lasting memory of those Bulls. And of his beginnings.
"It means being at your best when your best is needed," Gaines Jr. said. "I grew up with a man who was considered great, so I saw that in my household ... not totally being aware of it, but living it. Seeing his impact and affect on individuals — specifically the people he coached and the people in the community — I saw that larger-than-life presence. Where a guy has that kind of presence, and can impact people in a positive way. (I was) being the son of a great man.
"And then I go into my professional life ... once I got to basketball ... a team and a player and a coach in Phil Jackson, and that's what sticks with me. And what it takes to be the best at something.
"And those lessons are deeply embedded in my psyche."
Right alongside memories of Paducah.
Hotel Metropolitan
Every year around Aug. 8, timed perfectly with the "Eighth of August Emancipation Celebration," the Gaines family visited McCracken County for what was usually a month-long sabbatical.
It meant gorging on beautiful breads at the Blackhawk Bakery. Fellowship at Burk's Chapel. Grilling, arcade games and swimming pools at Noble Park. Housing at Hotel Metropolitan with grandparents and owners, Lester and Olivia Bolen Gaines. Fishing with his grandfather on a boat affectionately named for his older sister, "The Lisa." Eating grandma's homemade banana ice cream, the best he's ever had, then or since.
"The memories just reverberate in terms of Paducah, and in a lot of ways, I am a Kentuckian," Gaines Jr. said. "I'm very familiar, obviously, with the state.
"And when you make those kind of memories as a child, they just stay with you for life."