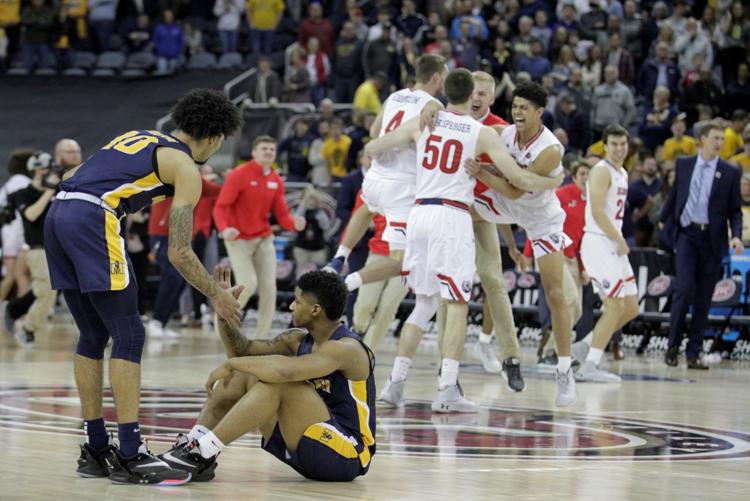 EVANSVILLE, Ind. – The final backdoor cut was the deepest.
With less than 10 seconds to go and Murray State clinging to a one-point lead in Saturday's 2020 Ohio Valley Conference Championship (and 3,000 Blue-and-Gold-clad fans at full tilt), Belmont called two timeouts, then executed an inbound play designed for fifth-year graduate transfer Tyler Scanlon – as he floated to the left corner, caught a perfect bounce pass from sophomore guard Adam Kunkel while navigating the baseline, and buried what ended up being the game-winning reverse layup.
The Racers had a chance at some March magic, but a desperation play for senior Jaiveon Eaves fell harmlessly away – and the Bruins captured the OVC crown, 76-75, to end MSU's dash for a three-peat.
Racer senior forward Anthony Smith finished with eight points and five rebounds, but drew the assignment of Scanlon (17 points, 7-for-10 shooting) on the final rotation. Caught out of position on Kunkel's pass, fifth-year MSU coach Matt McMahon said he didn't want those nine seconds to define Smith's – or the Racers' – 2019-20 season.
"Really, it's a credit to Belmont, because what they ran is what we were keying on in the huddle," McMahon said. "We thought they would go with one of their backdoor options or slip actions. And, bottom line, they just out-executed us there, and made the play.
"(Anthony's) been a warrior. And that's what I told him in the locker room. You can't let one backdoor play define what he's meant to Murray State basketball. One of my favorite guys ever to coach. You knew what you were going to get every single day from him. Overcome a lot to get to this point. Tore his ACL in high school and missed his senior year. Broke his ankle last year. Was forced to miss his senior year. Came back for his fifth year. Provided great leadership for our program. Set a great example for our young bigs in KJ (Williams) and Demond (Robinson), that they need to now carry forward for the program. Can't say enough good things about him. Just an absolute warrior and a winner."
First-year Bruins coach and former Belmont star Casey Alexander, who called the final scribbles on his whiteboard "Liberty," has had the play in his book for years – first, as a guard running it for his former skipper, Rick Byrd, and then as his own, most recently turning to it in Lipscomb's run in the 2019 National Invitation Tournament a year ago.
What if Smith had dropped down on the baseline a shade quicker? What was Belmont's next option? Would it have mattered?
"Best of luck," Alexander said.
"It's a secret," chimed Scanlon.
"But with nine seconds left, you don't have anything that's guaranteed to work," Alexander added. "And those are the decisions you make in the offseason. Those are the things you practice all year, and you save them for when you have to have them in games. We delivered a good pass, a good score. It worked."
Since entering the OVC prior to the 2012-13 season, the Belmont Bruins have secured three conference championships against the Racers in excruciating final possessions.
In 2013, it was Kerron Johnson pulling up in the lane in overtime – burying a jumper over Jeffery Moss.
In 2015, it was Taylor Barnette serving up a dagger 3-pointer against the 25th-ranked Racers.
But while the 2020 OVC title finish is just another embroiled chapter in the arch-rivaldom of Murray State and Belmont, the final shot by Scanlon wasn't the only reason the Bruins were able to win their 12th-straight game and first automatic berth to the NCAA Tournament since '15.
Above all, the Racers held a 73-69 lead with 2:49 to go, after sophomore guard and 2020 All-Tournament selection Tevin Brown finished his own backdoor cut with an emphatic slam and foul.
That, however, would be MSU's final field goal for the game, as sophomore forward KJ Williams, Brown, freshman forward Demond Robinson, freshman guard DaQuan Smith and Eaves' final prayer defined an 0-for-5 shooting stretch in crunch time.
In response, Belmont sophomore forward Nick Muszynski – who missed last year's 2019 OVC Championship bout with the Racers – would cap his game-high 25 points and eight rebounds with back-to-back baskets and a free throw. And after Brown coolly buried two lead-grabbing free throws after a foul from Michael Benkert, Scanlon saved the day.
"Last year was bad," Muszynski remembered. "Very agonizing for me personally. I wanted to be out there, and obviously we weren't able to get the win. But, no, I don't think so. This was more about this year. Murray and us, we're arch rivals. Two of the great programs in this conference. And knowing that this game was about us and them, we have a lot of respect for them. Great program. They do things the right way, just like we do. But I was just kind of making it about this game and this night. Locking in for 40 minutes was kind of the mindset."
And it was that way for both teams, as neither the Racers, nor the Bruins, ever pulled away for a double-digit advantage. Belmont led by eight with 9:05 left in the first half, before the Racers scripted a 16-5 run – capped by Brown's and-1. MSU's largest spread was seven with 17:34 left in regulation, after orchestrating a 9-1 spurt right out of halftime capped by a 3-pointer from Brown and two free throws from Eaves.
Smaller factors in the loss?
Belmont, the No. 5 team in the country in two-point percentage, earned a 48-38 edge in paint points and shot 25-for-43 inside the arc (58.1%). A 13-5 edge in second-chance points also looms, with two offensive putbacks from Michael Benkert just before the final media timeout proving pivotal. And with MSU owning an average plus-6.8 rebounding margin coming into the game, the Bruins won the rebounding battle, 35-33.
After committing 22 turnovers in a road loss at Belmont earlier this year, the Racers had 19 assists on 28 baskets with just 10 turnovers. But a 20-1 bench-points edge and eight players scoring at least four points didn't offset the Bruins starters, who between Kunkel, Musznyski, Scanlon and Grayson Murphy (10 points, six assists, six rebounds) scored all but eight points for Belmont. MSU also opened the game 6-for-18 from the field – its only "slow" moment in what wound up being, as they would say, "one for the ages."
"Anybody that turned the channel (from ESPN2), shame on them," Alexander said. "Because I felt like it was worth watching. They made big plays. We made big plays. And I'm glad we had the last good possession."
To think: this is a Racer team that was 7-5 after a last-second loss in overtime to Evansville in mid-December.
Oh, how things have changed, after nearly coming away with a third-straight visit to the NCAA Tournament.
Robinson had 14 points, six rebounds and six blocks. Smith had seven points, four assists and no turnovers. Brown had 17 points, six assists and four rebounds. Williams had eight points on two 3-pointers. Chico Carter Jr. had eight points on 4-for-7 shooting. Devin Gilmore had four points and five rebounds. That's four freshmen, two sophomores and a junior all returning with McMahon's 2020 class. And all having improved just in the last six weeks.
"It's very rewarding," McMahon said. "This is disappointing. But it's been a rewarding season, because our players have gotten better. The team has gotten better. I think we've learned a lot. The situation at Eastern Illinois, while not something you dream about growing up, I'm thankful for that. I think I learned a lot about our team. About our character in the locker room. Learned a lot about myself and our coaching staff. You find out who's with you, you know.
"When things don't go as planned – or they don't go the way you want them to go – that's when you find out what people are all about. So it's very gratifying to know that we have the right people in our locker room. The right people in our program, that have helped build – and ya'll can do the numbers – but the three-year run that just happened. Hasn't been equaled often in the history of this league. So I'm extremely proud of this coaching staff and the players, for what we've been able to accomplish over these three years."
Was this Murray State's final game of the 2019-20 season? Time will tell. It's possible McMahon and his staff – along with officials from MSU Athletics – could pursue a postseason tournament after finishing 23-9 and 15-3 in the league.
The Racers are 133 in the KenPom with a strong adjusted defensive rating (107) but a weak strength-of-schedule rating (minus-7.69, 332nd in the NCAA). The much-maligned NET rankings have MSU at 137.
As the No. 1 seed in the 2020 OVC Tournament, the Bruins possess the automatic 2020 NIT bid, and it doesn't pass to MSU with the Bruins making the "Big Dance." A look at the 2019 NIT field also doesn't show much recent precedent for a team like MSU to get a letter, as the lowest KenPom in the at-large portion of the bracket went to Georgetown (100), and the lowest automatic bid – which goes to a regular-season conference champion that loses in its own conference tournament – went to the NEC's St. Francis (PA) at 261.
Two other tournaments, the College Basketball Invitational (CBI) and the CollegeInsider.com Tournament (CIT), could be more realistic landing spots for MSU, though, again, time will tell. And it's not something McMahon has given much – if any – recent consideration.
"I haven't even thought about it at all," McMahon said. "I'm not even sure where we're at with all of that. Right now, I just want to make sure our guys are okay. Get back to Murray. Get ready for the week ahead here."
NO. 1 BELMONT 76, NO. 2 MURRAY STATE 75
MURRAY ST. Min M-A M-A O-T A PF PTS
Robinson 22 5-11 4-6 2-6 2 2 14
A.Smith 24 4-6 0-0 2-5 1 3 8
Brown 40 5-12 5-6 1-4 6 2 17
Eaves 32 2-7 4-4 1-4 4 4 9
D.Smith 30 3-9 0-0 0-0 4 0 7
Carter 18 4-7 0-0 0-2 2 0 8
Gilmore 17 2-2 0-0 1-5 0 0 4
Williams 17 3-5 0-0 0-3 0 4 8
Totals 200 28-59 13-16 7-29 19 15 75
Percentages: FG .475, FT .813.
3-Point Goals: 6-17, .353 (Williams 2-2, Brown 2-4, D.Smith 1-5, Eaves 1-5, Carter 0-1).
Team Rebounds: 4. Team Turnovers: None.
Blocked Shots: 6 (Robinson 6).
Turnovers: 10 (A.Smith 2, Carter 2, Eaves 2, Williams 2, Brown, Gilmore).
BELMONT Min M-A M-A O-T A PF PTS
Scanlon 38 7-10 0-0 0-4 0 0 17
Muszynski 26 10-15 5-5 4-8 0 4 25
Benkert 34 3-5 0-0 3-9 2 1 7
Kunkel 35 6-16 3-5 0-1 5 3 16
Murphy 30 4-13 2-3 1-6 6 3 10
Adelsperger 13 0-0 0-0 0-2 0 2 0
Hopkins 8 0-2 0-0 0-1 2 0 0
Sheppard 7 0-1 1-2 0-0 0 1 1
Pierson 6 0-0 0-0 0-0 0 0 0
Hollander 3 0-1 0-0 0-1 0 0 0
Totals 200 30-64 11-15 8-32 15 14 76
Percentages: FG .469, FT .733.
3-Point Goals: 5-21, .238 (Scanlon 3-5, Benkert 1-2, Kunkel 1-6, Hollander 0-1, Muszynski 0-1, Sheppard 0-1, Murphy 0-4).
Team Rebounds: 3. Team Turnovers: None.
Blocked Shots: 3 (Muszynski 2, Kunkel).
Turnovers: 10 (Kunkel 3, Murphy 3, Scanlon 2, Hollander, Sheppard).
Steals: 4 (Scanlon 2, Kunkel, Murphy).