Once a year, people are asked to pause and remember the prisoners of war and those missing in action from the nation's armed forces. That day, the third Friday of September, is called POW/MIA Recognition Day.
Veterans of Foreign Wars Post 1191 of Paducah hosts a ceremony for the day on the day following that commemoration at the McCracken County Courthouse.
According to the Department of Defense POW/MIA Accounting Agency, as of Friday, there are more than 81,600 Americans missing in action, with 75% of those taking place in the Indo-Pacific region. Of those, 47,077 Americans went missing in that area during World War II, 6,501 during the Korean War and 1,584 during the Vietnam War.
Of the 81,600 missing Americans, some 72,399 occurred during World War II.
An addition to this year's Paducah ceremony held Saturday was the release of 13 black balloons for each of the 11 Marines, one Army soldier and one Navy sailor who lost their lives in Afghanistan on Aug. 26 in a suicide bombing attack in Kabul.
The Paducah Tilghman High School Navy Junior Reserve Officers Training Corps presented the colors to open the ceremony, and Assistant City Manager Michelle Smolen presented a joint proclamation from the Paducah City Commission and McCracken County Fiscal Court naming Sept. 17-Sept. 23 as POW/MIA Recognition Week.
Martha Lain, the VFW Department of Kentucky commander, expressed the importance of keeping these service members in our thoughts.
"These men and women, they are family here," she said. "We've got to get them back home where they belong."
VFW Jackson Harris Post 1191 Commander Jerry McKinney spoke about the regard for those who have not returned from battle.
"There are those who have served, those who continue to serve in uniformed service to the United States," he said. "We are ever mindful that the sweetness of enduring peace has always been tainted by the bitterness of personal sacrifice.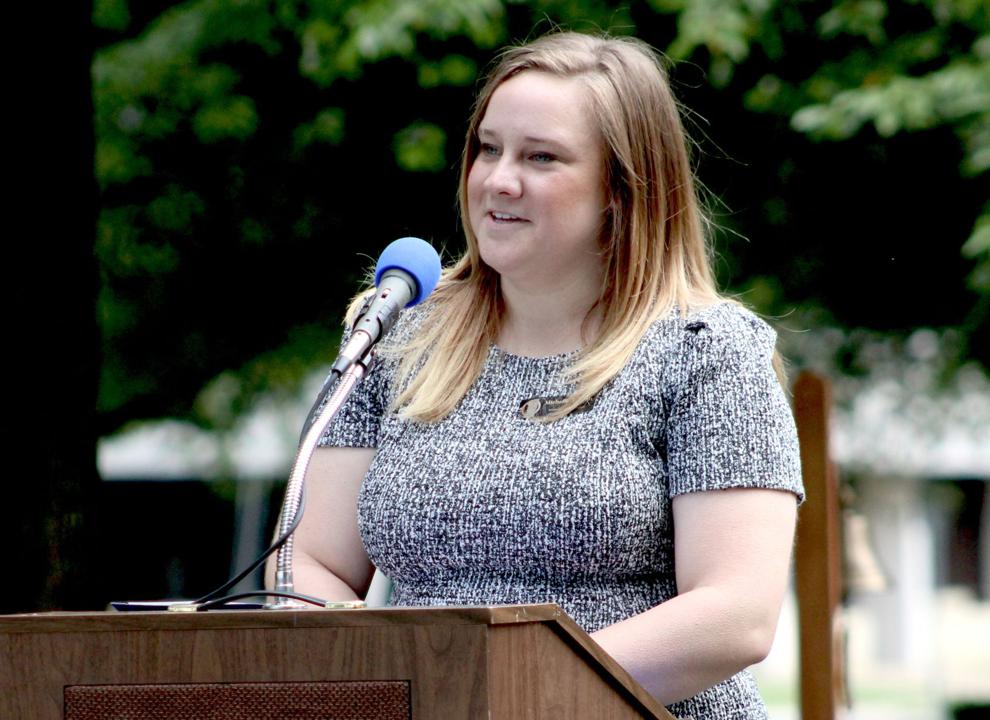 "We are compelled to never forget that while we enjoy our daily pleasures, there are those who have endured and are still enduring pain, distress and imprisonment. We call these POWs and MIAs."
The names of the 13 service members who died in Kabul in August were read to the chiming of a bell, and a wreath of recognition was laid at the monument by Ronald Staley of the Marine Corps League of Paducah and Ronnie Gentry, the commander of American Legion Post 31 of Paducah.
Three sets of balloons were then released. Neal Krinard, who sang the national anthem at the beginning of the ceremony, closed it out with "God Bless America."
This year, POW/MIA Recognition Day coincided with Constitution Day.