Two filmmakers will be shooting projects in Paducah with the support of the Kentucky Film Office Incentive. One film, a historical documentary looking at religious freedom in a historical context in America, will be filming for two days in Paducah this week. Another project, a feature-length film about one of the first integrated Little League baseball teams in the south, plans to shoot in Paducah in 2022 for four to five weeks.
McCracken County is recognized as an enhanced county by the Kentucky Business Incentive (KBI) program. In enhanced counties, qualified film productions are offered a 35% income tax credit incentive for approved expenditures and all labor for filming, according to the Kentucky Office of Film and Development. For non-Kentucky based feature film production companies, the film budget must be at least $250,000. For out of state documentary production companies, the budget must be at least $20,000.
"This Field Looks Green to Me"
Ron Schmidt, executive producer of "This Field Looks Green to Me," is in town this week preparing for the production of the feature-length film. Schmidt said the movie, based on the first integrated Little League baseball team in Kentucky, will follow the stories of three children as they discover the power and impact of hate learn about how small words and actions can impact society as the community rallies behind the children's baseball team.
Schmidt is a certified public accountant by trade, but was inspired by his experience playing in this historic league and as a children's baseball coach to create a film. Schmidt previously interviewed the men who created this integrated southern league, and provided their oral history files to the Kentucky Oral History Commission.
One of the symbols that Schmidt plans to use in the film, which will take place in 1953, is a spider web. He was inspired by Kentucky author Robert Penn Warren's use of a spider web in "All the King's Men," and uses a Warren quote discussing the ripple effects of touching a spider web to make a statement about small actions in a community.
"The movie deeper down beyond the baseball story, which is a great story, is about relationships. We know that kids today will be able to connect and be able to reflect on their own lives and learn something about how the kids back then dealt with things," Schmidt said.
He met with Paducah Mayor George Bray and McCracken County Judge-Executive Craig Clymer on Monday to discuss the possibility of building a Field of Hope in Paducah or in the county after production is complete. This field, Schmidt said, would give kids today a sense of hope from what kids 70 years ago were able to accomplish.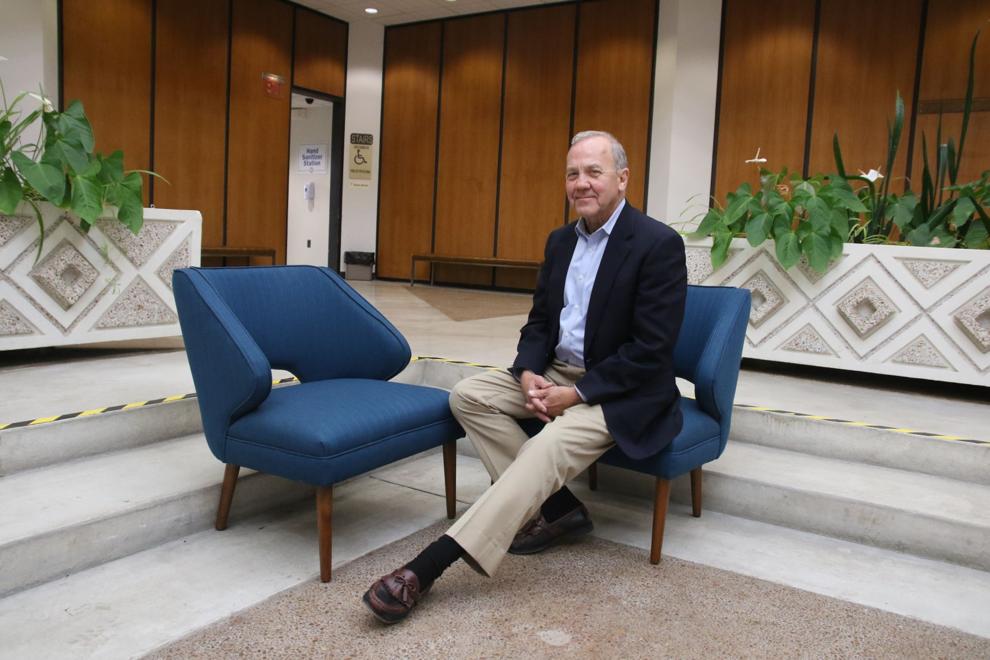 Schmidt credited Mary Hammond, executive director of the Convention and Visitors Bureau, with facilitating discussions with community leadership.
Schmidt said the crew plans to shoot half of the movie in Paducah and half in Middlesboro, Kentucky. The plan is to shoot in Paducah over the span of four to five weeks sometime in 2022. Schmidt said he would like to have community members cast as extras in crowd scenes when filming begins.
"Free Exercise"
Emmy Award-winning filmmaker Leo Eaton, writer Richard Brookhiser and other film crew members will be in Paducah on Wednesday and Thursday shooting for Eaton's upcoming documentary, "Free Exercise," focusing on the history of religious freedom in the United States. The crew will be speaking with local historians and members of the Jewish community about the impact of Gen. Ulysses S. Grant's General Order No. 11, which ordered the eviction of Jewish people from Paducah in 1862.
Eaton has worked on more than 25 film and television productions in his 50-plus-year film career as a director, producer and writer. He most recently worked with Brookhiser on "John Marshall: The Man Who Made the Supreme Court," a documentary about the former Supreme Court chief justice based on Brookhiser's book.
"Free Exercise" will weave together seven stories from American history where freedom of religion is a central topic, Eaton said. The Jewish eviction from Paducah on Grant's orders will be one of these stories.
In his filmmaking, Eaton said he tries to use what he terms as "history in the present," where he finds present-day themes that help viewers to understand what life was previously like and find something they can relate to.
"Particularly, young adults and children in school think of history as something that was long ago and far away, and it's not. Everything that happened 200 or 300 years ago relates directly to what's happening now," Eaton said.
A project like this takes about two years to complete from start to finish, Eaton said. He added the production is scheduled for completion in late fall of 2022, and has a goal of making the film available for schools and universities by the end of next year. The executive producing team is having a discussion about a limited theatrical run, and Eaton said the film would stream on most of the major streaming channels.