While pulling a fully-loaded UPS truck 12 feet is not an event in Special Olympics — at least, not yet — it is a means to benefit McCracken County Special Olympics in a big way.
The 13th annual Big Brown Truck Pull held at Heartland Church on Saturday hauled in $36,000 for the local organization.
Eleven teams raised money to be able to make two pulls in an effort to pull the truck 12 feet in the fastest time. Each team had a $750 donated entry fee — $50 for each of the 15 team members. For an extra $1,500 donation, teams were awarded a third pull.
Jeanna Keith and Debra Shockley of McCracken County Special Olympics were pleased with the turnout and the result.
"Our goal, originally, was $30,000," Keith said. "So, we did exceed our goal. It was smaller this year than it has been, but it's also not downtown, where we get the traffic."
"It was awesome — beautiful weather," Shockley said. "We thank everyone who participated for coming out and helping our organization."
Teams took part in one of three categories: men's teams, women's teams and coed teams, which had to have at least six of its members be women.
The Four Rivers Nuclear Partnership — which won the men's and women's divisions last year — defended their title claim Saturday. The FRNP Pull Platoon — the organization's men's team — had a best pull of 5.93 seconds, while the FRNP Mother Truckers won the women's division with a best pull of 9.09 seconds.
UPS Brown Bullies showed they could have their truck and pull it, too, by winning the coed division with a best pull of 7.12 seconds on its third pull. Other teams that had three pulls — and got their best times on the third pull — were the FRNP Mother Truckers and Mighty Moms.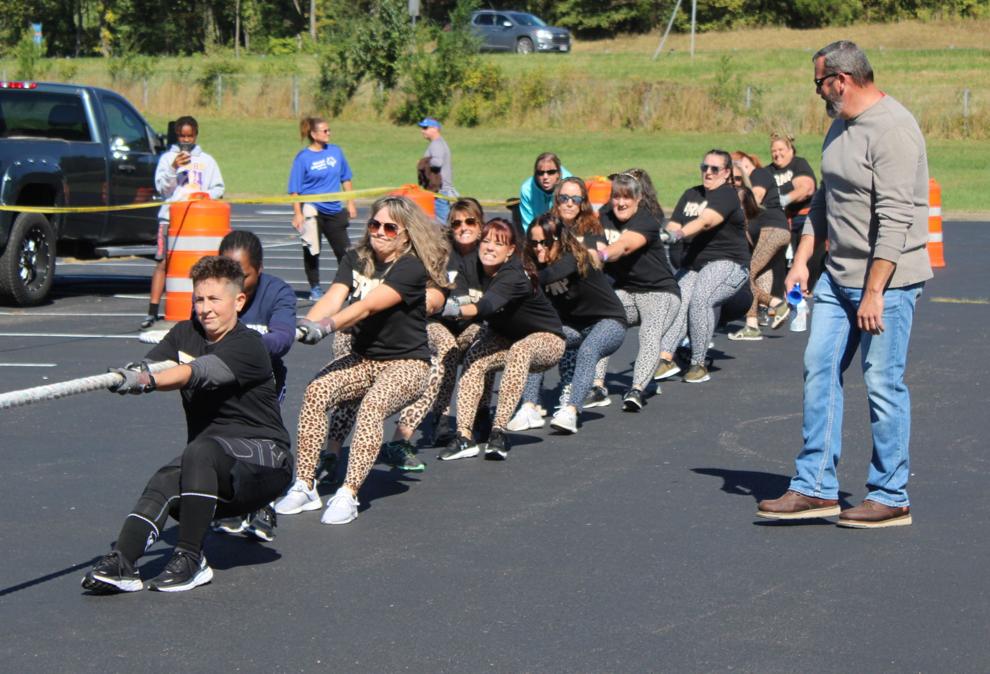 The McCracken County Special Olympics delegation got the first pull of the day and finished with a best pull of 6.07 seconds, winning the youth division.
The results of the 13th annual Big Brown Truck Pull, with teams and their best pull times in seconds, were:
• Men's Division: 1. FRNP Pull Platoon, 5.93; 2. Paducah Fire Department, 6.41; 3. Da Blue Bombs, 6.71.
• Women's Division: 1. FRNP Mother Truckers, 9.09; 2. Mighty Moms, 30.83.
• Coed Division: 1. UPS Brown Bullies, 7.12; 2. CrossFit Dig Deep, 7.69; 3. Ingevity, 7.81; 4. Worthington Industries, 8.00; 5. Beefcake Bankers, 8.01; 6. Pilot Thomas Logistics Marine, 8.07.
• Youth Division: 1. McCracken County Special Olympics, 6.07.
Photos of this year's event can be found under "Galleries" at paducahsun.com.
More information about McCracken County Special Olympics can be found on its Facebook page. More information about Special Olympics in Kentucky can be found at soky.org.
Those wanting to make a donation to McCracken County Special Olympics should mail the donation to: McCracken County Special Olympics, 218 Cody Cooper Road, Ledbetter, KY 42058. Checks should be made out to McCracken County Special Olympics.