There are hundreds of homeless students in McCracken County and in the surrounding area, some of whom people may not think of as homeless. However, that lack of permanent address does not prevent them from getting an education.
The U.S. Department of Education defines homeless children as having no fixed, regular, adequate nighttime residence, and includes children who are:
• Sharing the housing of other people due to loss of housing or economic hardship
• Living in hotels, motels, trailer parks or campgrounds due to the lack of alternative adequate accommodations
• Living in emergency or transitional shelters
• Abandoned in hospitals or awaiting foster care placement
• Living at a primary nighttime residence that is not ordinarily used as a sleeping accommodation for people
• Living in cars, parks, public spaces, abandoned building, substandard housing, bus or train stations.
In January 2019, there were 23,964 homeless students in Kentucky. For comparison, there were 24,865 people living in Paducah at that time, according to the U.S. Census Bureau.
Of those homeless students in the state, 2,446 of them were unaccompanied, 2,799 were unsheltered at night and 1,003 lived in hotels. Kentucky had the 15th-most number of homeless students in the U.S. That information was provided by the U.S. Interagency Council on Homelessness.
However, all but 11 of those Kentucky homeless students were enrolled in a public school for the 2017-18 school year, including all of the unaccompanied homeless students.
The two local school districts — McCracken County and Paducah Independent — work together to make sure area homeless children's academic needs are met.
"That's something that we are trying to become more and more educated on all the time and trying to get better identified," said McCracken County Director of District-Wide Programs Brent Buchanan. "It takes schools asking the right questions to find out what's going on. It's definitely not something that somebody is offering information."
Homeless children are administered by the McKinney-Vento Homeless Assistance Act of 1987, which originally provided services for homeless people, then was amended to include safeguards for homeless children.
Heather Anderson is the McKinney-Vento liaison for the Paducah Independent School District. She oversees the School and Transition Assistance for Youth (STAY) program, which helps homeless students in this area.
She said there are about 165 homeless children taking classes in that district's schools, from pre-kindergarten through 12th grade.
"That is a very low number for what we've normally served by this time (in the school year)," she said. "I'm usually in the 200s by now. Nationally, we're noticing that we are having a harder time identifying homeless students, and one reason is we aren't seeing people face-to-face (due to COVID-19 precautions)."
Buchanan said there is no accurate number for homeless children in McCracken County.
"It's ever-changing," he said. "Once you are identified as homeless, you are considered 'homeless' for the entire school year, whether you have gotten permanent housing in the meantime or not.
"…The identification is going up, which means we're doing a better job of identifying. I'm not saying that homelessness is any more prevalent than it was, but I think we're better at identifying them."
Anderson said there are several ways that school districts reach out to homeless children.
"Whenever someone registers in our school district, we have a universal screening form," she said. "It's a residency form, and it asks if your housing is temporary and if it is due to economic or other reasons such like domestic violence, things like that.
"Another really important way is through our faculty and staff because they are trained on McKinney-Vento and signs of homelessness, and they are also in tune with their students. So, I get lots of calls from coaches, teachers or administration saying, 'Hey, can you check on this student? Something's not right.' "
Anderson said another resource is former students who were identified as homeless calling her to let her know they know of someone else in that situation who wants to get back into school.
"That is a really cool way to have a former student reach out," she said. "That makes me feel great to know that, one, they remember, and two, they care about their peers."
The Paducah school district received a grant through the McKinney-Vento Act that helps to finance means of helping local homeless students.
"I believe it was eight years ago that the (Paducah) district got the McKinney-Vento grant, which is a competitive grant," she said. "It's federal, and it is distributed to states, and the states have a competitive grant session.
"That enabled the district to hire a full-time McKinney-Vento liaison. Paducah is the only one in western Kentucky that has a full-time liaison."
That grant also enabled the district to buy a van that helps with outreach to homeless students.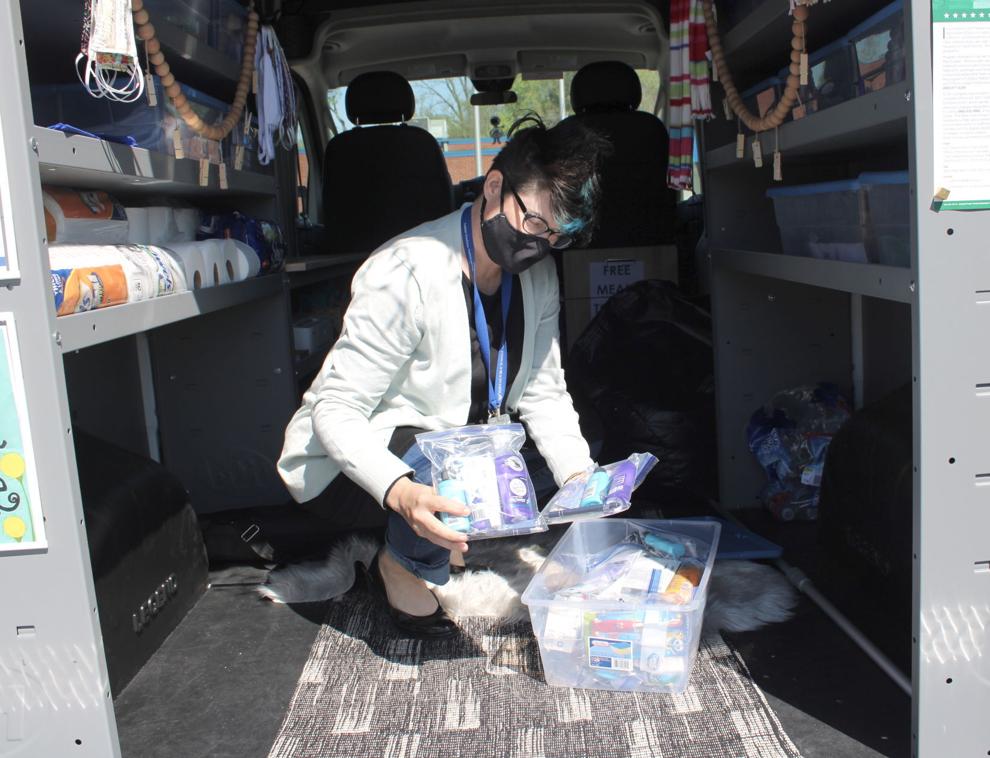 "Our mission is to serve all students with a focus on those experiencing homelessness or underserved folks," Anderson said. "We roll into a neighborhood, and we usually have five-day meal boxes on here. If anybody needs hygiene supplies, we've got them here. We've got school supplies. We've got everything that you would need to be a human.
"This is our baby, and we depend on our community to help us keep it stocked."
Buchanan said the McCracken County school district is investing in a program to help educate teachers and staff to better identify homeless students.
"It might be a bus driver; it might be a custodian," he said. "It could be a cafeteria worker who hears a conversation or asks the right question. It might be a bus driver who notices a student getting off at a place that is different from usual.
"Identifying is just Step 1. Then, it's making sure they get what they need."
Anderson said running away is illegal in Kentucky, but if a runaway student comes to school administration and says he wants to enroll at a school, he must be enrolled, according to the McKinney-Vento Act.
"We have to immediately enroll them, even without documents or a parent's signature," she said. "It is our job to educate that child. Then, we go through whatever we are legally obligated to do after that.
"Mostly, runaways do not come to school, and usually, within three or four days, they are reunited with their families."
Buchanan said once a child is identified as homeless, there are several options available in getting that child involved in the academic process.
"We are fortunate to have outstanding family resource centers in McCracken County," he said. "Those opportunities that we have with our coordinators are immediately there to help provide whatever the need might be, from setting them up with clothing, food or assistance to backpack programs for weekends.
"The other thing is to make sure that they have some immediate housing like a shelter or, if it's a battered or abused situation, then there's also an agency there within Paducah that we can help them with. We want to make sure that they get what they need immediately."
Anderson said the school nutrition department has done "a stellar job" with providing meals for homeless students.
"Experiencing homelessness goes hand-in-hand with food insecurity," she said. "I've really been proud of our school nutrition department for really going above and beyond.
"And our transportation department, too. They have given of their time to make sure our students are fed."
Buchanan serves as the county liaison, helping to coordinate assistance for homeless students to service the children's physical, emotional and social needs.
"That may include extracurricular activities as well, and transportation is a big issue," he said.
Buchanan added that homeless children are provided with a laptop to help with virtual instruction.
As dire as being homeless may sound, homeless students often achieve and succeed academically.
"Many of them do go on to college or to Job Corps to get technical certification," Anderson said. "I have a student that will be graduating from Western (Kentucky University) soon, and lots of them go to (West Kentucky Community and Technical College) and do well there.
"Just graduating from high school and getting a job is also a success. I feel like it's rare that we don't have a success story, and I credit that to our education staff. It's a group effort; everybody locks it in and does a really great job."
Those wanting to help enroll homeless students in the McCracken County or Paducah school districts may call the McCracken County district office at 270-538-4000 or the Paducah district office at 270-444-5600.
"My worry is that there are many students out there that we haven't identified yet," Anderson said. "People can also contact me by going to the STAY Facebook page."
That Facebook page can be found by searching "STAY at Paducah Public Schools."