Valentine's Day has arrived and florist shops everywhere have spent the past few days taking last minute orders, going on deliveries and making beautiful arrangements — using plant polish, vases, shears, and lots and lots of flowers.
It's one of the busiest times of the year for florist shops, if not the busiest.
"Usually, we order right around 1,500 roses in colors and red," florist Cindy Hardison said. "Some of those come from Ecuador. Some of those are shipped in to the local wholesaler here in Paducah — Riverside (Wholesale Florist), and all of them are great quality, even our mixtures, not just roses. All beautiful."
Hardison, of Cindy's Flowers & Gifts in Reidland, has been in the floral industry since the 1970s. Florists, as she explained, work with people at the saddest times of their lives — when they lose a loved one — and the happiest times, when they have children or for weddings or to celebrate Valentine's Day.
"I needed a job at 16 years old and decided I would sweep floors for a while, which I did," she said. "I was blessed with great people that I worked for and they taught me how to design and, at 62 years old now, I still love it as much as I did that day."
She was hard at work on Friday afternoon at the florist shop on Reidland Road, as she and others prepared orders for a higher Valentine's Day demand than she expected. Hardison had been worried about not being busy, but said she was wrong, and anticipated "probably" selling out on Saturday.
"We do one that's called the 'premium dozen,' " she said, on arrangements.
"The premium dozen is a dozen red roses, along with several Stargazer lily. That's our most popular. As far as what some people, even children, can get for their moms, $20, $25, $30, $40 arrangements are usually what we sell in that respect. We sell several of those, but more roses than anything."
Several other Paducah florists anticipated a decline in demand for Valentine's Day. They attributed that to the inclement weather in the area and Valentine's Day falling on Sunday. Roses, of course, are the most popular.
"Anytime they mention snow or ice, people run to the grocery and get bread and milk — you know, they hunker down," said Lisa Jones, owner of The Paisley Peacock Florist on Lone Oak Road. "We're busy, but ... we won't know until probably Monday, because we've been sending (delivering flowers) all week."
She hopes it isn't down this year, but thinks it will be.
"We'll just have to see," Jones said. "I've been doing this 42 years, and based on that, I planned on a 20% reduction because of the way that it fell, but nobody was expecting the snow and the ice. There's nothing you can do about that."
On Kentucky Avenue, Rhew Hendley Florist owner Linn Eller reported lower demand, but didn't know if it was because of COVID-19 or the weather.
"The weather hasn't helped any at all," she said. "That's for sure. But it's down, I'm pretty sure. It's over several days. Usually, Valentine's Day, they want the flowers the day before or (on) Valentine's Day. Since it's on a Sunday and we're closed, it's actually been going Thursday, Friday and Saturday. It is spread out a little bit more."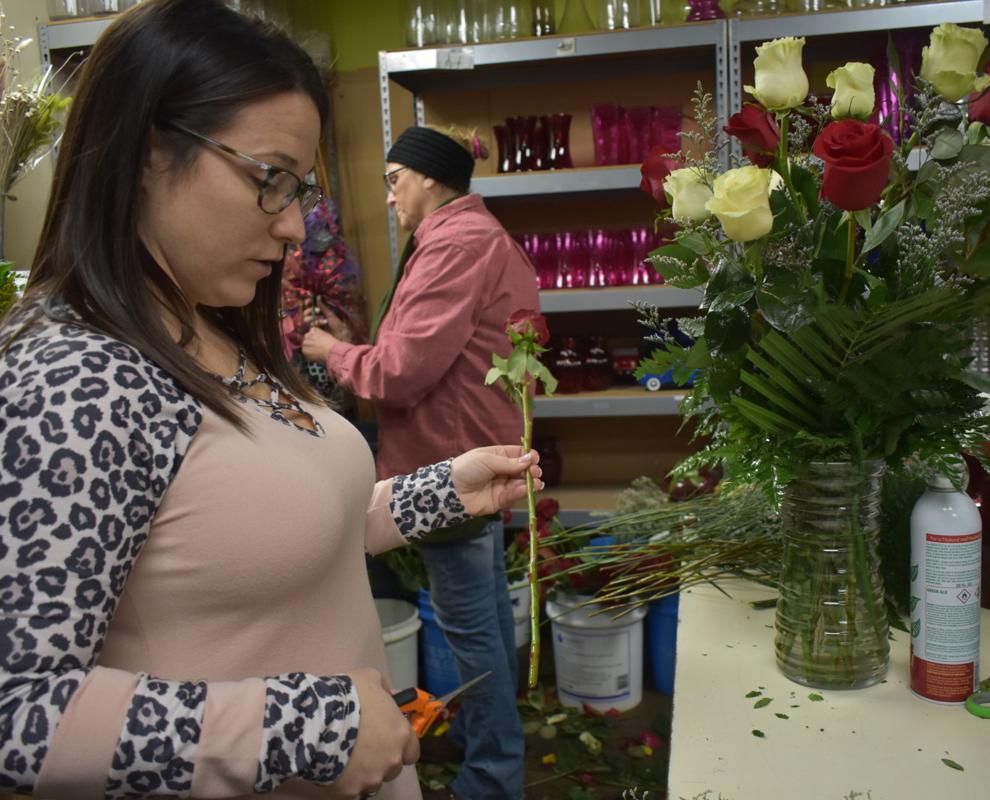 Nearby, on Broadway, Rose Garden Florist owner Abbey Shelton spent some time Friday afternoon arranging a bouquet of white and red roses, as the Rose Garden crew met with customers, answered the phone and worked on flowers.
"When Valentine's Day falls on a Sunday, you can pretty much guarantee that it's going to be at least a 20% drop in sales anyway," she said.
"Add in the pandemic, and we expected a little bit of an uptick in sales, but with the ice storm that we've had, it's hurt us a little bit. So, it's less than anticipated."
In a normal year for Valentine's Day, Shelton estimated she buys about 3,000 stems of roses, in addition to other flowers. It does roughly 500 or 600 orders, but it's probably looking at about 300 or so this year. For Rose Garden, Valentine's Day and Mother's Day are about the same, in terms of demand.
"We get busy around Easter, Christmas, Thanksgiving, stuff like that, but it's nothing where you have to call in extra people ... ," she said. "Valentine's Day and Mother's Day are the only ones that you really need extra staff, extra help and drivers and things like that."
Shelton also shared that the community is always good about supporting it.
"We're appreciative of that, especially at the holidays," she said.
"Mother's Day last year was better than I anticipated it being. I was really hoping for that for Valentine's Day, and I think it would've been, without this snow and ice. We're just thankful to be a part of a good community that does try to support as much as they can."