It's "the most wonderful time of the year" again, complete with colorful decorations, holiday festivities, busy shoppers, nativity productions and more celebrations. The Salvation Army's famous red kettles have also returned, and there's a big fundraising goal to meet this year.
The Salvation Army in Paducah is looking for more bell ringers to help raise $150,000 through this year's "Hope Marches On" red kettle campaign, which runs through Dec. 24. It's hiring paid bell ringers and welcoming volunteers.
"They can go to our website and inquire about bell ringing for paid employees, but for volunteers, they can go to registertoring.com, set up an online profile and it'll tell them all the available locations that they can ring from," said Lt. David Donegan, a commanding officer for The Salvation Army in Paducah.
"They can choose which way they want to ring, and it books them for that, and we make sure all their stuff is there once they get they get there."
Donegan said the hiring market is hard and bell ringing is not a high paying position, so the nonprofit depends a lot on volunteers. Several local groups have already volunteered this year, such as Four Rivers Nuclear Partnership and students from Concord Elementary School.
Paducah resident Tina Waid, a volunteer from FRNP, spent time on Friday ringing a bell and thanking donors for their contributions at the Paducah Walmart store on Hinkleville Road. The location was enrolled to participate in The National Commander's Red Kettle Challenge on Friday, Donegan said, which is "all in good fun." The red kettles also have a QR code on the sign that people can scan with their phones to donate a different way.
"It's a very worthy cause and it's just so heartwarming to see people donate for The Salvation Army," Waid told The Sun. She was joined by FRNP volunteer Teresa Stephens, who was stationed at another entrance. Stephens noted the nonprofit does some "wonderful things" for the area, especially at Christmas.
The Salvation Army uses funds from the campaign for operating expenses. It has different programs, such as food, rent and utility assistance, and worship services. It's also a primary contact in disaster services, and recently had a grand reopening for its Family Store on Irvin Cobb Drive, after renovations.
Donegan and his fellow officer, Lt. Brittney Donegan, took command of The Salvation Army in Paducah earlier this year. The couple came to Kentucky from Atlanta, Georgia, and have ties in Tennessee.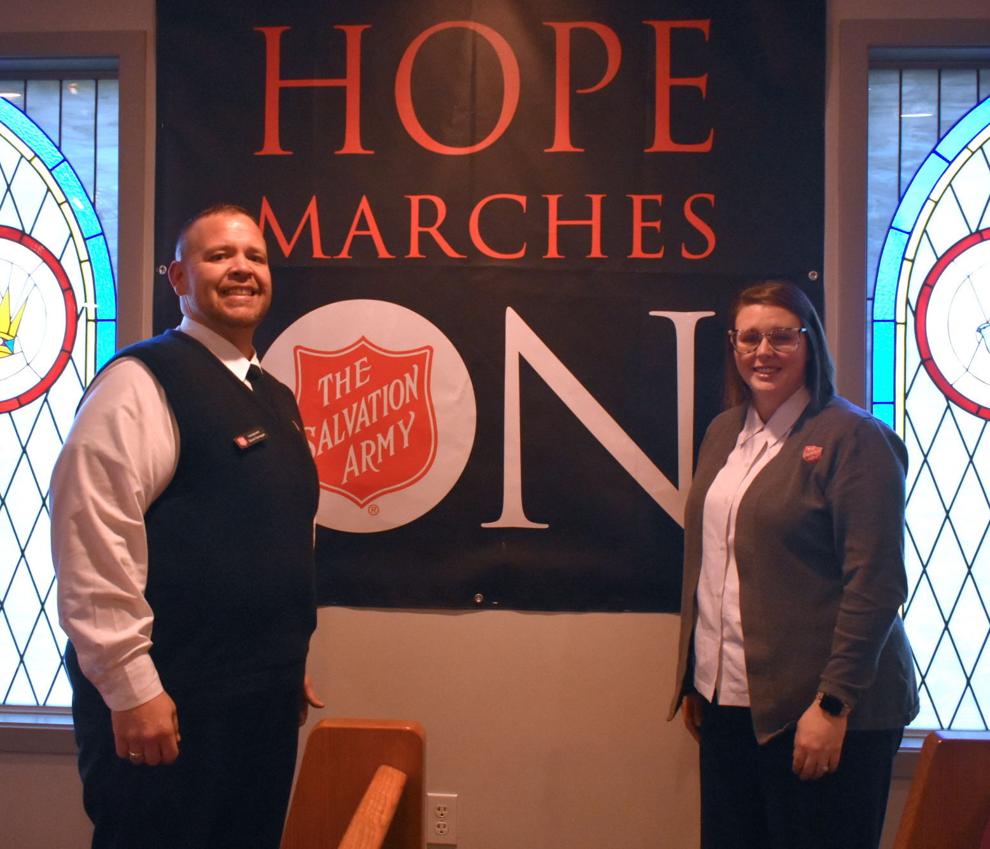 "It's really exciting to see the community come together," he said, on bell ringing. "Coming from a bigger city, we went from Nashville to Atlanta — you don't see that small community coming together and saying, 'OK, we're going to do that because it's fun for us, but the money stays in our community, and it's going to help the people in our community.' "
There's another thing he wants the community to know.
"The Salvation Army has opened up both of our locations in Paducah, so this here (at 2990 Trimble St.) was typically only open one day a week for church on Sunday," Donegan said. "It's open six days a week, so we have social services here and at our Southside location by appointment, so you can call in and set up an appointment for which location serves you."
Follow Kelly Farrell on Twitter, @KellyAFarrell11