As a former Army medic who served four tours, Brian Gibson, of Paducah, operates best when he is given a mission. After his good friend and Army comrade died by suicide, God, Gibson said, gave him one more: protect and serve veterans on the home front.
Gibson, a retired sergeant first class and a suicide attempt survivor, is the founder of Project Diehard, a 501(c)(3) faith-based, scripture-led nonprofit. Its mission is to bring awareness to veteran suicide and to assist veterans in coping with the stress and difficulties brought on by transitioning from active duty military to civilian life.
Gibson has dedicated his life to this cause. He said he's not looking to get rich off this mission or rip off veterans, but that he is a man driven by his faith to do what he needs to do to help his brothers and sisters in the armed forces.
"I'm just a sinner saved by grace trying to do God's work," Gibson said.
According to an annual report by the U.S. Department of Veteran Affairs, 97 veterans in Kentucky died by suicide in 2019, the latest year with veteran suicide data available. These deaths made up 13% of deaths by suicide in the state in 2019, which lined up with national suicide statistics. Nationwide, veterans make up about 8% of the general adult population.
Gibson said every day, on average, 22 veterans die by suicide in the United States. The VA's 2019 data estimates this number to be about 17 deaths per day, or about one veteran every 90 minutes. Gibson said even one veteran death by suicide is one too many.
The VA's annual report shows deaths by suicide by non-veteran adults increased 33% from 2001 to 2019, while deaths by suicide by veterans increased 35.9% in the same time period. However, the report points out that in the same time frame, there was a 26.2% increase in the adult population in the U.S. but a 23.1% decrease in the veteran population.
Gibson added that from May of 2019 to May of 2020, 67 veterans who lived within 100 miles of Paducah died by suicide. In the last few months, Gibson said there have been more veteran deaths by suicide nationwide after U.S. Armed Forces withdrew from Afghanistan in August.
There are several factors into why veterans are more likely to consider death by suicide. Veterans are used to having a routine and taking orders, Gibson said, and it can be a tough and overwhelming adjustment for some veterans to go from having decisions made for them in the military to then having to make hundreds of choices and decisions for themselves each day. Gibson also said it can be difficult for civilians to truly understand what veterans who have served tours have seen in war, and that some veterans have a hard time opening up about their battle experiences. As a result, Gibson said, many veterans who are struggling isolate themselves.
Project Diehard's long-term goal is to establish facilities where veterans and their families can go to and live for up to a year. During the year, or however long the veteran wants to stay less than a year, these veterans would be able to focus on improving their physical, mental and spiritual well being. Counseling, Bibles, and just about any activity that veterans think will help them in their time of need, will be offered. Gibson said no veteran who stays at any Project Diehard facility will ever get charged money for seeking help.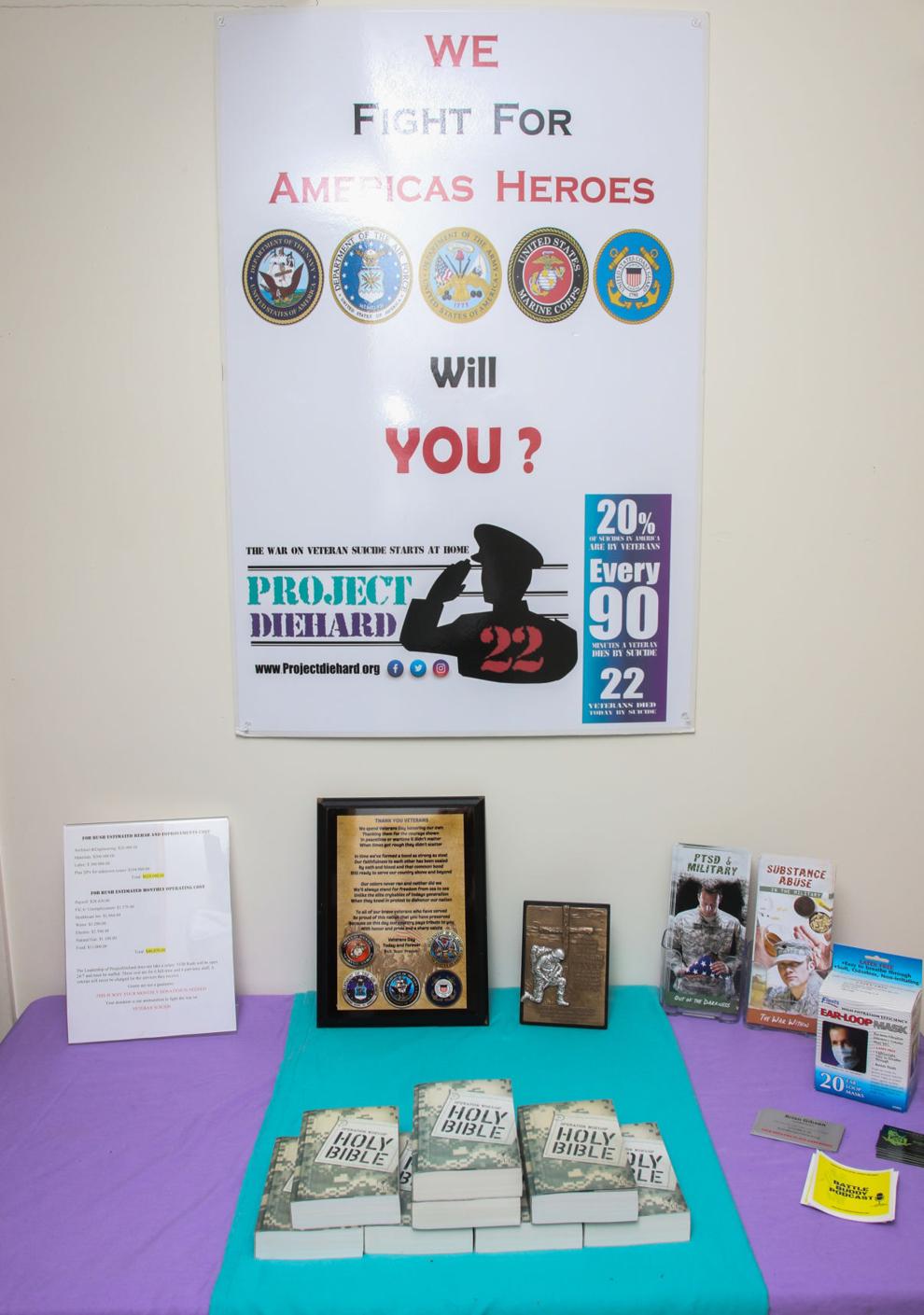 "Regardless of whether a veteran needs a place to talk, a bedroom, for maybe a week, a month, up to a year, we're going to be here to help. Whether it's a cup of coffee, a hot meal, a shower, being able to do their laundry, we're going to be here," Gibson said.
Gibson first planned for the first of these facilities to be in Kentucky. After being featured by the Veterans of Foreign Wars (VFW), VUE Magazine and WSIL News 3 in 2020, Project Diehard was presented with a goal-altering free gift: 20 acres of land and a 10,000-square-foot facility in Makanda, Illinois, near Carbondale that once housed a Christian daycare.
When the Illinois facility is finished being remodeled, Gibson said it would house 12 single veterans and two veterans with their families. There will also be a kitchen, laundry area, day room, a playground for any children living at the facility, and a space for veterans to meet privately with counselors. The property will also house a classroom, have a pond for people to fish and a chapel for people of all faiths to worship. Project Diehard is working with Cassidy's Cause, a therapeutic horse riding nonprofit in Paducah, to bring four horses to the facility. Project Diehard will build a stable and provide a pasture for veterans to work with horses and practice equine therapy.
This facility, named Forward Operating Base (FOB) Rush, is named after Staff Sgt. Courtney Rush. Rush joined the Air Force in 2003, and served two tours in the Middle East. In January of 2012, just seven months after returning home from deployment, Rush died by suicide.
Project Diehard already has people donating services to the organization: Jeff Canter, of PFGW Architects, has agreed to be the architect on record for FOB Rush and help figure out the logistics of building and remodeling the facilities. Buzz Vontesmar is taking his experience from establishing a vocational job training program for jail inmates and is prepared to teach skilled trades to veterans at FOB Rush to help them find jobs after leaving the base.
"We know that the mission is greater than our fees at this point. We're doing what we can to get [Project Diehard] up and going," Canter said.
It's hard for Gibson to establish a timeline of when the facility will be operational. He is, however, able to say when it needs to be operational: "Yesterday."
"The problem is not going away. It's getting worse," Gibson said.
For Gibson and for Project Diehard, every day without a facility to help alleviate some of the stresses and triggers of life for veterans is another day where 22 of his brothers and sisters lose "the fight to the demons." In fact, Gibson said there is already a waitlist of veterans who are in need of services from Project Diehard and want to stay at FOB Rush. He said he gets several calls every week from veterans wanting to know if FOB Rush is ready yet.
Faith is an important element of Project Diehard, so much so that Gibson said he has turned down large potential donations that came with conditions of removing free Bibles Project Diehard offers to veterans in the facility.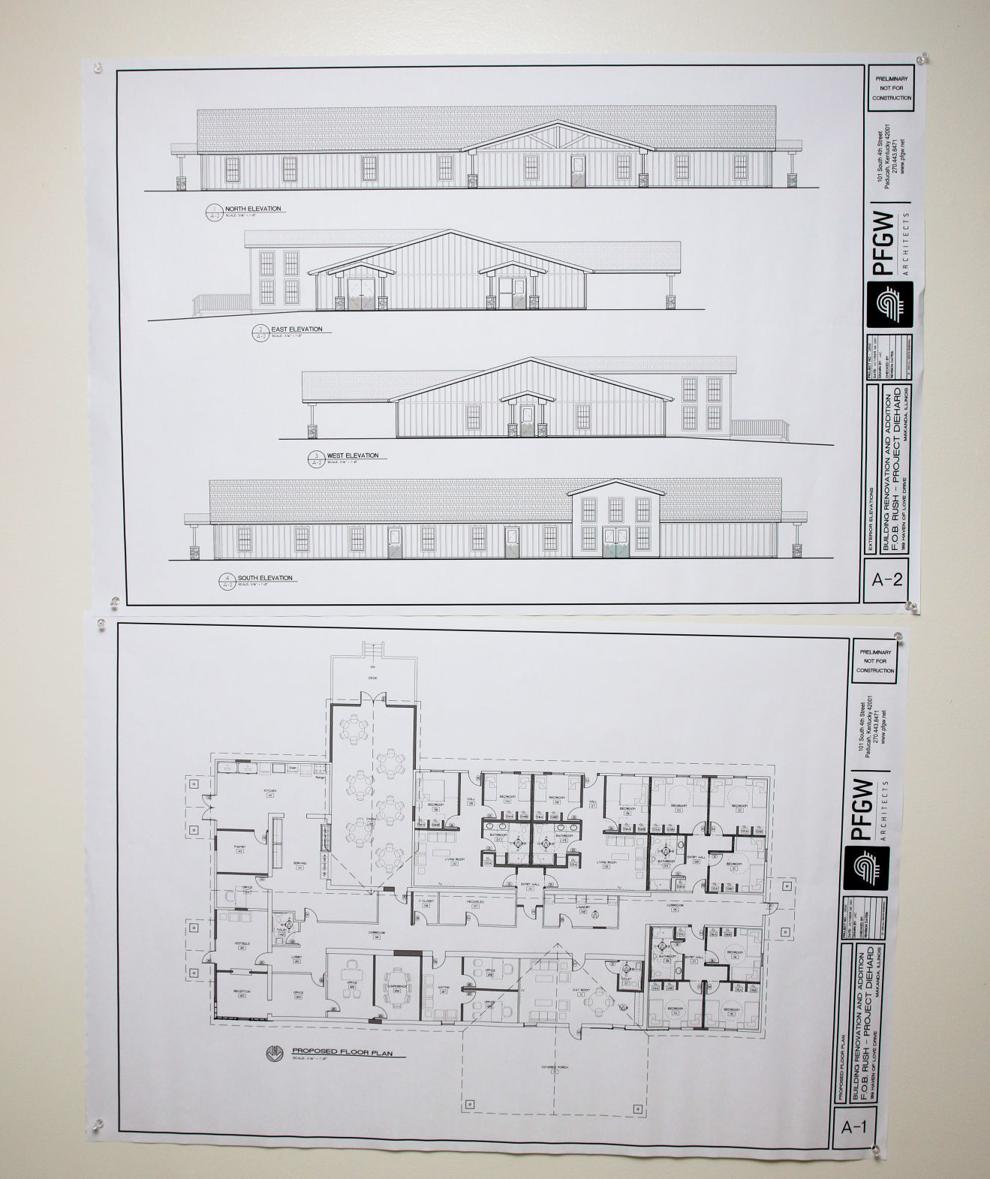 Another element that sets Project Diehard apart from some other nonprofits is the pay structure — or more accurately, lack of pay structure — for Project Diehard's board of directors. Gibson, as the founder and president of Project Diehard, has a total annual salary of zero dollars from Project Diehard. The board of directors, and whoever becomes president after Gibson, also do not make money.
His belief is that the money people donate should be going to help the veterans. The goal of Project Diehard is to have 90% of donations and funds going directly to its mission, with the other 10% assisting in paying staff to work at these facilities and to help pay utility bills and keep the facilities running.
Gibson wants people interested in the organization to know that he's serious about transparency: his accountant at CYB Accounting in Paducah has Gibson's orders to release Project Diehard's financial records to anyone that requests those records. CYB Accounting confirmed this to The Sun.
FOB Rush's facility will be brought back up to code and remodeled to be ADA-compliant throughout the whole building in case Project Diehard needs to serve any veterans with physical disabilities. To do this, however, Gibson said the organization needs help.
Gibson estimates the costs to renovate FOB Rush and get the facility up and running to be more than $600,000. The estimated monthly cost of operating FOB Rush when it is housing veterans is between $30,000 and $60,000 to cover the needs of the residents like providing food, utilities, programs and staffing 24/7.
Gibson said there are multiple ways for people to assist Project Diehard. While Project Diehard applies for private grants, those funds are not guaranteed. Gibson said donations of any amount would be appreciated. He also encourages those who would like to give to become a patron and donate $22 per month, in honor of the number of veterans Project Diehard estimates die by suicide each day, to help cover costs. Businesses and corporations can also become patrons. Project Diehard is also seeking volunteers. Gibson said he will take volunteers who can offer any skill and have the time to donate to the organization. Project Diehard is also open to volunteers who would be willing to teach veterans a skill or craft that would either be therapeutic to veterans or help them find work in the civilian world.
Project Diehard also partners with other veteran groups and organizations, and can connect veterans in need with those organizations. More information about Project Diehard is available at projectdiehard.org.
The National Veterans Suicide Prevention Hotline is available for veterans or their loved ones to speak with a crisis responder 24/7. If you are a veteran, service member, or National Guard member in crisis, call 800-273-TALK (8255) and press 1 to speak with a trained responder, or send a text to 838255. More information is available at veteranscrisisline.net.
If you are a civilian in crisis, please call the National Suicide Prevention Lifeline at 800-273-TALK (8255) or contact the Crisis Text Line by texting "TALK" to 741741.