The McCracken County Jail launched a program in 2019 to help inmates find work after being released. In its first year, the program included training in welding, a deckhand school and heating, ventilation and air conditioning (HVAC) training.
"Jailer David Knight has focused on education and rehabilitation, with the goals of reuniting families, reducing recidivism and providing local industries with a built-in workforce," according to an article in the Nov. 15, 2019, issue of The Paducah Sun. Recidivism is a tendency to relapse into a previous condition or mode of behavior — in this case, criminal behavior.
At the time, then-Sgt. Arnie Puckett was on the administrative team that oversaw the programs. Today, Lt. Puckett still oversees the programs — called The Phoenix Project for the mythological bird that arose from its own ashes — that aim to give inmates a better future upon release.
"When Jailer Knight ran for office (in 2018), he wanted to implement things that would, hopefully, reduce recidivism, which helps the taxpayer, and also give people opportunity, the tools they need to succeed out here," he said.
"A lot of these folks don't have anybody to teach them trades and ways of making a living to integrate with society."
The jail graduated more than 30 inmates through the classes before the COVID-19 pandemic hit early in 2020.
"In one group, 19 of them had actually gotten out of jail, and we only had three return, and those were for minor infractions," Puckett said. "The rest of them are still out working, supporting their families.
"So, our recidivism for that group is 15.8% versus the average in the mid-80s, so it's quite a success story."
The jail has partners who bolster its drive to employ former inmates when they are released.
The West Kentucky Community and Technical College provides training at its campus, also enabling inmates to attain a general occupational associate's degree or a general education development, or GED.
"One of the biggest problems that we had was when these people would leave our jail; many times, they didn't have a support system, food, clothing — all those things that we need," Puckett said. "We were blessed to have partnerships with Kentucky Care — which is very instrumental in counseling, providing some of the needed support for people when they get out of jail.
"Goodwill Services has been wonderful to work with. They have programs that have been instrumental. … And I've got a list of second-chance employers that are willing to put these people to work."
Margie Silva, an external career coach for Goodwill Industries in Paducah, and Traci Houchins, the resource center manager for Goodwill Industries, said Goodwill is working to create a "community of support" for inmates seeking a better life.
"One of the biggest barriers that they have is just the essentials of life," Silva said. "Coming out, reentering the labor market is a huge barrier for these folks.
"So, what Goodwill is doing is trying to fill that gap where folks come out of incarceration, we're going to be that missing puzzle piece and work with them on resumes, interview skills and advocate for these individuals so they can go on to have a successful employment and a good quality of life."
Goodwill has implemented a program called RISE — Reintegrating Individuals Successfully Every day — which provides those services.
"Goodwill is here to support them on that journey in partnership with (the McCracken County Jail)," Silva said. "We're that extra set of support to wrap around them and provide those wrap-around services."
Houchins said the RISE program began at Goodwill in Louisville and expanded to Bowling Green.
"Our mission this year was to bring it to Paducah," she said. "We've got Margie in place; her office is actually located inside the Goodwill store (at 2592 Lone Oak Road).
"Any job seeker can walk in off the street. One thing that they have to agree to right off the bat is a day and a half of classes — we call them 'soft skills.' They teach self-presentation. If I've been incarcerated or I haven't worked, how do I say what I've been doing in the last five years?"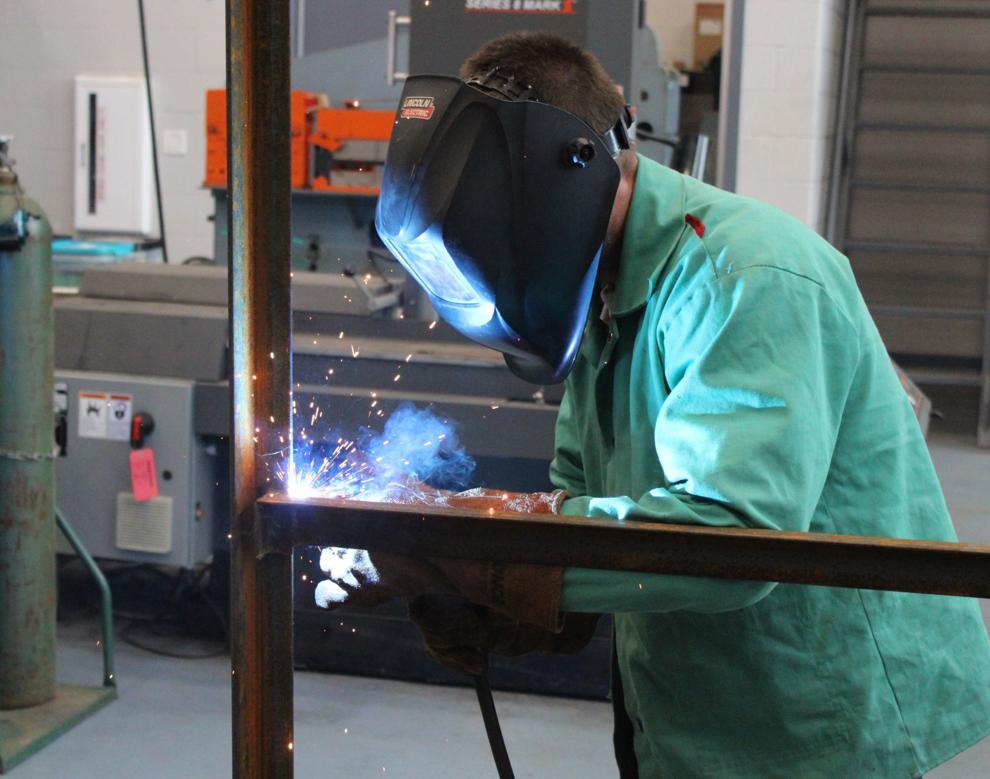 The classes also teach teamwork, dependability, conflict resolution and other topics to help people find and keep jobs.
Upon completion of the courses, they would go to Silva to determine a career pathway.
Goodwill also helps people find necessities like uniforms, equipment and other needs to help people maintain a job.
Gerren Lawson is a recovery coach and peer support specialist with Kentucky Cares.
"Basically, I help individuals with anything from their mental health issues to substance use issues," he said. "I help individuals come up with a recovery plan that suits their needs. I get individuals connected to employment opportunities, food resources, housing resources."
Lawson said he spoke with Puckett about working with inmates going through mental or substance abuse issues.
"It's a revolving door for a lot of them," Lawson said. "They get out, they go back to doing the same thing and it's a matter of time before they're back in the legal system.
"I told Arnie that what they're doing within the jail — getting the skills developed to attain meaningful employment — is awesome, but they've got these jobs, but what are they doing to address their mental health issues and substance use issues when they get out?"
Kentucky Cares uses its expertise to help inmates resolve those issues so they can better sustain those jobs and put their lives in better order.
"Kentucky Cares can't solve all their problems and employment can't solve all their problems or meetings and other things," he said, "but if you bring all these things together and work as a community, then that just increases the individual's likelihood of succeeding.
"Say an individual has employment and they're getting help with those mental health issues. Their chances increase that much more of not falling back."
Lawson said Kentucky Cares works with Phyllis Nunn of the Eastern Kentucky Cooperative Employment Program and Temps Plus to help people find what he called "second-chance employment opportunities."
"Here at Kentucky Cares, (inmates) have more accountability," Lawson said. "They're getting drug screens when they come in to their appointments and they're getting engaged.
"A lot of employers take that into consideration: 'This individual is doing these other things to try and keep from going back to the lifestyle they once lived.' But, regardless of what second-chance employees are doing, there is still a huge stigma out there affiliated with it."
Puckett said another goal of the program is for it to become a model for jails across the state.
"Through the Delta Workforce Grant Program, we ended up getting a grant just shy of $280,000 to buy tools, to pay our instructors, to pay training aids," he said. "It's a three-year grant, and we were successful in getting that."
Puckett said the jail has been criticized for not providing similar opportunities for female inmates.
"I share in that, but here are the realities," he said. "In our female population, we only have at any given time two, three, four individuals that are classified to go outside of the secure part of the jail.
"Some of those have other conditions like they are wanted in another state or they have an open charge. We have classification issues that have hindered us from creating vocational training programs. We want to, but we have just not been able to do it."
Puckett added that the jail is working on getting a coding class through a company called Codify that would allow women to train for a career path in that field.
To take part in any of the training programs, an inmate must be classified to qualify for a work program outside of the jail facility.
"The work program from the Department of Corrections consists of places that are nonprofit government entities," Puckett said. "I monitor these guys (inmates), and if they live up to the rules, they have a good work ethic and they cooperate, they keep themselves from having any write-ups — those are the people that I look at to put in these programs because they have shown me that they can do the right thing."
The Sun spoke to current inmates taking welding classes at the Paducah Innovation Hub after students have gone home for the day.
"This is a great opportunity for us inmates," said Ricky Lee. "It gives us something to fall back on, make some money and take care of our families. For people who don't have experience in industry, it's a great experience for us. It's a great program."
"It means a lot to me," said Dan Miller. "It's an opportunity to get a job when I get out of here. It creates opportunities that I wouldn't have otherwise."
Brandon Wilber, a welding instructor at the Paducah Area Technical Center, is the instructor of the inmates' welding class at the Paducah Innovation Hub.
"I love being able to take someone who's been in this vicious cycle of jail and they don't know any other skills and showing them a few technical skills that they can take anywhere in the world and make a living with it," he said.
"We're trying to get all of them to where they can navigate a work site when they get out of here and get some meaningful employment that will keep them out of that vicious cycle."
Businesses wanting to take part in The Phoenix Project or hire former inmates should contact the McCracken County Jail at 270-444-4730.