As event organizers were preparing to illuminate the night sky and turn on the holiday light display at Bob Noble Park for the first time this season, the sounds of hooves trotting on pavement and sleigh bells filled the air. Families then cleared the pathway for three horse carriages to make their way to the pool house because the front carriage was carrying a special guest for the young children in the crowd: Santa Claus.
More than hundred people, young and old, took advantage of Paducah Power System's Walk Under the Lights, which opened up Paducah Power's 25th annual Christmas in the Park light display Wednesday night. They watched and counted along as Santa counted down to the moment where every light display in the park would start to shine. Independence Bank also sponsored free carriage rides from John's PASS Carriage Service for all of the attendees.
Families had a chance to walk, or take a horse carriage, under the holiday light displays for about an hour and a half on Wednesday night before the event was opened up to vehicle traffic. Wednesday night was the only time where people could walk through Bob Noble Park at night and see the light displays up close. Santa sat in a crane bucket above the Santa House, waving to the pedestrians and wishing those passing by a Merry Christmas.
Lyn Kochems came out to Walk Under the Lights with her granddaughter Gracelyn, 2, and her dog Ginger. The family walked around the light display, and then took another lap around the park on a free horse carriage ride. This was Kochems' granddaughter's first time walking under the lights on opening night of Christmas in the Park, and Kochems said the event was great for families.
"The big arches seem to be everyone's favorite [light displays], but I kind of like these little bears, dreidels and packages, they're just kind of cute and whimsical," Kochems said.
Through New Year's Eve, people can drive through Noble Park and see the light displays created by nearly half a million colored light bulbs. The displays will light up between 6 and 9 p.m. Sundays through Thursday and from 6 to 10 p.m. on Fridays and Saturdays.
In the middle of the drive is the Santa House, where volunteers will be collecting donations of money and nonperishable food items to benefit four local agencies: Paducah Cooperative Ministry, Family Service Society, The Salvation Army and St. Vincent DePaul Society. There is no cost to drive through Noble Park and see the lights, but visitors are encouraged to contribute non-perishable food or monetary donations.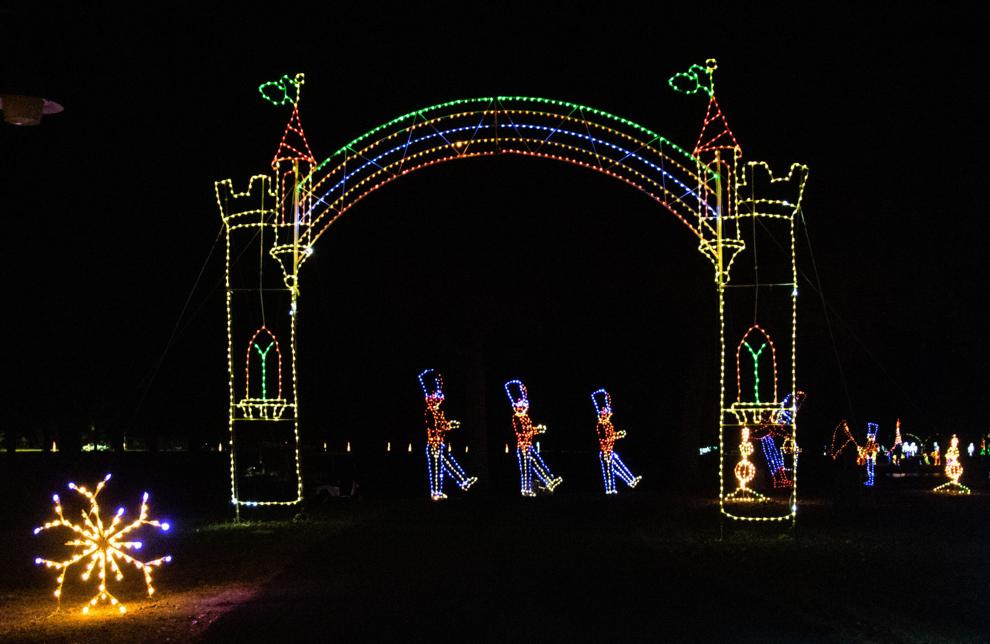 Kochems said she would be volunteering with the Red Hat Society of Paducah at the Santa House later this season collecting donations from drivers who visit Christmas in the Park.
"Where else can you see beautiful lights for a little bit of food donations?" Kochems said.
Andrea Underwood, PPS director of human resources and community relations, said Paducah Power is also providing the option for people to donate online at paducahpower.com. Donations made at that website will go directly to the Christmas in the Park account, which is separate from any PPS funds.
The School Challenge is back this year after being unable to hold it in 2020. Twelve local schools are collecting canned goods from Nov. 29 through Dec. 13, and the school that collects the most pounds of food per student will win $1,000. The twelve schools participating are Morgan Elementary, Concord Elementary, Lone Oak Elementary, Hendron-Lone Oak Elementary, Heath Elementary, McNabb Elementary, Reidland Middle, Heath Middle, Lone Oak Middle, Paducah Middle, Paducah Tilghman High and Community Christian Academy.
Over the last 24 years, Underwood said Paducah Power has raised nearly $800,000 for local agencies and more than one million pounds of canned goods. In 2020, Christmas in the Park raised more than $50,000, a record for the fundraiser, and 28,923 pounds of food.
Underwood said the food total last year was lower than normal due to the lack of a 2020 School Challenge.