"Mom, I don't want to die."
Jan Towery shared her son Jeremy's story with a crowd of about 75 people, and how he once begged her to help save his life. They were at Noble Park Tuesday night to recognize International Overdose Awareness Day, a global event that is held annually on Aug. 31.
Four Rivers Behavioral Health and Turning Point Recovery Center, both of which hosted the event, also provided more than 400 biodegradable purple balloons for the crowd to release at sunset. The balloons honored the 41 people in the Purchase Area who died of a drug overdose in 2020.
Towery hoped sharing her story and Jeremy's story would help others begin having discussions about addiction, and to treat addiction like an illness and not a moral failing.
Towery recalled her son, Jeremy, calling her one night in 2010 and begging for help to overcome his drug addiction. Jeremy entered treatment, struggling to remain consistently sober until he entered long-term treatment at CenterPoint in Paducah, his mother said.
All he wanted in life, his mother said, was "peace, a small house and a fishing boat."
And then on the night of June 26, 2020, Towery woke up and saw some headlights in the driveway. A state trooper exited the car, walked up to the house and knocked on the door.
Jeremy's disease had caught up with him again. But this time, a mother's worst fears had been realized.
"I'm sorry, ma'am, but I have to let you know that your son has died of a suspected drug overdose."
Jeremy's path to treatment
Like many teenagers, Jeremy experimented with alcohol and marijuana while growing up in Bowling Green, Towery said. After high school, Jeremy began using opioids.
"It wasn't a problem until it was," Towery told the crowd.
What sent Jeremy into a further spiral, his mother said, was the death of his infant son. Not only was Jeremy's son J.J. born six weeks premature in November of 2008, but he was also born with hypoplastic left heart syndrome. Without multiple surgeries or a heart transplant, the condition is fatal.
Doctors also found traces of four illicit drugs in his system, indicating the mother had been using drugs during her pregnancy.
Unfortunately, Towery's grandson J.J. had complications following two heart surgeries. Towery watched as Jeremy and his girlfriend held J.J. in their arms as he took his last breath in March of 2009.
"That was my first causality to addiction," Towery said.
Towery said his son's death sent Jeremy into a deep depression, and he was trapped with the burden of J.J.'s short life. He continued using opioids to treat his emotional pain until he called his mother with a plea to save his life in 2010.
Jeremy was in and out of jail and short-term rehab for about five years, Towery said. Eventually, authorities picked Jeremy up for not paying a fine. Towery said the judge in his case saw that Jeremy needed serious help and ordered him to long-term treatment.
"That was a golden ticket," Lowery said.
That's how Jeremy ended up at CenterPoint. Towery said the facility finally helped Jeremy address why he was using opioids.
Jeremy completed his first go-round of long-term treatment almost exactly five years ago on Aug. 30, 2016. Towery's son, the son she knew before his addiction disease consumed him, was back.
"I saw a 360 in my son. I had Jeremy back. He was loving, caring, funny, and he helped countless people," Towery said.
Relapses and a re-entry to treatment
Jeremy then worked as a peer mentor at CenterPoint and at Genesis in Hopkinsville until 2019, when Towery said Jeremy changed fields and began working in construction.
That same year, he relapsed and overdosed. That overdose was treated with Narcan at a hospital, and Jeremy swore to Towery it would be the last time.
Two months later, he overdosed again, and was treated with Narcan, again. This time, he was arrested for drug possession.
His probation officer allowed Jeremy to return to CenterPoint to address why he relapsed, eventually completing a second round of treatment.
The last time Towery saw her son was June 20, 2020. Jeremy was going night-fishing with one of his friends.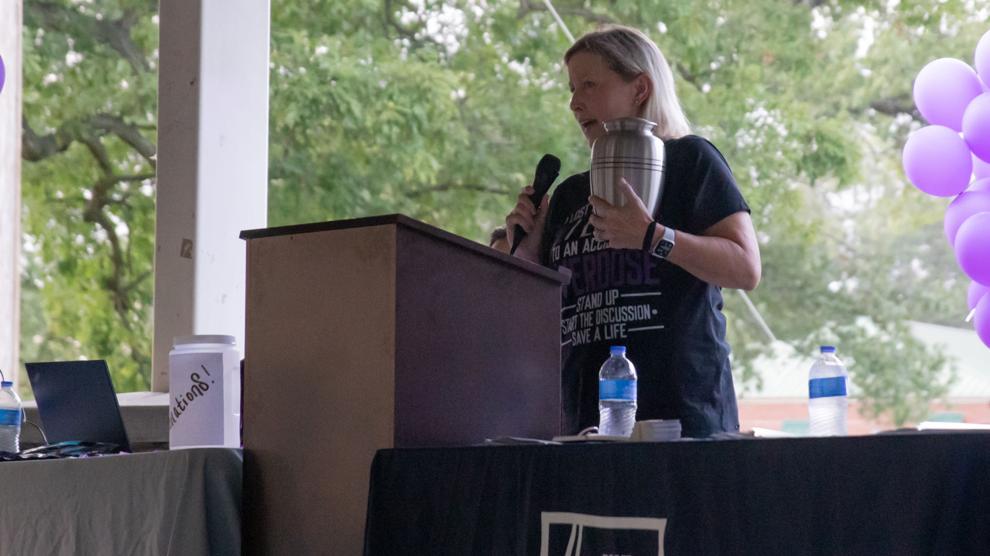 "I gave him a big hug and a big kiss. I told him I loved him, and he told me he loved me, too," Towery said.
On June 26, 2020 Towery sent her older son a message wishing him a happy birthday. She went about her day, although she recalled having a feeling something was not right. She went to bed early that night, and awoke as the state trooper arrived at her home. On the day celebrating the birth of one son, she lost another.
"I will never be the same person I was that morning. Every day is a struggle. I put on a happy face. I go to work. I do my job. My heart has literally been ripped out of my chest," Towery told the crowd as she choked back tears.
What physically remains of Jeremy fits in Towery's hands. To close her speech, Towery leaned over, reached into her belongings and pulled out a silver, black-banded urn containing the ashes of her son.
Towery entered the crowd to release the balloons with Brandon Fitch, program director of Turning Point and a friend of Jeremy's, at her side. As the crowd released the balloons, Towery and Fitch sent up a bundle of about 10 balloons. As the two stood side-by-side watching the balloons take flight, Towery kept one more in her left hand, and waited before letting go of that last balloon.