The McCracken County School District Board approved several actions regarding upcoming construction work to be done at some of its schools.
The actions taken at the board meeting Thursday dealt with plans for Heath Middle School, Reidland Middle School and the former Lone Oak Middle School building.
The Heath and Reidland middle school actions dealt with improving the heating, ventilation and air conditioning (HVAC) systems in those schools' gymnasiums.
MCSD Director of Facilities Todd Jackson made the requested actions to the board.
"We are at the stage where we have construction documents," he said. "That is a complete set of plans that will go out to bid."
Jackson requested the construction documents be sent to the Kentucky Department of Education for approval for the following projects:
• Heath Middle School gymnasium HVAC
• Heath Middle School auditorium HVAC
• Reidland Middle School gymnasium HVAC
• Former Lone Oak Middle School building renovation to be more amenable to intermediate school students. Students from Lone Oak Intermediate School are expected to move to the former LOMS building.
The board approved the construction documents to be sent to KDE.
Jackson also requested and received permission to advertise those projects for bid.
The middle school HVAC projects involve bringing air conditioning to those areas, which already have heat.
The board approved allowing Jackson to enter into a contract with Marcum Engineering for the HMS auditorium project. The auditorium also has heat but no air conditioning.
The board also had the first reading of the 2022-2023 school district calendar, which includes 176 student days. The first day of school for that school year is set for Aug. 9, the last school day will be May 24. The board will vote on the second reading of the proposed calendar at its Dec. 16 meeting.
The board heard reports from Principal Marc Mavigliano of Lone Oak Intermediate School and Principal Randy Layne of Reidland Middle School.
The board also heard from McCracken County High School students who are interning or job-shadowing at area businesses. Abbie Betts and Tylee Haws spoke to the board about their experiences. Nathan Poll was also scheduled to speak, but was unable to attend the meeting.
Poll is working at Bohle Family Dentistry.
"That's his future goal: to become a dentist," said Assistant Superintendent Michael Ceglinski, who introduced the students to the board. "He spends a lot of time job-shadowing."
Betts is part of the McCracken Media internship program.
"This program has helped me in deciding which career path I would like to follow after high school," she said. "I spend over half of my day in media classes. Our advanced studio directing class started doing morning announcements this year instead of playing the announcements over the intercom.
"We produce daily video announcements that are filmed a day in advance, and our class is divided into groups. We created a rotation for writing our scripts, filming — which consists of anchoring, running prompter and camera — and then, we have editing."
Betts said she would cohost the McCracken Media podcast, "The Crimson Gambit," which will be available on Apple Podcasts and Spotify, with plans on being broadcast on a local radio station.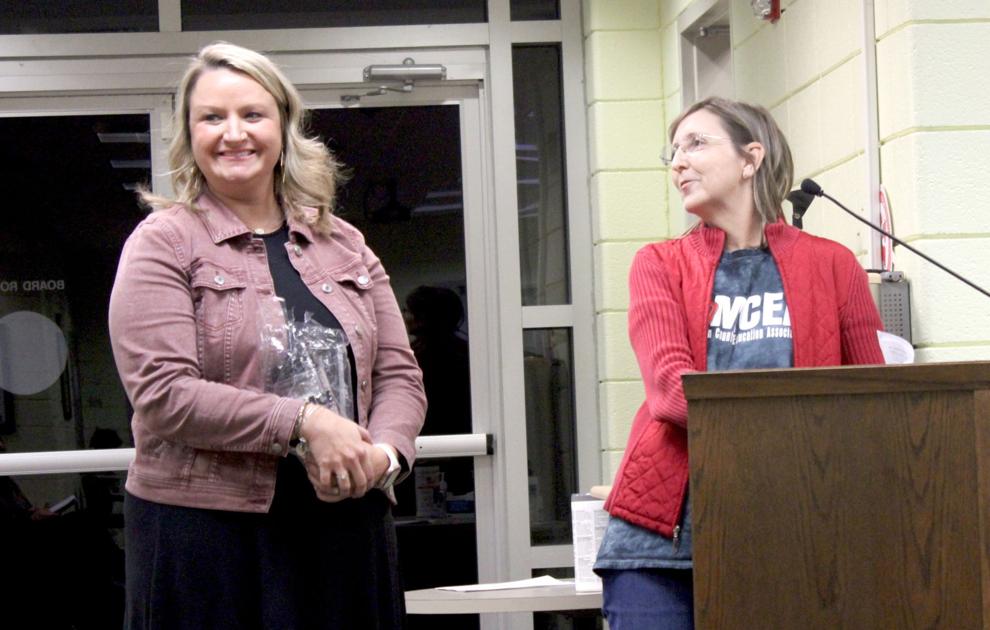 "As the year goes on, I'm getting to do lots more projects, and it's helping me gain my experience for my future work field," she said. "I'm wanting to pursue a career in either church or sports media, so this is such an amazing opportunity to get connections in the workforce."
Haws co-ops at Concord Elementary School with first-grade teacher Lonna Starnes.
"Prior to this experience, I was unsure when it came to what I wanted to do with my life," she said. "I knew I wanted to do something pertaining to two things: children and psychology. To be completely honest, I was leaning toward having my own practice, and I didn't know if I wanted to be anywhere near the school system.
"…I work with each of our 19 kids, testing them on their sight words. Sight words are a 20-word list that they are expected to read to me, which caters to their reading level."
Haws works with students with the words that they have difficulty with. She also tests them on their reading comprehension.
"I love watching them progress and grow confident in their reading skills," she said. "It's almost to the half-year point, and some of these kids have shown unbelievable progress. There is nothing like watching a kid learn to read right before your eyes."