U.S. Senate Minority Leader Mitch McConnell stopped Wednesday at Baptist Health Paducah to praise COVID-19 vaccination efforts, and described the country as being in the "red zone," but not yet in the end zone.
"A year ago, we embarked on an incredible mission with a whole lot of unknowns," McConnell said.
"We did know we were getting hit with a 100-year pandemic. We got the incredible advice from our best health care professionals that we need to shut the economy down, so had both a health care crisis and an economic crisis simultaneously, and it was completely unknown — the path forward. What we did know, even at the beginning, was no matter what we did — the only way to end it was with the vaccine."
McConnell was joined by hospital president Chris Roty and its chief medical officer, Dr. Brad Housman, for a news conference in the Barnes Auditorium at the Carson-Myre Heart Center, as health care officials reflected on the challenging past year of the pandemic.
"It's been a long year," Roty said.
"We treated our first COVID in-patient on March 27th of last year. Since then, we've treated over several hundred COVID in-patients. My hat's off to all our staff here at Baptist Health Paducah."
Roty added that it's done nearly 12,000 vaccinations, and anyone 18 or older can sign up for a vaccine at Baptist Health Paducah.
During the stop, McConnell talked about COVID-19, relief bills, and took questions from media. He's visited more than 30 health care facilities in Kentucky since last May to thank health care workers and discuss the impact of the Coronavirus Aid, Relief and Economic Security (CARES) Act, according to his office. On Wednesday, he also stopped at Baptist Health Madisonville.
Among his remarks, the senator praised bipartisan efforts to pass relief bills last year — the largest of them being the CARES Act, which passed in March 2020. He said they came together and did what they thought necessary to tackle the crisis.
"Amazingly enough, the vaccine — by the end of 2020 — was ready to go into arms," he said.
"And so, the second part of it was how quickly can we get everybody vaccinated? That's why we're in the red zone and we're headed to the end zone and the only way we get to the end zone is to have 75% of our population vaccinated, so we have what the experts call 'herd immunity.' "
According to McConnell's office, a targeted relief bill last December had $8.75 billion to distribute vaccinations, while Kentucky received in "January alone," nearly $87 million in federal funds to help it administer vaccinations.
The senator covered other topics on Wednesday, including comments he made earlier this week that warned corporate America to "stay out of politics." The comments came in the midst of fallout and corporate backlash, including from Major League Baseball, about a controversial voting reform law passed in Georgia.
He said he didn't say it "very artfully."
"They're certainly entitled to be involved in politics," McConnell said. "They are. My principal complaint is they didn't read the darn bill."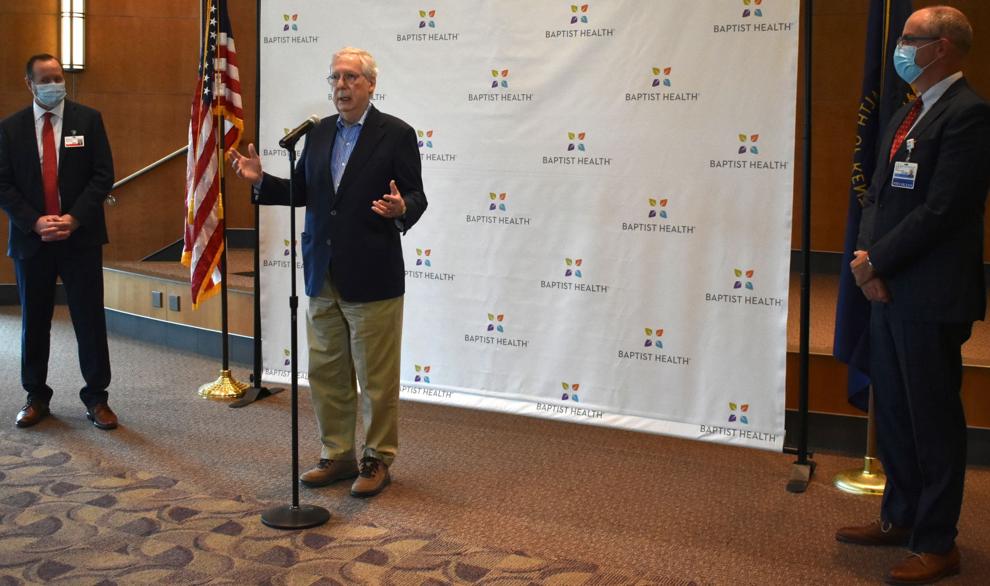 McConnell also discussed the $1.9 trillion American Rescue Plan Act, which passed last month, and President Joe Biden's recent infrastructure plan, or what's called the American Jobs Plan, which is a $2 trillion proposal.
"There's broad bipartisan support for tackling the infrastructure issue, but it depends on what your definition is," he said.
"This package that they laid out in the beginning — styled infrastructure is a Trojan horse for massive tax increases and a whole lot of more debt and a whole lot of spending that you and I, I think, would probably agree is unrelated to infrastructure. I think infrastructure is roads, is bridges, is broadband, but beyond that, they sort of thrown everything but the kitchen sink into it."
The White House's website, whitehouse.gov, indicates it includes fixing highways, rebuilding bridges, upgrading ports, airports and transit systems, eliminating lead pipe from drinking water systems, modernizing buildings, capping orphan oil and gas wells, expanding broadband and much more.
McConnell said there's a narrow Democratic majority in the U.S. House of Representatives and Senate, and expressed hope that some Democrats will share the view of tackling the infrastructure issue in a "more modest way."