METROPOLIS, Ill. — While the weather fizzled out their weekend plans, the Massiac Marines were able to gather last Saturday for their first Living History event of 2021 at Fort Massac State Park.
It was also the first time they had been together since last November, as COVID-19 restricted gatherings.
The annual French-Indian War Encampment/School of the Solider provides the group, which demonstrates life in the time of the 1757 French fort, "a time to get together and do training," said William Johnson, of Vienna, who has been with the group since the 1990s.
Members, who range in age from 18 months to 70 years old, are mainly from Illinois and Kentucky.
Like visitors, through the Living History events Massiac Marines members learn "how they lived, how the military worked and some of the different foods they ate," Johnson said.
Scott Harris, of West Frankfort, is one of the original members of the group that began in the early 1980s.
"I think I never grew out of cowboys and Indians," said Harris on his involvement. "I started out doing mountain man stuff. The events we went to were state-controlled and they wanted more of a military portrayal. So we got into the French marines. I just never felt comfortable with that, I felt more native, I guess."
Harris said events like the Living History weekend are a time for people to learn.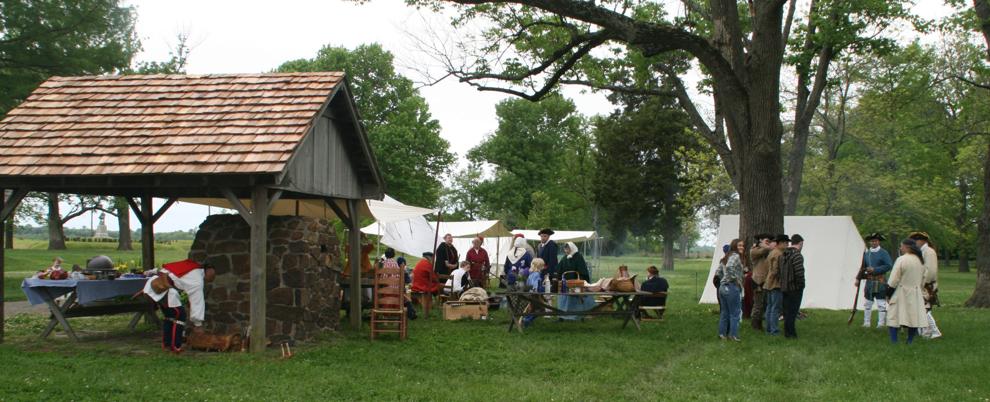 "If you don't learn history and the mistakes and the advances that were made, we're going to do it all over again. I think we've proved that over and over," he said. "When the Europeans first got here, they learned a lot from the natives and the natives helped them a lot. A lot of people still think the natives were savage and ignorant — at times they were, but so were the Europeans. For about 40 years in Jamestown, they managed an uneasy truce; they got along until the Europeans decided they wanted more land."
Along with solider drills, the Massiac Marines held cooking demonstrations and children's games as members portrayed the different groups who lived in the Fort Massac area in the 1750s.
Other Living History events are scheduled for Saturdays at 10 a.m. on June 12 and Aug. 14. The annual Fort Massac Encampment is scheduled for Oct. 16-17.