Vinyl records' resurgence over the last decade has seen whole communities of collectors and craftspeople spring up around the country.
Records aren't just black pieces of vinyl anymore though -- now, they can be tie-dye, all shades of the rainbow, shaped like a ninja star, or even liquid-filled in the case of one Paducah artist.
Matt Ortt, a Princeton native and local resident for the past two decades or so, has created liquid-filled records and music accessories for four years, but he's been a fan of vinyl for much longer.
"Honestly, I've always been a music fan, and I think any hardcore music fan gravitates towards the format," Ortt, 40, said in his workshop Thursday. "The sound, having the physical copy, the art, all of that stuff attracted me to records when I was younger."
Something of a tinkerer, Ortt started his journey by making 45 adapters out of resin because, he reasoned, there was "really just about every kind of accessory that you could think of, but for the most part those adapters have remained basic little pieces of plastic."
After a period of creating and selling customized adapters, he experimented with bootlegging records with plastic casting. When he couldn't make that work, he decided to try something a little different by working with a band to create one-of-a-kind liquid-filled singles, something he'd seen done by some labels he followed.
The records are pressed elsewhere and Ortt "makes one record out of two" by perfectly sealing liquid in between two copies with plastic, sometimes adding glitter, oil or various shapes to the mix as well.
Ortt has been making records and adapters at his home workshop for about four years now. While he does do orders and commissions for labels around the U.S., he tries to keep his creativity as a fun hobby.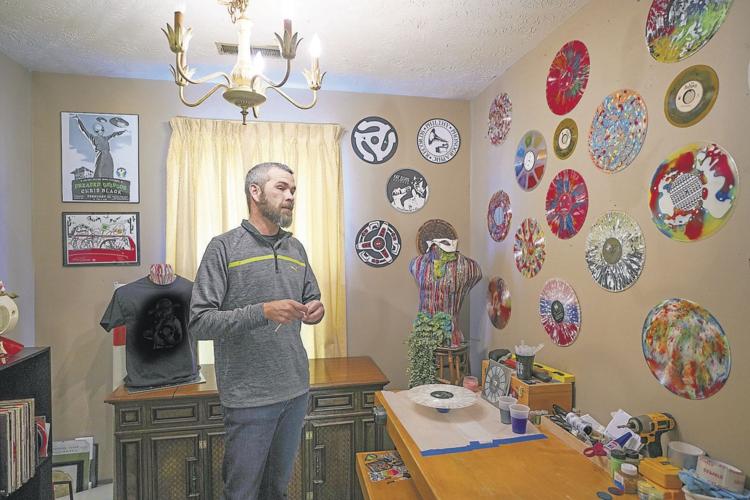 "I do this whenever it inspires me," he said. "I try not to treat it as a job, because it takes the fun out of it at that point. Once I get the itch, I get to work."
The venture has seen him work with a variety of labels around the country, crafting pieces for Enjoy the Ride Records (New York), Romanus Records (Indianapolis), Greenway Records (Brooklyn), Nomad Eel Records (San Pedro, California), Riot Style (New York), Soul Step Records (Cincinnati), and Lazy Boy Record Co., a cooperatively owned label that Ortt is part of.
"Matt's ability to experiment and innovate is incredible," Soul Step owner/founder Melvin Dillon told The Sun. "I was blown away from his creations. His works for Soul Step are some of the most eye-popping records we've had."
While the craftsman isn't sure what the future could hold for his hobby, he knows he would like to keep going.
"I would love to start a label with other people but as solo, just myself, I would rather just be a maker and let someone else take that side of things, and I don't know that I have a dream artist or label to work with," Ortt said. "I'll work with anyone. The more the merrier.
"Third Man Records definitely inspired me to do a lot of stuff, so working with Jack White would be cool, for sure."
Ortt regularly updates his Instagram account, @th3barncat, with new work. To view some of his creations, visit www.etsy.com/shop/Th3barncat.