METROPOLIS, Ill. — When cannabis dispensary licensure became available in Illinois, George and Rosie Naumovski wanted Metropolis to be their first location.
That finally became a reality Wednesday when Thrive Metropolis held its grand opening and ribbon-cutting.
"We are thrilled to bring the first adult-use cannabis dispensary to Metropolis and are incredibly grateful for their unwavering support throughout the development process," said Bob Fireman, CEO of MariMed.
"Illinois has been a very strong market for MariMed and our other three dispensaries in the state. We anticipate Thrive Metropolis will be another strong performer, helping us seize the robust southern Illinois cannabis market opportunity. The opening of this dispensary is the latest advancement in our strategic plan to grow our footprint in markets that offer unique opportunities to generate significant revenues."
The dispensary is the couple's fourth in southern Illinois.
"When we heard Illinois was going to allow medical, we developed a team for our application. We contracted with consultants who were instrumental in helping individuals in other states apply for their license," Rosie Naumovski said. "You apply for as many as you can and hope to get one. We were lucky and got two in the southern region."
The couple lives in DuQuoin and "had considered Metropolis originally" for the business, but "we initially didn't know a lot of people here and you have to have the good community support. We've become familiar with a lot of people from Metropolis because they've been going to our stores since we opened."
The dream for the Naumovskies began in 2014. They started with medical stores in Harrisburg in March 2016 and in Anna in May 2016. Those became their first adult-use stores on Jan. 1, 2020.
"We had to apply for our adult-use license and be approved. We had to go through city approval, too, because we had to have the support from the municipalities, otherwise we couldn't be licensed," Naumovski said. "Part of the application process mandates we have proper zoning approval to come into a city."
"We lost some key workers and it was a struggle, but we persevered," Naumovski said.
Their third location — an adult-use only store — opened in Mount Vernon in September 2020.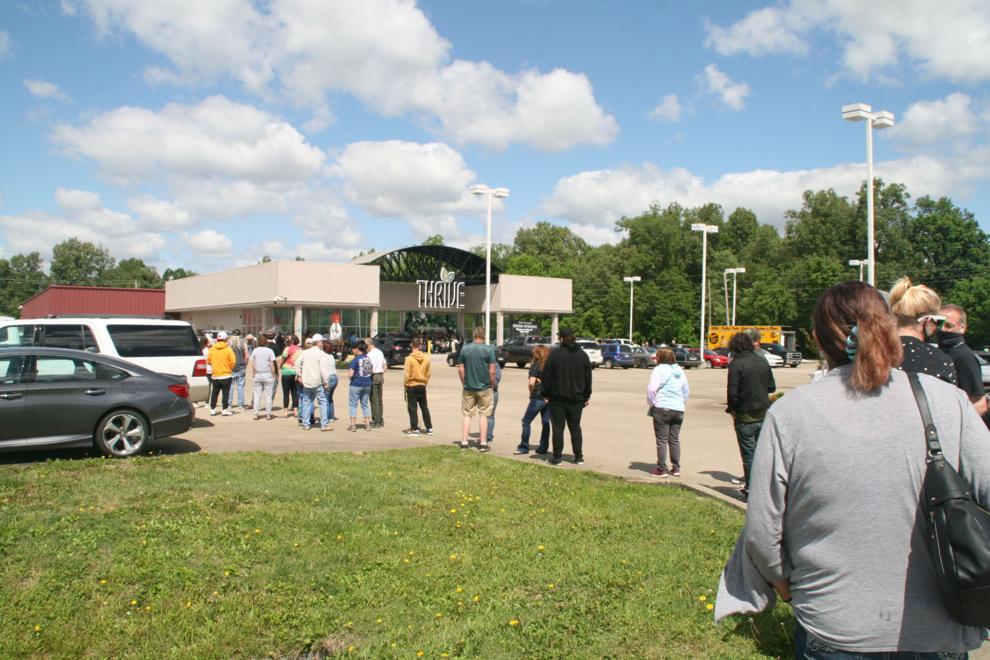 "When we initially started, it was very slow going. But once recreational hit, it's been non-stop," Naumovski said. "We have been very successful due to being in the southern part of the state — we're one of the first stores people initially hit when they come into Illinois."
Naumovski also attributes Thrive's success to the company's partners and its security crew.
"Greg Lambert has been with us since day one and has done amazing work over all of our security," she said.
Another part of Thrive is MariMed, Inc., a multi-state cannabis operator and publicly traded company headquartered in Norwood, Massachusetts. The couple began with MariMed under a management agreement which helped with the start-up. The business merged under the MeriMed umbrella in 2019. Now, they are the operators of Illinois market stores, overseeing all four locations for MariMed.
She is the Illinois general manager and head of Illinois compliance at MariMed, "but I still feel like it's my baby. I still care about everybody who's part of our team and making sure everything goes smoothly," Naumovski said.
Part of that is educating the public. Naumovski noted the store has several brochures available. "We try to provide as much educational information as possible. A lot of people are new to the cannabis industry; we don't want them to have a bad experience," she said.
Thrive Metropolis is located in the former Rod Ward Chevrolet, which originally opened as Frank Farmer Chevrolet, on East Fifth Street. Discussions with the City of Metropolis began in September 2020 with in-town visits the first week of January.
"The whole city, the mayor (Billy McDaniel), (corporate counsel) Rick Abell have been great to work with. We're lucky to be here," Naumovski said. "We love the building and the location. We promise to be safe and compliant. Security is No. 1 in our book. We'll have ample security on staff at all times, plus cameras and technology."
George and Rosie Naumovski have future plans for the large building. Rosie Naumovski said the dispensary is Phase 1.
"In the back of the building, we have plans for a retail grow supply store," she said. "If we get support, we could have a consumption lounge on the other side of the building. The intent of the consumption lounge is to make it educational and instructional in nature, but to also make it fun. It's a great idea because a lot of people when they come in want a place to go and comfortably use the product. I think it's also a good opportunity for people who want to learn about cannabis to learn hands-on from an experienced user. I would love to include a kitchen where people can learn to cook with cannabis."
Naumovski emphasized that if a consumption lounge does come to fruition, she would like to include a shuttle service. "My main hesitation with a consumption lounge is public transportation. If people don't have the transportation, it's a concern for me," she said.
Naumovski has "lots of ideas" for the area as a whole.
"I'd love for this to be a central hub, a destination area. I've got a lot of ideas that don't relate to this store but could impact people and tourism into the region," she said. "There are people who drive four or five hours for this product who look for things to do and places to stay. This is a beautiful area for that."
And, if the opportunity presents itself, Naumovski would like to add medical cannabis to the Metropolis location.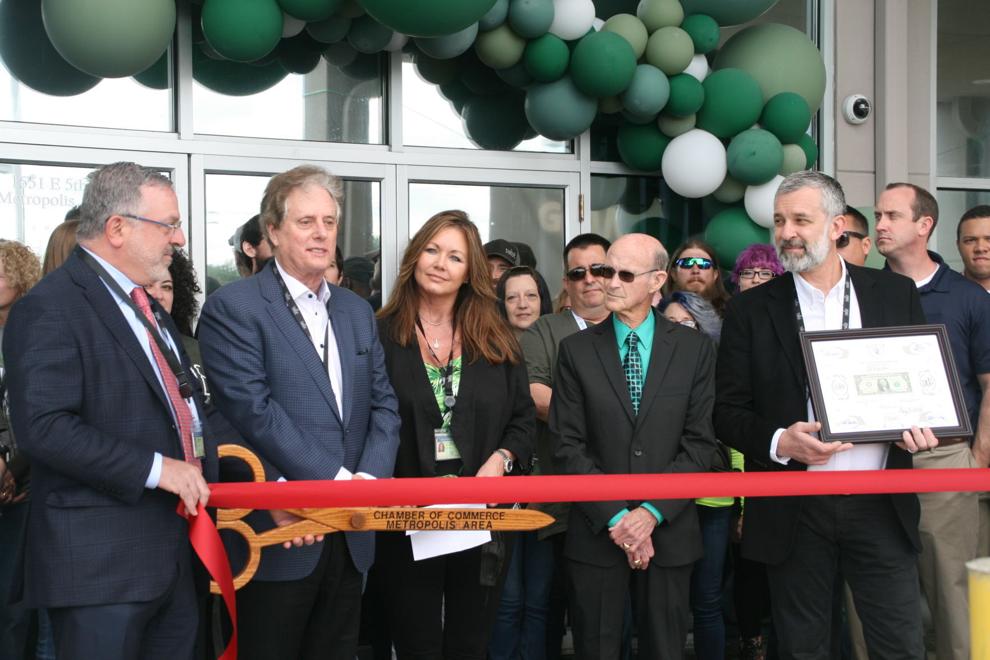 "The State of Illinois has not opened up any more licenses for medical stores. It's a shame because there are a lot of medical people who would like to shop here. They can, but they have to pay the adult-use-only tax which can get up to 40% depending on the product and the THC level. Medical has a 1% tax," she said. "I would readily apply for a medical license if the state offers the ability to supply it."
Thrive Metropolis has 30 employees, all but one being from Massac County. "We're bringing our veteran staff in to help get us started. Once everybody gets trained, we'll turn it over to them," Naumovski said.
The dispensary is open only to those 21 and older from 10 a.m. until 6 p.m. Monday through Wednesday, 10 a.m. until 8 p.m. Thursday through Saturday and noon until 6 p.m. on Sunday. Walk-ins are welcome. Due to COVID-19, masks must be worn. Further information is available at thriveil.com.
"We have a good menu of products available," Naumovski said. "All of our products are from Illinois cultivators because the product can't cross state lines."
Since recreational cannabis sales began on Jan. 1, 2020, Illinois sales reached $669 million in the first year. With medical cannabis sales of more than $331 million between January 2020 and November 2020, Illinois' total cannabis sales in 2020 exceeded $1 billion and is predicted to increase in 2021. In March 2021, state cannabis sales hit a monthly high of $109 million in adult sales alone with out-of-state visitors accounting for 31%.
The Metropolis City Council first publicly discussed the dispensary at its March 8 meeting when the redevelopment agreement between the city, MariHoldings Metropolis LLC and KPG of Anna LLC was on the agenda. At that time, corporate counsel Rick Abell informed the aldermen the company was making "an investment north of $3.6 million — about $2.1 million is the value of the building, around $1 million in the build out, $320,000 in licensing, $100,000 in security and software and $150,000 in inventory" in the city. He noted that from "preliminary estimates based on the numbers they gave us, we could see $40,000 to $50,000 a month in tax revenue." The city has imposed an initial 3% tax on gross sales of items sold at the location, which will eventually increase to 4%. The tax is in addition to other taxes on the product.
During the same March 8 meeting, Mayor Billy McDaniel told the aldermen: "I know that product is a touchy subject, but it is going to be here somewhere. We worked exceptionally hard. One of the good points for this was it's going to generate an automatic revenue stream that we desperately need to try to catch up from COVID's affect on the losses of sales tax from our businesses, gaming revenue and things like that. It's going to be something that is going to generate a revenue stream from the get-go."