Millions of eyes stared unblinking at the news the morning of 9/11 as footage from Ground Zero flooded onto their TV screens, and who knows how many fingers flew over the newsprint later that day, the next morning, and in the days to come.
That news coverage was produced by people across the country, and locally in western Kentucky, who were trying to digest and process that same information they were giving to their viewers and readers as they grieved in real time.
Like so many others, WPSD Local 6 anchor Mike Mallory learned of the attack on the Twin Towers from television. Mallory, then working at the station as the noon and 5 p.m. anchor, was at home that morning.
"I was home holding our baby. He would have been not even quite 7 months old," Mallory said. "We had 'The Today Show' on and we were watching it and I just remember telling my wife that I needed to go in early."
Mallory hoped against hope that the situation wasn't what it looked like.
"There was kind of a sense of dread. Right until the last possible minute we were hoping it was just an accident, but it just had that bad feel to it and when that second plane hit, you knew," he said. "I remember seeing on the wires that there was that plane down in Pennsylvania and then, of course, the Pentagon … they were within minutes of each other.
"It was happening in slow motion but at some point you just realized that it was a mass terrorist attack and you lost that hope that it was an accident."
Elsewhere in town, Bill Bartleman — then a Paducah Sun reporter and now a McCracken County commissioner — was also tuned to NBC on his morning off.
"I had the TV on and as soon as I saw what happened I headed into the office like just about everybody else did. It was unbelievable what went on. You had to scratch your head," Bartleman recalled. "The first (plane hitting a tower) looked like maybe it was an accident of some kind and then when the second one hit we all knew it was something bad so we put our forces together and worked hard to put out a paper."
Retired Paducah Sun reporter Matt Sanders had a similar experience while watching a morning show.
"I thought it was probably some guy in a private plane and the pilot had a heart attack or something, but then they broke back in about 10 minutes later and said a second plane had hit the second tower," Sanders said. "I just thought, 'Okay. We're going to war.' "
Put in the pressurized situation of informing a panicked public, staff at the pair of local news institutions flew into action by calling on politicians, government workers, military members and first responders.
"We felt a lot of pressure because there were some rumors or speculation that they hit the big sites first and they might go and hit some smaller sites," Bartleman said. "We were concerned that west Kentucky could be a prime target."
With the Paducah Gaseous Diffusion Plant still in operation and producing nuclear fuel combined with the region being tied to the inland waterway system and its proximity to Kentucky Dam and Fort Campbell, there was a lot of talk about how the area could be targeted next, Bartleman recalled.
"I think people in the community thought that maybe we could be hit because of all those reasons," he said. "We felt a real responsibility to put together as much information as we can to let the public know what was going on and what local officials were planning to ensure the area was safe and secure and that there weren't any threats.
"It was important that the paper lay everything out in a calm, factual way."
The national networks, Mallory recalls, provided most of the coverage until the midday.
"People from other parts of the building were coming into the newsroom because we have all these monitors. We were all just staring and watching," Mallory said. "No one could get their eyes off those screens, the fire and the ashes and the people. I remember there was a lot of network coverage, it seemed like for days. There were hardly any commercials … who wants to advertise and put their product out there in that."
Mallory remembers having a conversation with an area CIA connection on air in an attempt to assuage fear in the region: "It was one of those deals where your instincts kind of take over and muscle memory from covering what you thought was breaking news in the past, that kind of helps prepare you for that."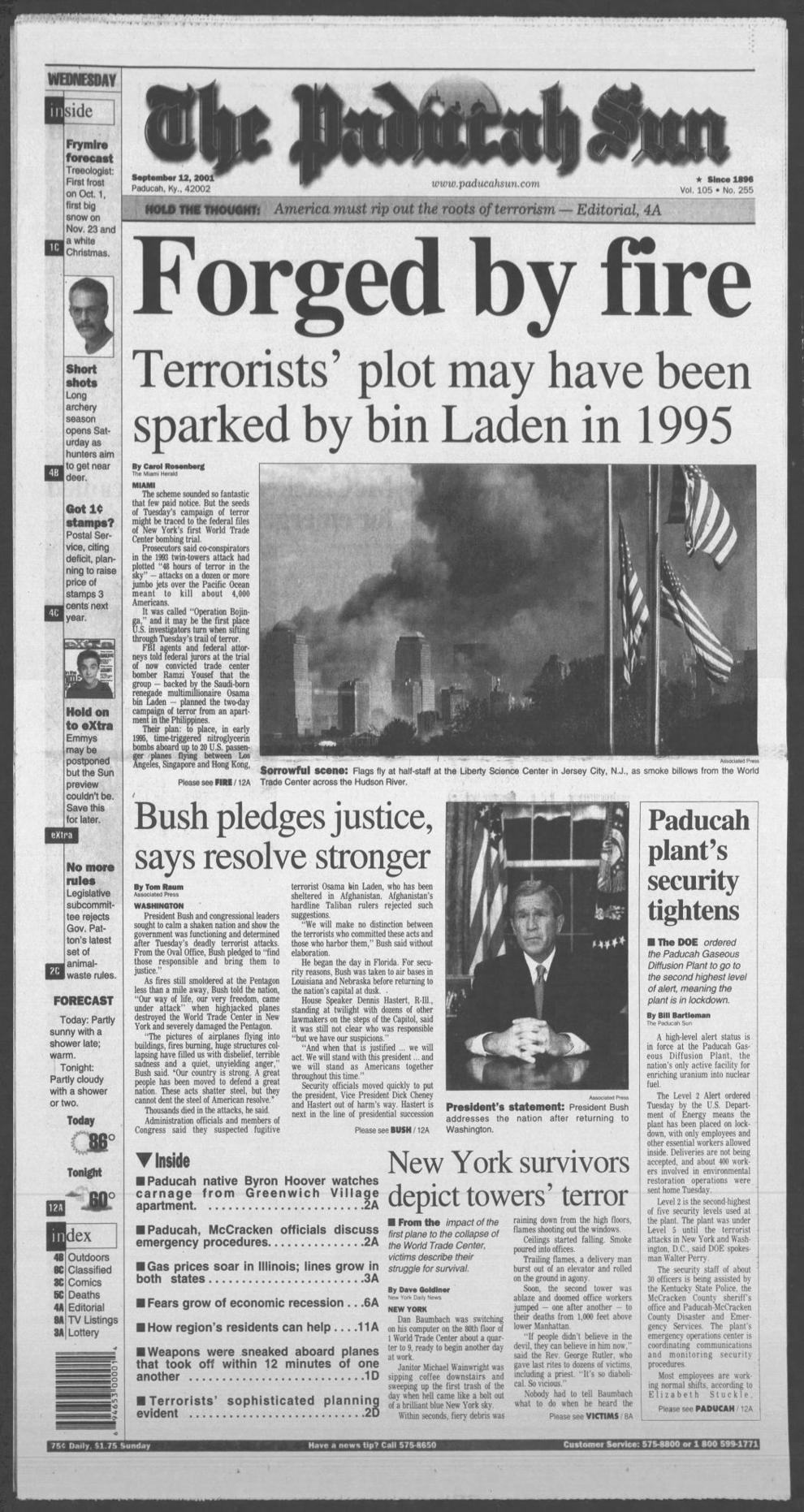 Both outlets were chasing local connections to the events of the day. The Sun would publish more than 30 stories and editorials in the three days after 9/11. There were stories about a Paducah expat who bore witness to the crash site in New York, security at the DOE site, a Fulton doctor who went to the site to treat the injured and a Benton travel agent figuring out what would become of her bookings in the aftermath alongside dozens of others in the weeks afterward.
Sanders had rushed to work after learning of the second plane, where the reporters, editors and publisher were gathered in The Sun's conference room to figure out how they were going to localize the story.
"I looked at it as a reporter but then also as a newspaper reader. I was trying to get questions answered that I knew other people wanted answered as well. You really don't have time to think about the pressure in those situations. You just get into reporter mode. Your job is to get the story and that's just what you go out and do."
It wouldn't be until Sept. 15 that a story not about the attacks would appear on the front of the paper. A sort of news vacuum had been created in the events' destructive aftermath.
"All the usual weather, sports, none of that really mattered any more. You realize that the world is changing right in front of you and it's never going to be quite the same," Mallory recalled. "There's something about the magnitude. For days after, the smoke and ash and image from New York were just stunning. You just knew that the world had changed."
Sanders recalls how tense and odd it was working at the paper at the time.
"The next few days in the newsroom when we had our morning meeting it was almost all in regards to how we could cover 9/11," he said. "It was a somber time and like so many people would say it was what everybody wanted to talk about and it was what everybody was thinking about.
"There were a lot of tense days, weeks and months that came out of it and it was part of our job to get, at least on a local standpoint, as many questions answered as possible."
While the information about the attacks continued to trickle out, the newsrooms just kept going.
"This is not something you could prepare for (like a big snowstorm). We had to shoot from the hip and do it and do it right," Bartleman said. "It did dominate for a couple days but we realized we had to start reporting on other things to help keep calm."
Bartleman said he believes 9/11 helped bring the country closer together.
"This whole thing helped us realize that we had to get beyond politics," he said. "For a period of time it just helped people realize that we're one country, we need to all work together to get things done and we don't need to be divided by politics. It was just a time when people came together.