MAYFIELD — Thinking of the impending Thanksgiving holiday, the mind (and stomach) may drift to turkey and dressing, various casseroles, pumpkin pie, football and naps. But during the month of November, a Graves County group is continuing its own tradition of spreading kindness and offering reminders that there is plenty for which to be thankful.
Graves County's Agency for Substance Abuse Policy and Prevention (ASAP) and its youth council, made up of student representation from the local school systems, are using the month of Thanksgiving to do "random acts of kindness" to promote the spirit of generosity following more than a year of struggles, many of which stemmed from the COVID-19 pandemic.
Youth Program Coordinator Courtney Williams said mental health issues saw a rise during the pandemic, especially in teenagers, and some people turned to substances as coping mechanisms during that time. But her and the youth group's goal — which extends beyond the month's 30 days — is to foster kindness and help people stay away from substance abuse.
"If we encourage kindness and we treat others the way we want to be treated, then they may not turn to that substance," she said. "You never know what someone has going on at home. You never know what somebody's dealing with in their personal life, so we can be kind and treat others in a respectable manner."
Williams was a student on the ASAP Youth Council when the Kindness Campaign started in Mayfield and Graves County in 2016, which has continued to evolve into a sort of guerrilla marketing effort with positive messaging popping up on social media (such as using #BeKind270 as a local hashtag awareness effort to stickers on detergent bottles at local laundromats.
This year's efforts also include coffee cup sleeve messaging at a local coffee shop and bookmarks at the Graves County Public Library. They have also produced their annual Kindness Calendar with various ideas people can do for others each day, such as donating to a local cause, tipping extra at a restaurant or cleaning the home of someone in need.
On Nov. 8, Williams added, the Youth Council will perform random acts of kindness throughout the community and hand out gift cards and flower bouquets. The following week, council members will help with the local Moses Basket program, which supports foster children and their foster or relative care families, with clothing and preparing items for children's placements.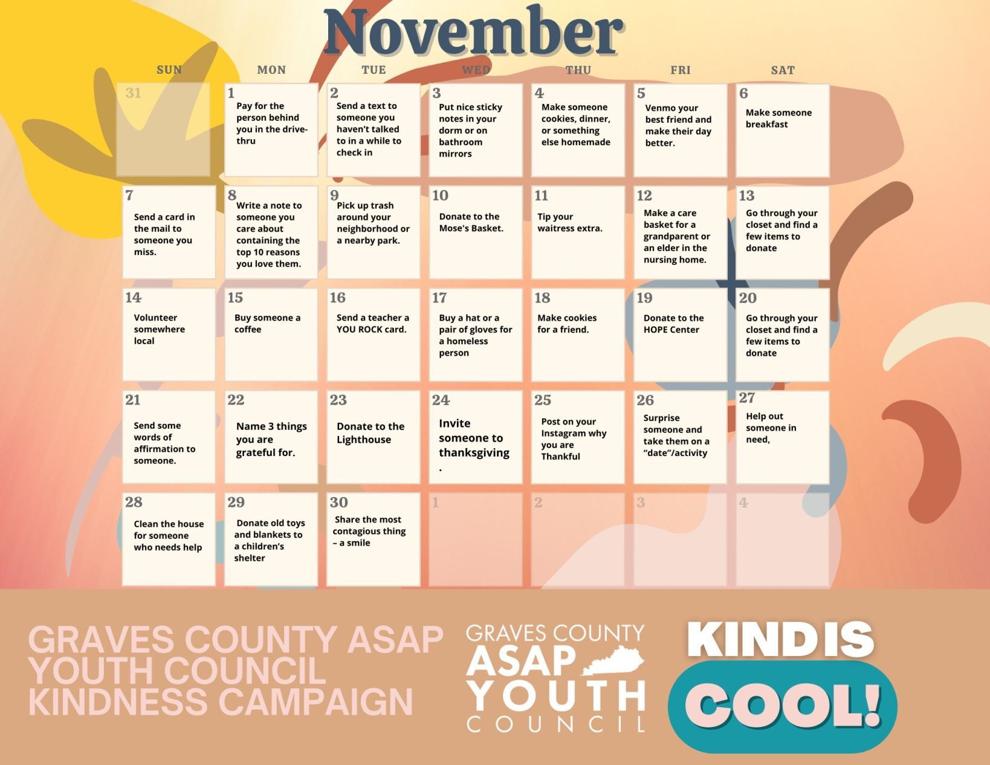 Later in the month, they will deliver gifts as signs of appreciation and support to Mayfield and Graves County law enforcement and first responders. And working with local schools' Family Resource and Youth Service Centers, they will also hold a Thanksgiving meal at Carr's Steakhouse for selected families.
All of the work to be kind to others isn't just a ray of sunshine for recipients, but the council's students take what they do to heart, as well.
"I really enjoy being able to go out into the community and give back and help cultivate a better culture and environment for my peers and family," said Mayfield High School senior and Youth Council President Alexis Garcia. "It's more than just community service to me. It's a youth initiative encouraging others to treat others kindly."
And Williams added now, when the weather may seem cold and gloomy and some in the community may be without family, is the perfect time to show compassion to others.
"I think this is a perfect example and a perfect time because it's around Thanksgiving and you're spreading gratitude and you're spreading kindness."