The 17th annual River's Edge International Film Festival opens Thursday at Maiden Alley Cinema, returning to the movie screen after being held virtually last year via a computer screen.
Billed as "Western Kentucky's one and only film festival," the River's Edge festival will feature 20 independent films to be shown at the Maiden Alley Cinema at 112 Maiden Alley or the Yeiser Art Center at 200 Broadway St. downtown.
Showings at the Maiden Alley Cinema are scheduled for 7 p.m. Thursday; 5 p.m. and 7 p.m. Friday; 11 a.m., 1 p.m., 3 p.m. and 5 p.m. Saturday; and 4 p.m. Sunday.
The Yeiser Art Center will be showing films at 5 p.m. and 7 p.m. Friday; and 11 a.m. and 1 p.m. Saturday.
Showing at 11 a.m. Saturday at the Maiden Alley Cinema is "An Artist's Journey from China to America," the story of BiLan Liao, who came to the United States from her native China when she was 45.
From 2008 to 2016, Liao was an associate professor of art at the Paducah School of Art and Design. She spoke from her home in Atlanta about her documentary.
Liao said Rebecca Madding, the executive director of Maiden Alley Cinema and the director of the film festival, reached out to her to submit her film for the festival.
"I said, 'Of course!' " she said. "I submitted it, and then, they selected it. I have a lot of people from Paducah on my Facebook: 'When can I see your film in Paducah?'
"Paducah is my home because I built my gallery in Paducah. I sold it when I moved to Atlanta."
Liao said she was led to make her documentary because film shows more emotion than a painting could.
"I am an artist, and throughout history, painting has been a visual narrative for religions and a social story," she said. "But, the paintings convinced me that if I put a film together, it could provide more emotion and meaning."
Liao published a book, "Diary of the Dragon's Daughter: Painting as a Window into Chinese History," while working in Paducah. It's also a story of her life in China and earned the 2019 Readers' Favorite Book Review and Award.
"It was my personal story, and behind it was Chinese history," she said. "Basically, it says, 'Don't give up your dream.' "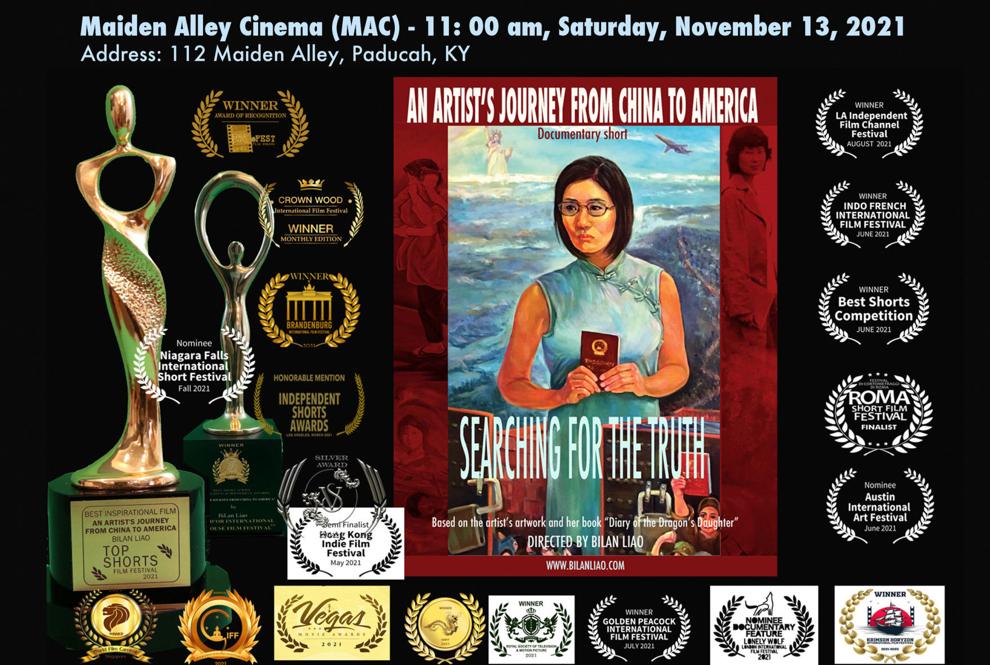 "An Artist's Journey from China to America" shows her story about growing up in Mao Zedong's China and her family's struggle through their lives, facing discrimination and hardship.
Liao said while living in China, America was her "dream place."
"I worked in a factory when I was 14 years old," she said. "Later, I was able to move and get a good job. I was the director of the art department and literature and cultural administration.
"I still wanted to come to America because in China, you don't have the freedom to paint what you want."
The film earned the Most Inspirational Award earlier this year from the Top Shorts Film Festival as well as the Award of Recognition from IndieFest. It was the winner of the Crown Wood Film Festival and the Brandenburg International Film Festival.
It also earned the Silver Award as a semifinalist at the Hong Kong Indie Film Festival.
"I spoke with the director (of the Top Shorts Film Festival), and he said, 'Your story is so inspiring,' " Liao said. "He said, 'It is not only your story. You encourage others.'
"I did everything (with the movie) by myself: director, producer — everything. The others really encouraged me."