Although later than originally planned, the Paducah Area Chamber of Commerce Thursday night saluted business and community leaders who made an impact during 2020, a difficult year with the backdrop of COVID-19.
The chamber's annual meeting and business celebration is usually held in January, but was postponed because of uncertainty about public gatherings in the midst of the growing pandemic.
The local business advocacy organization has been planning the event since April, and considered having it in July, before settling on Thursday, said Sandra Wilson, chamber president.
"We felt we just couldn't wait any longer," she said.
"We've had great support from the community and we just wanted to recognize these businesses that we feel put so much into 2020."
Awards presented during the event, with the theme of "Teamwork & Tenacity" included:
• Businesses of the Year — shared by Baptist Health Paducah and Mercy Health-Lourdes Hospital. Chris Roty, president of Baptist Health Paducah, and Michael Yungmann, president of Mercy Health-Kentucky market, accepted the award via video messages.
"Never before have these two organizations worked more closely than during the COVID-19 pandemic," said Todd Faulkner, WPSD Local 6, one of the evening's emcees, along with Suzanne Farmer, Mercy Health-Lourdes Hospital.
"Together, they organized a regional collaborative of hospitals, public health departments, the Kentucky Hospital Association and elected officials to share knowledge and resources and deliver a consistent COVID response."
• Small Business of the Year — BikeWorld, opened in 1987 by owners Hutch Smith and Martha Emmons. In an average year, they help local nonprofits raise more than $50,000 for good causes, while also donating products, labor and expertise to schools, playgrounds, charities and organizations, including free bicycle parking racks to businesses.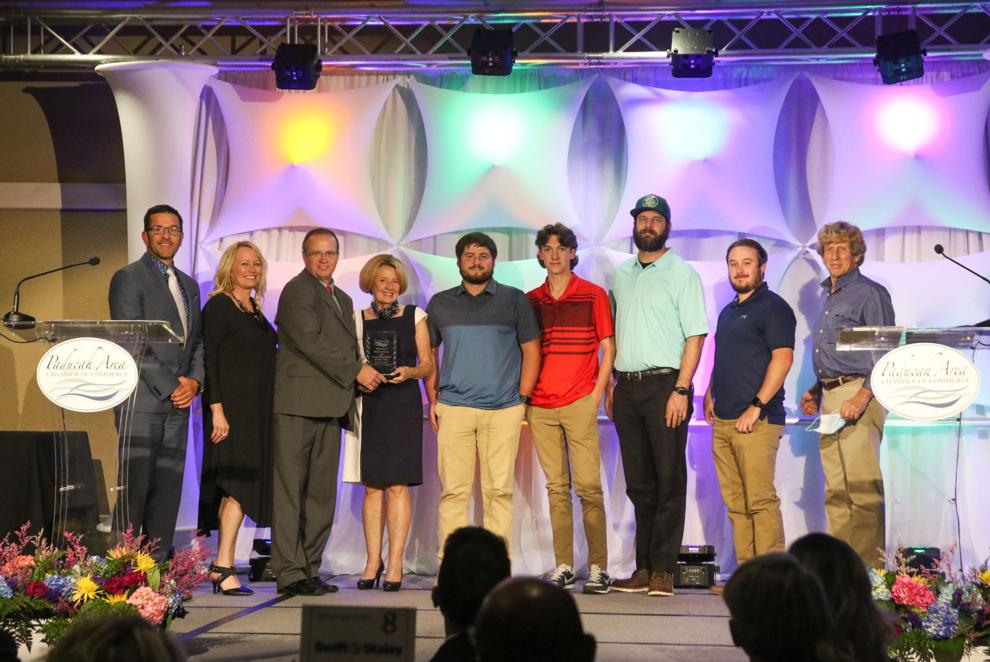 • Entrepreneur of the Year — Ines Rivas-Hutchins, president and founder of INTEC Group. She started her construction business in Paducah five years ago, specializing in government contracting. In 2020, despite the pandemic and many obstacles in the construction industry, INTEC Group had its best year since inception by completing more than 50 projects and its contract revenue more than doubling in the last five years.
• Nonprofit Organizations of the Year — Health and Human Services — Community Kitchen; Arts & Culture, Market House Theatre.
Community Ministries/Community Kitchen not only helps individuals meet many simple human needs but helps maintain the dignity of those receiving their services. When the pandemic forced the organization to close its doors, they came up with alternatives to indoor services by creating a drive-up where clients could still receive lunch.
When pandemic restrictions were imposed, the creative and experienced staff of Market House Theatre quickly began to adapt. They offered reduced capacity and live-streamed shows. They made another infrastructure investment to maximize programming through a new outdoor Courtyard Theatre.
• Citizen of the Year — Posthumously awarded to Merryman Kemp, founder of the Merryman House Domestic Violence Center. This award is not presented annually but is reserved as a special presentation.
Kemp, who died in 2020, leaves behind a life-changing legacy for the community. She dedicated much of her life toward helping others and advocating for those affected by domestic violence.
• Chamber Volunteer of the Year — Gilda Martin. The winner of this award embodies the ideals of volunteerism and has donated their time willingly and enthusiastically to the chamber. Martin is a servant-leader and an active community volunteer. She is employed by People Plus Inc.
• Leadership Paducah Alumnus of the Year — Steve Powless, executive chairman of Computer Services Inc.'s board of directors. He leads the company's audit, risk and acquisition teams. Prior to his current role, he served as CSI's president and CEO from 1999 to 2021, only the second person in the company's history to hold the title.
He was recently appointed by Gov. Andy Beshear to a statewide advisory committee, called Second Chance Pathways to Recovery, which will focus on the funding and treatment of substance abuse recovery.
• Young Leader of Western Kentucky — Hillary Chambers Landry, attorney, McMurry & Livingston. This award is selected and presented by the Four Rivers Business Journal of The Paducah Sun. It recognizes leaders younger than 40 who are making a difference in the community. She was selected among 10 candidates.
Follow David Zoeller on Twitter, @DZoeller_TheSun