April marks both Sexual Assault Awareness and Prevention Month and Child Abuse Prevention Month, and a Paducah-based nonprofit is continuing to spread its educational message on these critical issues through a series of "Chalk the Walk" events taking place throughout the month.
Lotus, a regional children's advocacy and sexual violence resource center, kicked off "Chalk the Walk" events at two businesses on Thursday — Paducah Beer Werks and Dry Ground Brewing Company, where staff and volunteers wrote notes of support and educational messages on the sidewalks.
The chalk messages written at Paducah Beer Werks included: "Consent is cool," "Prevention is possible," "Hope Heal Grow," "Speak out against violence" and "Nevertheless she persisted."
Lotus Advocate Cori Edmison wrote the chalk message, "Believe Survivors." As an advocate, she connects survivors with resources.
"I think starting by believing helps us to give survivors more comfort in knowing that they can come to us when they are assaulted," Edmison said, adding that Lotus will be there for them to help.
There are more "Chalk the Walk" events planned at businesses or places within the Purchase Area: Graves County Courthouse, noon-2 p.m. April 15; Hollyhock House in downtown Paducah, 3-5 p.m. April 15; Chestnut Park in Murray, 4-6 p.m. April 15; Marshall County Public Library's Calvert City branch, 11:30 a.m.-1:30 p.m. April 19; McCracken County Public Library, noon-2 p.m. April 19; and Lake Street in Fulton, 4-6 p.m. April 22.
"We'll also be handing out information about digital safety for families and teens, and we're focusing on digital safety, because the national theme for Sexual Assault Awareness and Prevention Month is 'We can build safe online spaces,' " Caroline Glynn Neal, community outreach and engagement specialist for Lotus, told The Sun.
"We really carry that through both of these awareness months — knowing that we're spending more and more of our lives online, and the focus on increased virtual connection. There's an increased risk for online abuse and harassment, and so, we're taking the opportunity to share information about how to be safe online for both families and teens."
According to the National Sexual Violence Resource Center, four ways to help build safe online spaces are: practice consent and show respect for boundaries, identify red flags that indicate online grooming, create respectful online workspaces and classrooms, and support survivors of online harassment and abuse.
"We see preventing child abuse and sexual violence as a shared responsibility for all individuals in our community," Neal said.
"We know that each of us can make the everyday choices reflected in our attitudes and behaviors that promote safety and communicate intolerance for violence. That goes for both child abuse prevention and prevention of sexual assault."
That's a sentiment echoed by Amberly Haverstock, community impact director for Lotus, who said Sexual Assault Awareness and Prevention Month is "powerful" in educating people, and it's important throughout the year.
"That's one way that we prevent sexual violence from happening ... through education and awareness and working to change those norms that we have, and those thoughts and attitudes and beliefs that we have," she said. "And really just giving folks the opportunity to recognize that we each play a part in preventing sexual violence and child abuse."
There's a card-making event scheduled for 1-5 p.m. April 17 at Lotus' Paducah location on North Friendship Road. It's an open-house style format, where the community is invited to drop in.
"Anyone is welcome to come and just be here at Lotus with other staff and volunteers and supporters. We'll be providing all of the art supplies," Neal said.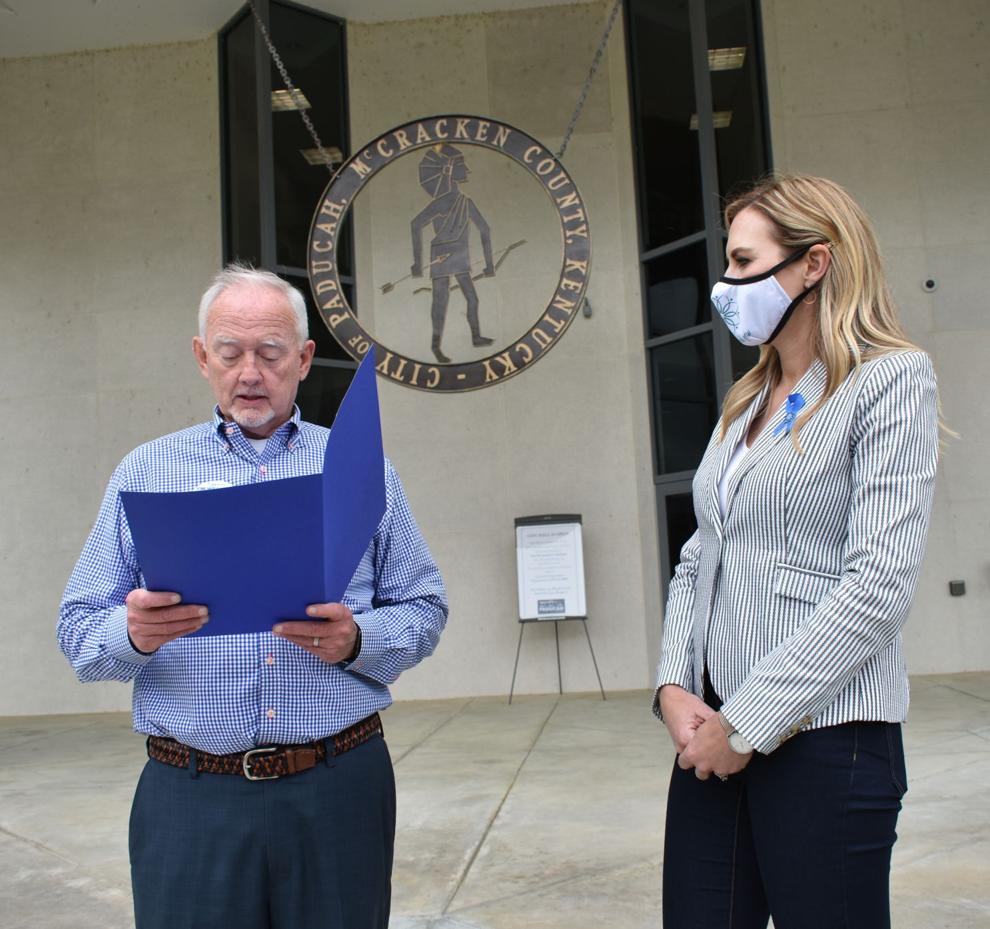 "Bikers Against Child Abuse will also be here to share information about what they do in the region. Anyone who attends has the opportunity to hand-make cards with messages of support for survivors, children and families impacted by child abuse and sexual violence."
As part of this month's events, Haverstock also joined Paducah Mayor George Bray outside of City Hall on Thursday to receive a signed proclamation from Bray that declared April as Child Abuse Prevention Month.
"I don't think people recognize that Kentucky has some of the highest rates of child abuse and neglect, and so, if we know that, then I think that we don't have any choice, but to each take our own responsibility in ending child abuse," Haverstock added.