A new program is poised to take the McCracken County Public Library's programming out into the streets more than ever before.
The Brary Bus, the library's new bookmobile program, is aimed at providing a mobile outpost where patrons can pick up and drop off materials and engage with the institution outside of its downtown Paducah walls.
"We've got a big county and we are located in the city physically but we do have all of that space we serve. Not everybody can make it into the library, be it because of transportation issues or even just time," said Lesley Garrett, the bookmobile coordinator. "Not everyone has the time to drive down to the library, especially if they live in Reidland or in West Paducah.
"Getting some stops out in the county is a better way for us to reach our patrons and community members."
It's been well over a year from proposal to this point, interim library director Sarah McGowan told The Sun. During that time, they've worked with Paducah Ford to secure the vehicle, hired staff, planned the route, bought materials with the help of a $10,000 donation from Paducah Bank and collaborated with a number of other local organizations on future programming. In total, the library spent $50,000 on outfitting the vehicle with all of the needed features.
COVID-19 played its part in the delay to start service, but McGowan thinks it just underscored just how necessary an outreach program like this is.
"It made a lot of our processes take longer but it also reiterated how important it is to be able to reach people where they are, because not everyone can access our one location here," she said. "This has proven to us why it's important that we do everything we can to be able to take our services out into the community."
The bookmobile will regularly carry a range of materials — adult fiction and nonfiction, books of all kinds for kids, teens and young adults and DVDs for all ages. It will also act as a wireless internet hotspot for access to the library's digital collections and catalog. People not already registered for a library card will even be able to do so on the spot.
Garrett used data from survey results and materials requests at the library and added in some new releases and classics to build this initial collection. Overall, it can hold 1,000 items onboard and they want to make sure the patrons using the service have input in its future makeup. Materials can directly be requested for the bookmobile through the library's website, www.mclib.net.
"We want this to be a community input (based) collection," Garrett added. "We will be filtering in things based on use from our main collection, but we're trying to tailor it."
Additionally, the bookmobile will have a little free pantry, like the one outside its permanent downtown location, and discarded titles that people without a library card can take or borrow.
This new level of access to the library will be key for residents at assisted living facilities, where Garrett has already been dropping off books.
"It's wonderful. It has enlarged our world because we've been so confined for so many months and to have the accessibility of books being brought to us has just been a wonderful thing for our residents," said Chris Everett, the life enrichment director at Rivercrest Place. "So many of our activities were canceled and this is one that we've been able to continue and know that they're safe and they can enjoy things in their rooms."
Teresa Meadows, the Lifestyle 360 director at Morningside of Paducah, has her residents excited about this change of pace after a year of being isolated.
"(Garrett) does a good job helping them pick out books. They give her ideas of what they want and she brings them, but they're excited to look through the books themselves, too," Meadows said. "It'll be wonderful for them, even just to look at the different books."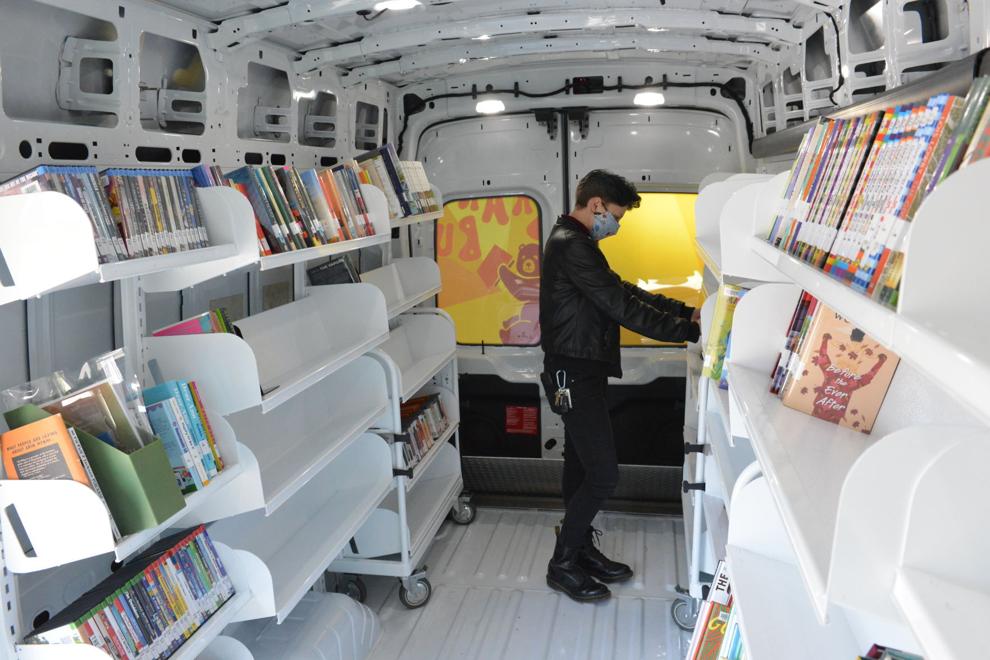 The bookmobile's first official stop will be May 1 at the Paducah Farmers Market for Celebration Saturday. After that it will be following a regular route, which can be found at www.mclib.net/brarybus, of two-hour stops at assisted living facilities and local grocery stores in addition to being present at other special events.
To request a bookmobile stop at a local facility or get more information about the program, email lgarrett@mclib.net.
Garrett is optimistic about using the bookmobile in conjunction with other organizations in an effort to expand the number of residents that come in contact with the library.
"Doing programs with community organizations helps us more specifically target people who might not interact with us otherwise," Garrett said. "It's really important that if people aren't coming to us, we go to them and make sure everybody's aware of what we have to offer."
McGowan echoed her enthusiasm, noting that it's been 40 years since the library has had bookmobile service.
"(McCracken) is a large county with a large dispersed population and to be able to reach the outer confines of it will bring a whole different demographic that are not able to come here very often," she said. "This will be a huge asset for us."