All-day Thursday, city and county department personnel, and utility service providers closely monitored the demolition of the old Masonic Lodge and Princeton One Hour Cleaners building to ensure public safety.
The building partially collapsed Thursday at around 3:42 a.m.
A 33-second glitch in Princeton Electric Plant Board's system indicated a downtown circuit breaker malfunction.
Following an investigation, city officials and utility service providers determined the collapse was most likely caused by a sidewall fire escape detaching from its brick wall.
The old Masonic Lodge and Princeton One Hour Cleaners occupied a building that once housed a Post Office, a food store, and an auto parts store.
Two investors opened a dry-cleaning business in 1966.
"They approached me wanting to know if I wanted to learn how to dry clean," said Richard Jones, owner of Princeton One Hour Cleaners. "I went to Paris, Kentucky for two weeks to learn how to clean and press."
Once Jones got into the dry-cleaning business, he stayed in it and operated his business for 54 years. Wednesday was the final day of business for him and his daughter, who managed the business for the past six years.
"The Masonic lodge moved away from here probably 20 years ago, and there hasn't been anything up there since," Jones said.
The building was home to many businesses and has served many residents since 1899. Now, it's a deconstructed relic of the past that serves as a reminder of downtown's heritage.
Brent Francis, code enforcement administrator and fire department chief administrator, arrived on scene at around 4 a.m. He, too, concluded the fire escape jeopardized the structural integrity and contributed to the sidewall collapsing, thereby causing the roof to cave in.
Princeton Electric Plant Board Operations Superintendent Chris Burton said six customers were without power and closed on Thursday as a result.
From 5 a.m. to 3 p.m. Thursday the power was de-energized for most of West Court Square and West Main Street customers.
The cleaner's neighbor, Matt Schalk, attorney, confirmed water leakage but plans on returning Monday for normal office hours.
Another neighbor that was forced to close on Thursday was the courthouse annex building.
Dany Hooks, Caldwell County circuit court clerk, reported no damage to the courthouse annex building. The office staff returned Friday and continued normal operations.
On Friday, Princeton Mayor Dakota Young said, "yesterday was a sad day for our community. While we hate to see such a longstanding landmark in our downtown district lost, we are just so thankful no one was injured in the initial collapse or subsequent demolition."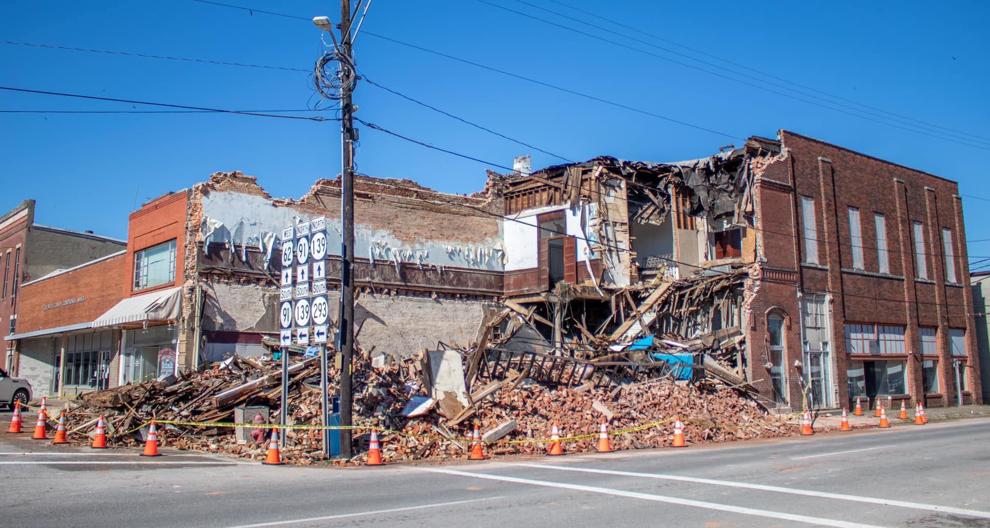 Young said Thursday's deployed services and personnel worked in unison to "abate the immediate threats to the public posed by the unstable remnants of the old Masonic Building, and to reopen the surrounding street system as quickly as possible."
City and county departments involved in the operations included the Princeton Fire Department, Princeton Public Works, the Princeton Police Department, the Princeton Electric Plant Board, and Watson Excavating.
Young also said within 12 hours, any public safety threats were eliminated and vehicular traffic resumed.
Community members wasted little time asserting a public opinion. A couple of suggestions for replacing the lot were Circle K, Culver's, and parking, according to the What's Happening in Princeton Kentucky! public group.
There were some disagreements regarding the parking lot suggestion.
Counter-arguments indicated additional parking will make downtown safer, especially in West Court Square, where there are several blind spots surrounding the courthouse.
"Make no mistake — it's an ugly mess, but it's as safe an ugly mess as possible for the time being," Young said.
Young said the next step for the city and the property owner is to solidify a cleanup strategy that is least resistant and produces minimal risks. He also encouraged community members to continue to support local businesses because cherishing them while they're around will maintain their existence.