MARSHALL COUNTY, KY — New COVID-19 restrictions went into effect for restaurants Friday evening in Kentucky. Under the new restrictions from Gov. Andy Beshear, restaurants are required to close their indoor dining areas. Some local restaurants say they will defy Beshear and continue to offer dine in services.
Popi's and Habanero Mexican Grill in Marshall County says it will not close. Popi's announced the decision on Facebook.
"Popi's has decided to remain open for business. We are taking extra precautionary measures for sanitization as well as requiring everyone to wear face masks. We sincerely thank you for your support and hope that you and your family are healthy & well during this time," said Popi's in the social media post.
The restaurant also commented on its original post explaining that they made their decision based on their employees.
"Thank you all so much for your support, it truly means the world to us! We made this decision out of respect for our 50+ employees and for our community- shutting down (again) during the holidays especially is not the right thing to do. We encourage you to support other local businesses! Popi is a proud American, and that's what we stand for," said Popi's on Facebook.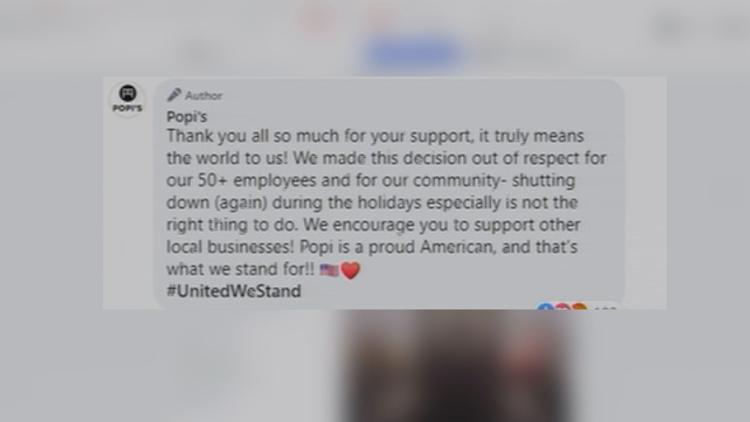 Fristoe's Grocery and Restaurant also says it will not shut down. Owner Chris Fristoe posted a message to social media that said he is prepared to face whatever consequences might come from not abiding by the governor's order.
"Employees need a job and have bills to pay as well, With Thanksgiving and Christmas coming everyone needs money. I asked every employee and gave everyone the option to not work and everyone wants to work. I will take the backlash and jail time if they wanna go that route. I love this community and say thanks for the support, but if something does happen, stay tuned to my Facebook page for a live video," said Fristoe in the post.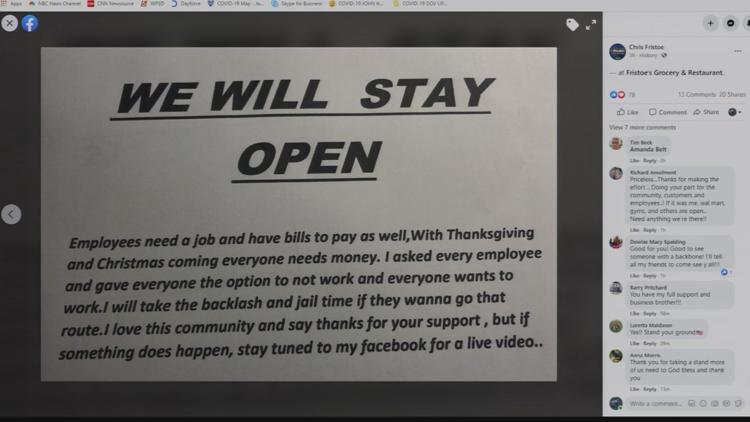 Marshall County Commissioner Justin Lamb is responding to the restaurants defiance. He released the following statement:
"Since Governor Andy Beshear made his latest decree, I have spoken with several of my constituents who own a restaurant or work in the restaurant industry and they are frustrated and deeply concerned of the potential negative impact these latest restrictions will have on their ability to make a living, especially with the holiday season approaching. Restaurant owners are once again being targeted and forced to practically close their business for the second time this year which could potentially be detrimental to their livelihood and the livelihood of their employees. I have complete trust in our small business owners to make responsible decisions for the health of the community and Governor Beshear should extend the same amount of trust by rescinding his latest restrictions thus allowing restaurant owners to freely make the decisions that are best for their businesses, employees, their families, and the community. I encourage everyone to support our local restaurants and small businesses and I ask everyone to keep praying for those affected by the pandemic."
It's unclear, though, what the consequences will be for defying the order, or who will enforce it. Marshall County Health Department Director Billy Pitts says they've been in the dark on the logistics of the restriction enforcement.
MORE DETAILS: Kentucky schools to close, new restrictions in place for some businesses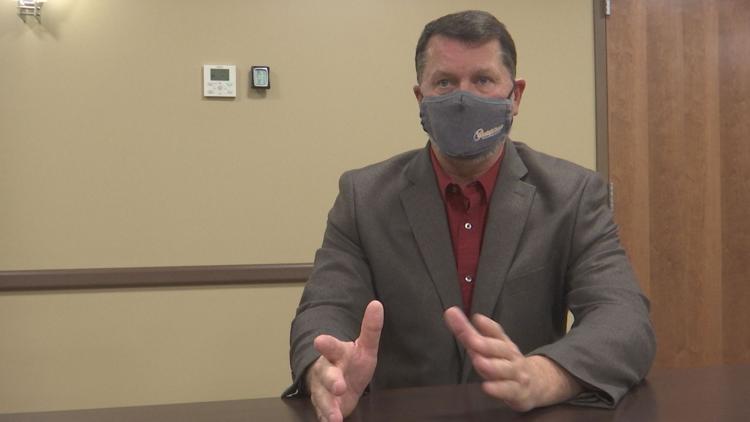 "As of today, we've received no specific guidance for who is going to enforce it, how they're going to enforce it or anything like that," says Pitts.
Marshall County Judge Executive Kevin Neal has called a special meeting with the Marshall County Health Department and Board of Health. The meeting will take place at 10 a.m. Saturday. The executive order concerning restaurants is on the agenda to be discussed. 
The restrictions on restaurants are set to be in place until 11:15 p.m. on Dec. 13.